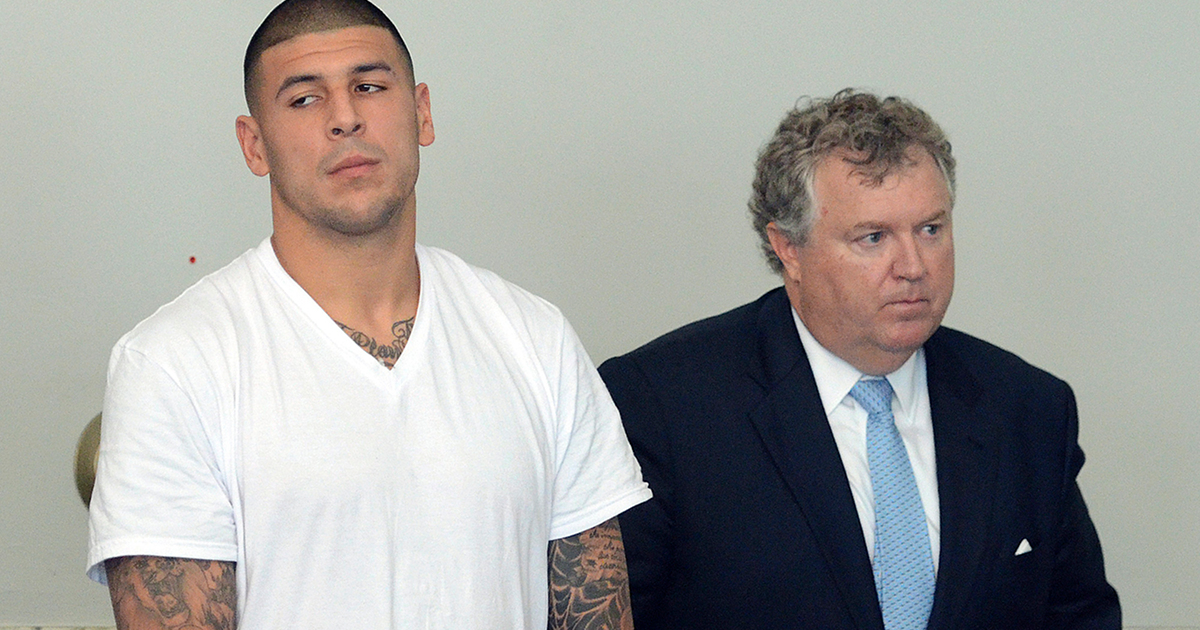 "I got four bodies."
Former NFL Star Aaron Hernandez allegedly revealed this to his alleged prison lover while he was serving time for killing one man, and was linked to a separate double homicide.
The shocking accusation that Hernandez killed a fourth person is made in investigative journalist Dylan Howard's new book Aaron Hernandez's Killing Fields.
For the book, Howard interviewed Kyle Kennedy, who has been reported as Hernandez's cellmate and "prison boyfriend" since Hernandez's 2017 jail cell suicide.
Kennedy told Howard that Hernandez bragged about his alleged fourth murder.
"[Aaron] always used to tell me he had four murders. He would just always, all the time joke around saying 'I got four bodies.'"
Howard goes on to claim Hernandez's supposed fourth body is the unsolved murder of Jordan Miller, who was gunned down in his home one week before Odin Lloyd, the semi-professional football player who Hernandez was convicted of killing.
Miller and Lloyd ran in the same circle of friends and actually shared similar physical characteristics. Detective Bo Dietl hypothesizes Hernandez and his crew shot Miller mistaking him for Lloyd.
"It sounds like Hernandez gets a tip from one of his goonies that Odin Lloyd is at this location. [Then] Jordan Miller is shot inside his home, from [a] drive-by shooting through the window … It's very possible that Odin Lloyd could have been in that apartment, and if they look similar, which I believe they do. They shot the wrong guy that time."
Dietl adds that Hernandez—a New England Patriots tight end—may have paid off Miller's family for their silence after realizing the error.
"I don't care if he pulled the trigger or not, if Aaron Hernandez was involved with the conspiracy to murder Odin Lloyd and Jordan Miller, it's the same as pulling the trigger," Dietl said.
The detective also urges the Boston Police Department to re-examine the ballistics from the Miller and Lloyd shootings.
Hernandez was convicted of first-degree murder in 2015, and was indicted on a double homicide in 2014. He was acquitted of the double homicide in 2017 and committed suicide just days later by hanging himself in his cell.
He was survived by fiancée Shayanna Jenkins and their now 7-year-old daughter Avielle.
Be the first to receive breaking news alerts and more stories like this by subscribing to our mailing list.