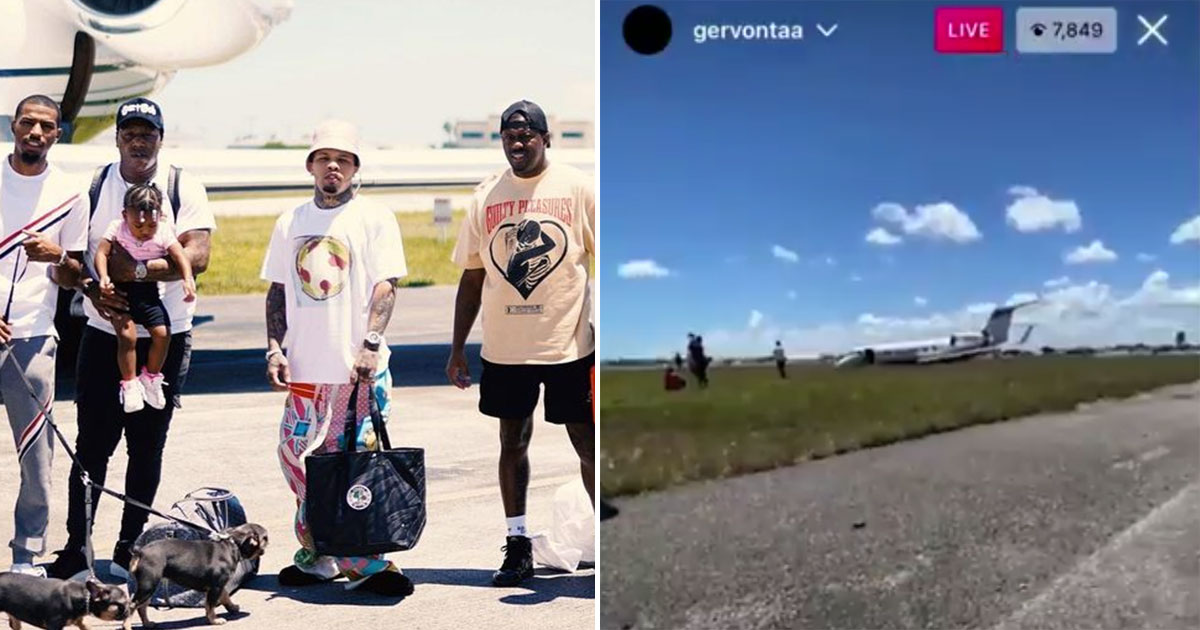 Professional boxer Gervonta Davis ran into a pretty serious scare on Saturday.
Gervonta revealed in an Instagram Live video that his private jet crashed this afternoon during takeoff.
The boxer had just boarded the plane with his team when something went wrong and the jet failed to properly take off and crashed down to the airport grounds.
Luckily Gervonta and company didn't suffer any major injuries from the crash, but he was still kind of shook up from the incident.
"The plane crashed. The plane didn't even take off. It took off, but it didn't take off," Gervonta said in the Instagram Live video. "I'm good, it's just my a** is hot. I'm sitting on concrete. My a** is on fire. It feels like it's boiling. I'm definitely thankful. God is good."
Gervonta Davis has just gone live on Instagram after the private jet he was on crashed during take-off…

[?? @Gervontaa] pic.twitter.com/K8b91xUy4G

— Michael Benson (@MichaelBensonn) August 21, 2021
Before the jet crashed, Gervonta posted photos on Instagram of him with his team along with children and a few pets about to board the plane.
Following the scary incident, Gervonta made it very clear that he is done with flying. Instead, he said he will drive or take a train going forward.
"For everybody want to fly private I think it's over with for that. I'm driving or catching a train," Gervonta said in the Instagram Live video.
Celebrities are no strangers to plane crashes. Former NBA star Kobe Bryant, his daughter Gianna Maria-Onore Bryant and several others tragically passed during a helicopter crash in 2020. Blink 182 drummer Travis Barker recently made headlines after boarding a plane with his girlfriend Kourtney Kardashian for the first time since surviving a plane crash in 2008 that killed four people and left him severely injured with third degrees burns to his body.
Thank Goodness Gervonta and his folks made it out safely.
Be the first to receive breaking news alerts and more stories like this by subscribing to our mailing list.