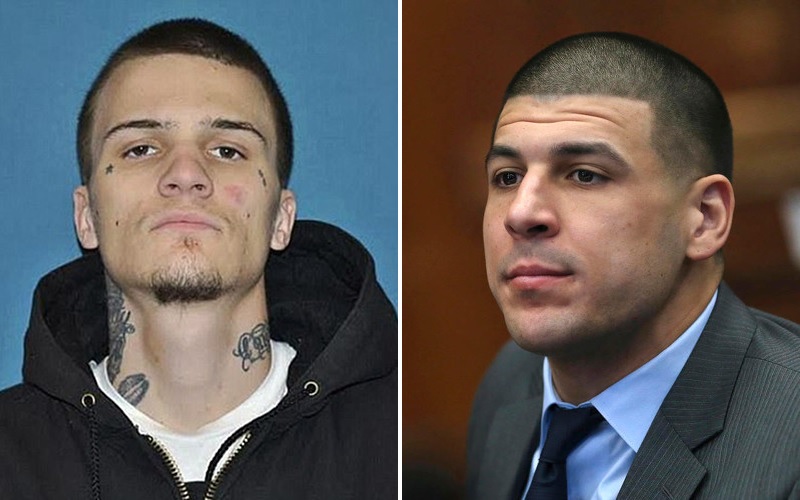 The identity of the prisoner rumored to be Aaron Hernandez's "prison lover" and who he allegedly wrote one of his suicide notes to has been revealed as 22-year-old Kyle Kennedy.
He is serving time for armed robbery and is currently on suicide watch after the former Patriots tight end hanged himself in his jail cell last week (Apr. 19).
The 22-year-old was arrested in January 2015 after robbing a gas station in Northbridge, Massachusetts while brandishing a long butcher knife and wearing a ski mask. He only stole $189.
Following the robbery, Kennedy lead police on a high-speed chase, reaching speeds upwards of 110 mph. He eventually ran out of gas and was apprehended.
However, he attempted to escape a second time while being held at the police station. Kennedy asked to use the phone, but while an officer was dialing, he made a dash for the door. He escaped through three backyards before being recaptured after a foot-chase with officers.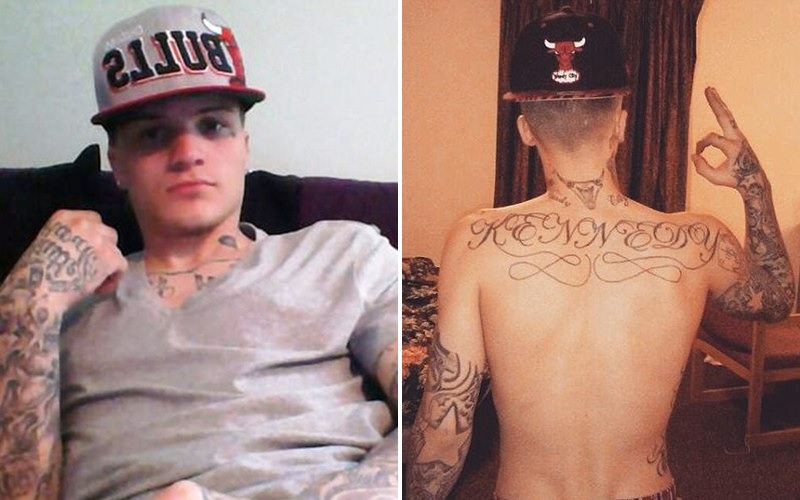 Kennedy's father, Matthew Kennedy, a Massachusetts businessman, paid $12,500 to bail his son out of jail. However, he requested Kyle's $125,000 bail be revoked after he failed to complete a rehabilitation program.
Matthew wrote in part:
I am requesting the court to revoke Kyle's bail. Kyle had begged me to bail him out of the house of corrections with the understanding Kyle would attend and complete a program that I had lined up in Boston… Kyle stayed one day and left the program! To the best of my knowledge he is living in Worcester with no job and back using heroin. I believe Kyle is a threat to himself and anyone around him. Also, given his history, he is a flight risk.
According to Kennedy's profile on the pen pal site, Write A Prisoner, his earliest release is March 2018. The profile also offers a few personal details, including that he identifies as straight, is 5'10" and weighs 175 pounds.
Kyle writes in part:
I signed up on this website so I can correspond and possibly build friendships with people from around the world.

I have brown hair and brown eyes. I am also heavily tattooed. I work out, read books and write to help me pass the time while incarcerated. My hobbies on the street include racing motocross, building and customizing cars and motorcycles and doing anything that includes the outdoors. I am currently working to attain my Barbering license.

If you want to get to know me, I'm just a stamp away!
Thank you, Kyle
Kyle and Hernandez apparently grew close while incarcerated. "High level" prison sources say the two were lovers. Hernandez is believed to have planned his suicide for weeks and was giving away his personal belongings to other inmates, including a $50,000 watch to Kyle.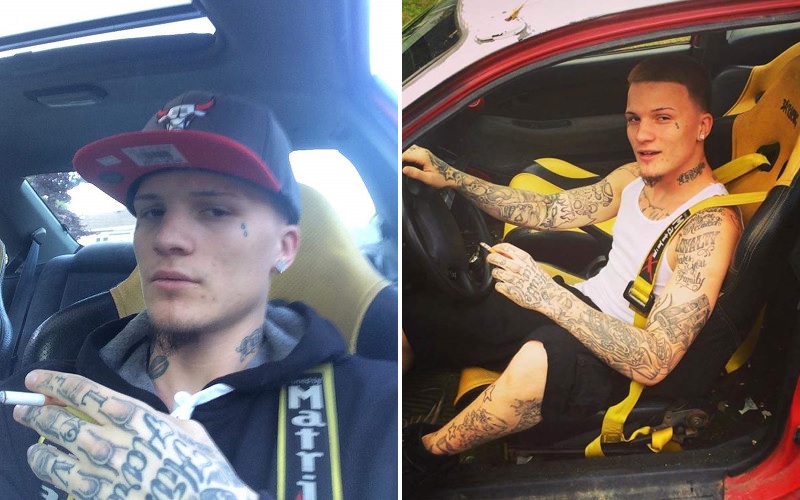 The inmates' relationship and Hernandez's alleged bisexuality became public knowledge last week after it was reported Hernandez left three suicide notes, one specifically for Kyle. The other two being written for his fiancée and 4-year-old daughter.
An alleged longtime relationship with a male high school classmate has also been revealed, leading to speculation the NFL star killed Odin Lloyd to keep his sexuality a secret.
Kyle is also believed to be the last person to speak to Hernandez before hanging himself with a bed sheet.
Matthew Kennedy has refused to comment on matter, yelling "Get the f*ck away and don't f*cking come back!" to reporters. The Kennedy family lawyer plans to visit Kyle Monday (Apr. 24) to see "what's going on."
Be the first to receive breaking news alerts and more stories like this by subscribing to our mailing list.