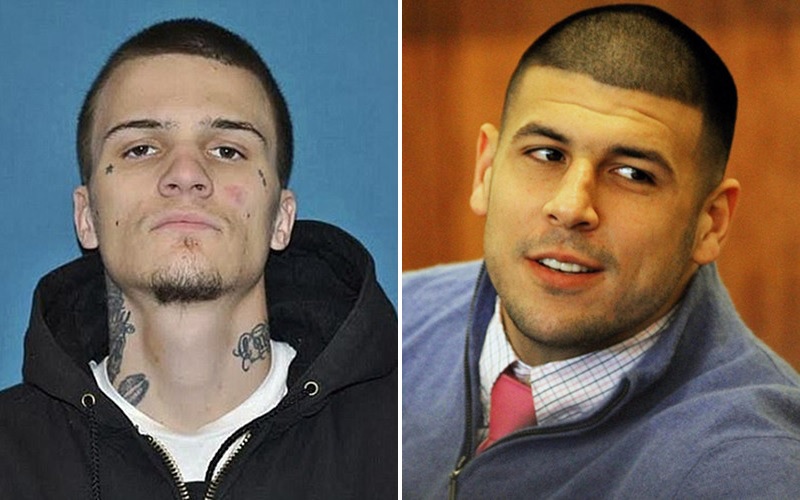 Kyle Kennedy is speaking out for the first time since reports suggested he was Aaron Hernandez's "prison lover." The former NFL star committed suicide in his jail cell last week and reportedly left a suicide note specifically addressed to Kennedy.
Kennedy released a statement to Radar Online:
"I miss my friend Aaron Hernandez. I'd like to send my condolences to his fiancée, his mother and his daughter."
The 22-year-old, in jail for robbing a gas station with a butcher knife, was placed on suicide watch in isolation for two days after Hernandez's body was found. He was placed on suicide watch again when his personal relationship with Hernandez became widely reported by media.
Though Kennedy did not assume Hernandez was suicidal, the former Patriots star may have hinted so in a letter he wrote to Kennedy three weeks before hanging himself. "I think I'm going to hang it up, lol," he wrote.
Kennedy's lawyer, Lawrence Army, revealed more details regarding his client's connection to Hernandez in a press conference held Wednesday (Apr. 26). He says the two knew each other before prison, requested to share a cell, and did not deny (nor confirm) they had an intimate relationship.
Army said his client and Hernandez met "through correspondence prior to Kennedy's stint [in prison]." However, he did not reveal in what context. He added their relationship was well-known and the two often communicated through letters, often writing in "code."
Allegedly beginning in 2016, Hernandez also wrote letters to Kennedy's father and siblings. Army showed of one the letters addressed to Kennedy's family at the press conference.
The lawyer also confirmed reports that Hernandez gifted a $47,000 custom watch to Kennedy.
"Aaron had told him that arrangements would be made for that gift to be sent to him when he was on the outside, or, alternatively, from a member of his inner circle to be delivered to my client's family."
However, the watch is being held by the prison's property clerk and has not been given to Kennedy or his family.
Army didn't explicitly deny a romantic affair between the two, but told the press Kennedy will address such allegations once released from isolation.
"Any discussions relating to that relationship will come directly from his mouth so there is no confusion."
Hernandez hanged himself April 19 and left three suicide notes. Two to his fiancée and daughter, and the third allegedly to Kennedy, sparking speculation of the footballer's bisexuality.
A longtime male lover from high school may have also been the motivation behind Hernandez's murder of Odin Lloyd. It's speculated he killed Lloyd to keep his sexuality secret.
Hernandez's lawyer, Jose Baez, slammed reports that his client was bisexual or that he wrote a note to Kennedy.
Be the first to receive breaking news alerts and more stories like this by subscribing to our mailing list.