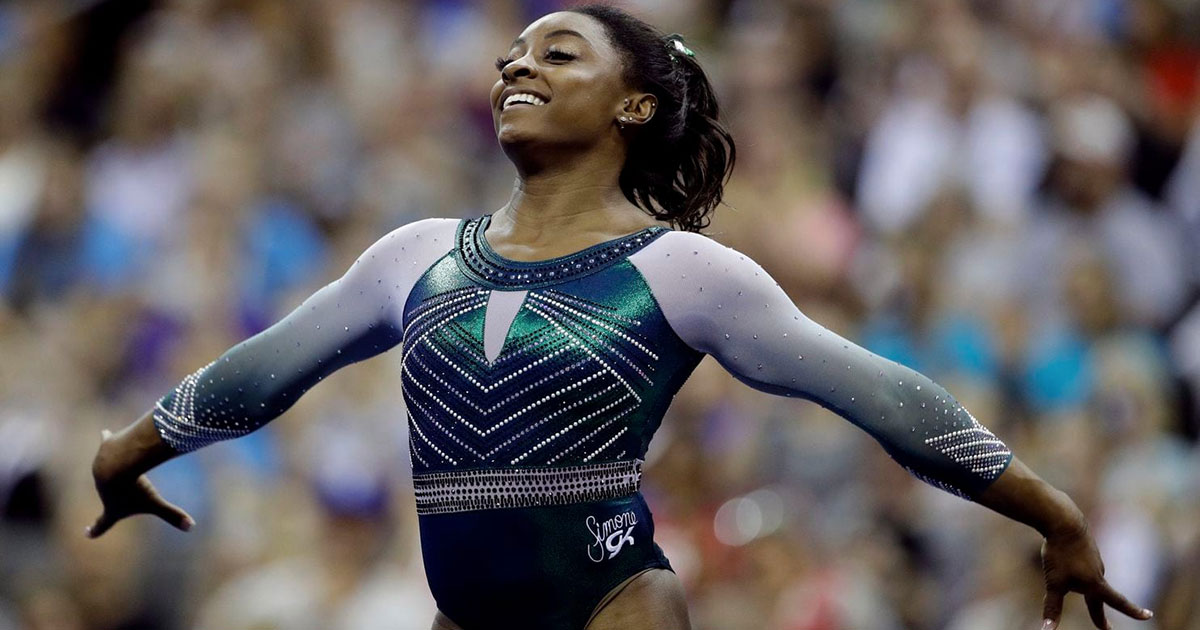 22-year-old gymnastics GOAT Simone Biles made history (again) this weekend!
On Friday (Aug. 9), Biles, a five-time Olympic medalist, competed in the 2019 U.S. Gymnastics Championship in Kansas City, Missouri.
While there, she became the first person EVER to attempt and land a double-twisting, double somersault dismount from the balance beam in a match.
Watch below:
And here's a slow-mo version:
@CLcecile = the entire gymternet pic.twitter.com/tGQ2YEcAvY

— EMILY ? (@flipflytumble) August 10, 2019
Biles—who is also the most decorated U.S. gymnast OF ALL TIME—ended her almost 1.5-minute routine with the historic move, which will be named after her once she completes it during an international meet, Team USA said in a press release.
Before pulling off the unprecedented move, though, Biles struggled a bit throughout the two-hour competition, calling parts of her routine "a piece of shit" and saying that she wanted to "throw it in the trash and start over."
Earlier in the competition, Biles almost made history once again when she attempted a triple-double—two flips and three twists in the air, but she missed the landing and touched the mat with her hand.
"I'm still really upset about floor," Biles told USA Today. "I did end on a good note, so that makes me happy. But I'm still disappointed about floor."
Biles said she was frustrated with herself because she knows how well she can do and she failed to live up to her own personal expectations.
"I feel like I compete for perfection. So whenever I don't do that, it really irritates me," she said.
Despite a few missteps, Biles is currently first place at the meet, and will be back tonight for the second and final day of competition.
She's expected to win her sixth U.S. title tonight, which would make her only the second woman in history to do so, tying the record Clara Schroth Lomady set in 1952.
Be the first to receive breaking news alerts and more stories like this by subscribing to our mailing list.