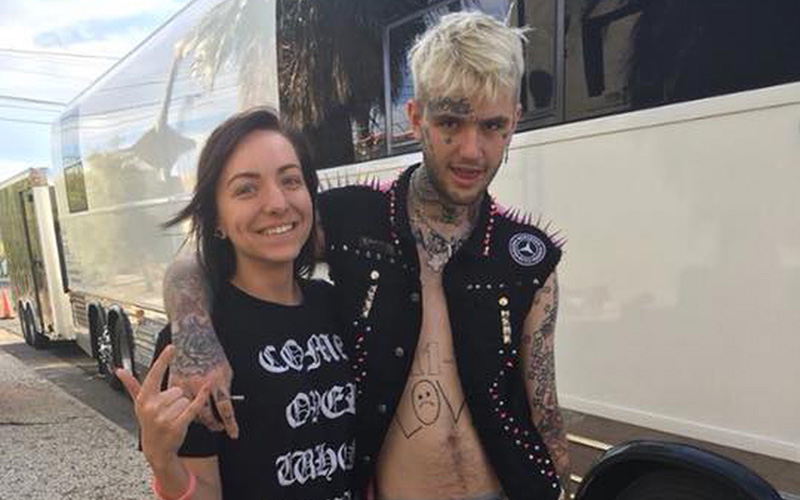 In response to Lil Peep's death and the results of his toxicology report, the Drug Enforcement Administration (DEA) has launched an investigation in hopes of finding the person who gave him the Fentanyl that caused his overdose and subsequent death.
The 21-year-old rapper (real name: Gustav Åhr) died November 15th on his tour bus right before he was scheduled to perform a concert in Tucson, Arizona due to the "combined toxic effects of Fentanyl and Alprazolam"—the latter of which is a generic form of Xanax, a prescription drug used to treat anxiety.
As we previously reported, Peep had a number of drugs in his system when he died, including the aforementioned Xanax and Fentanyl, as well as marijuana, cocaine, the painkiller Tramadol, Hydrocodone, Hydromorphone (Dilaudid), Oxycodone and Oxymorphone. While Peep had a lot of drugs in his system at the time of his death, which was ruled an accident, the Fentanyl is what sparked the investigation.
Sources close to the DEA's investigation have told TMZ that the DEA will work in tandem with local authorities in Tucson, and the focus of the case is a series of text messages and Twitter DMs allegedly sent by a woman named Mariah Bons, who saw Lil Peep before he died and is believed to have provided Peep with the Fentanyl that ultimately killed him.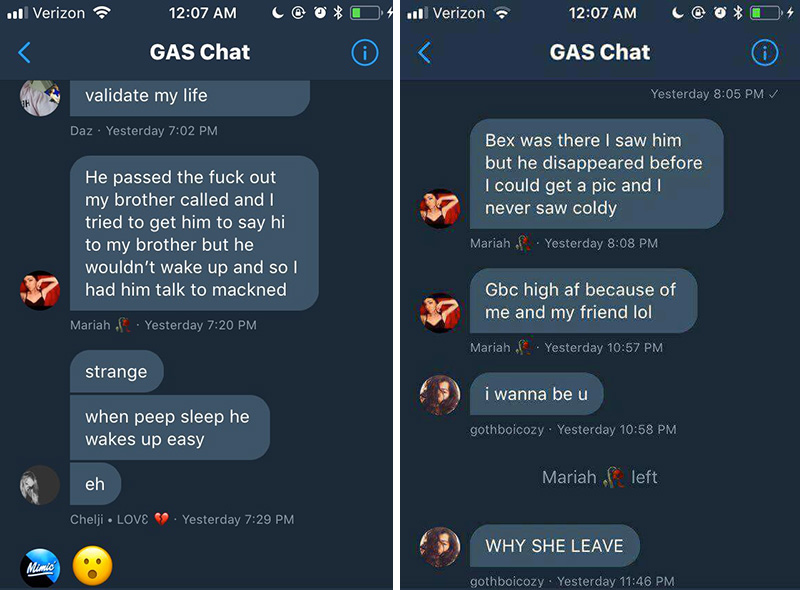 She allegedly sent a series of messages via text and Twitter basically bragging about giving the rapper drugs. In one message to a friend, she wrote, "GBC [Lil Peep] high af because of me and my friend lol." Bons also allegedly wrote in another message, "He passed the f**k out my brother called and I tried to get him to say hi to my brother but he wouldn't wake up…"
Mariah Bons' alleged involvement in Lil Peep's death is so well-known that a (now-closed) petition calling for her arrest was created on Change.org received over 30,000 signatures, and it was the talk of social media around the time of the Nov. 15 incident.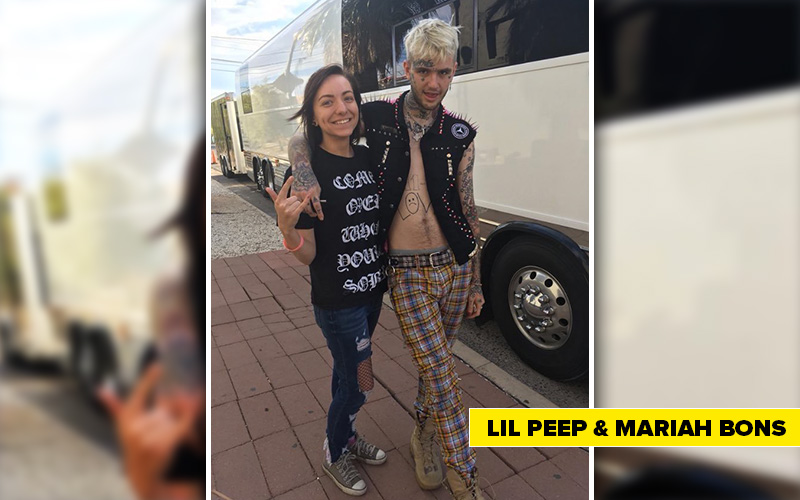 The person who started the petition, Texas resident Anah Eichman, wrote that she was forced to take it down "due to new information emerging." She continued, "Know that although we didn't reach the goal we set to, it is a victory in my opinion because of the 31k people who wanted justice. If you wish to contact me, my instagram is @therepressednerd and my twitter is @AnahRose99 Thank you."
Medical experts say that the combination of Fentanyl and Xanax can be lethal, or at the very least, can cause respiratory distress and/or a coma. Peep's older brother, Karl "Oskar" Åher, 23, told People that he was shocked by his sibling's passing, noting that the rapper's death was purely "an accident" because he "was not struggling" during the period when he died. "He was super happy with where he was in life," Oskar said.
He added, "We [the family] have heard there was some sort of substance he did not expect to be involved in the substance he was taking. He thought he could take what he did, but he had been given something and he didn't realize what it was."
Lil Peep was known for lyrics that openly addressed his drug use, specifically pills, and his battle with depression, but Oskar said that was just a part of his job. "It makes me laugh to think about the days we watched WWE together but [Peep] mentioned how being a hip-hop artist is like being a pro-wrestling character. You have to be an actor," Oskar said. "He gets paid to be sad. It's what he made his name on. It's what his image was in a sense."
Oskar continued, "He was so proud when he heard that there were people in the world who wanted to kill themselves, and then they didn't because they listened to his music. He was helping people, he was not somebody who needed help. He was not as sad as people think he was. It's frustrating as someone who remembers a happy brother."
Peep, however, told Pitchfork in an interview that his battle with depression would sometimes put him in a mood where he didn't even want to wake up. "I suffer from depression and some days I wake up and I'm like, 'F**k, I wish I didn't wake up. I don't express that side of myself on social media. That's the side of myself that I express through music. That's my channel for letting all that s*** out."
Lil Peep, who built his career and following off of homemade mixtapes released on the internet via Soundcloud, was honored by fans at a memorial service in his hometown of Long Beach, New York last month. "He was Lil Peep to the world, but to us, he was Gus," producer Dylan "Smokeasac" Mullen said in a statement read during the service.
Be the first to receive breaking news alerts and more stories like this by subscribing to our mailing list.