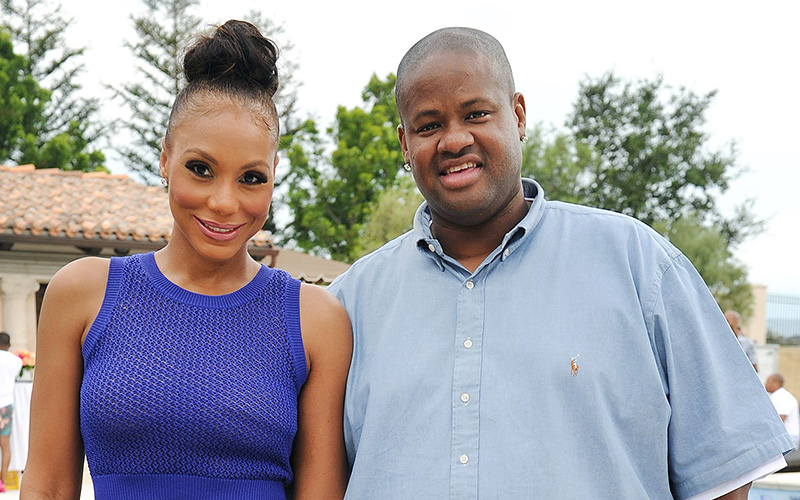 It's been a minute since we last heard from Tamar Braxton. Though she and husband Vince Herbert are constantly in the headlines, there was one recent rumor the singer couldn't let fly without addressing it.
A woman recently claimed that she has a child with Vince after a one night stand. She claims the sexual encounter occurred the night before Vince and Tamar's wedding. She even posted a picture of her 7-year-old daughter. The little girl will turn 8 later this year. Tamar and Vince have been married for 8 years.
https://www.instagram.com/p/BRbOLC2lba0/
Tamar responded to the shocking allegation on Instagram. However, the long post has since been deleted. She writes that the child is not Vince's, but if it was, she would let the little girl be in her family's life because that's what a good Christian woman does.
Tamar wrote in part:
"Let me be CRYSTAL clear before this untrue story gets out of hand… this lady is claiming that this beautiful child is Vincent Herbert's…(on Instagram)..let me explain to you all what kind of WOMAN I am!! If this was..she would be MINE as well..she would be all over MY instagram, media outlets, pictures interviews etc..because that's the type of WOMAN I am…

Why would I want him to miss out on being a part of his daughter's life?? Do you know how unpleased God would be and how that would effect OUR relationship in the end??…we would be DOOMED!!"
https://www.instagram.com/p/BRbNsjuFa_Z/
Not sure how God would feel about her husband allegedly cheating on her, but she never addressed that aspect of the rumor. I also think it's pretty interesting how hard Tamar defends Vince for his hypothetical child (and children).
After dedicating most of her rant to explaining how much she loves a lovechild that's not Vince's, she shifts focus to the woman making the claim.
"Now back to this Instagram baby's mother… GET YOUR LIFE!! The night before we got married he was over TONI BRAXTON's house!!!… so please go to Maury and get your DNA caus (in Maury's voice) in the case of the instagram baby mama…you…are…NOT the father!!"
Here is how Twitter responded to lovechild rumor and Tamar's post:
Chile. I guess Tamar had time today lmao

— LeTroy (@mrLdavis) March 9, 2017
That tamar IG post…. pic.twitter.com/59Ss6nDB7U

— You Hear White Folks Talkin You Better Hushpuppies (@Mndspeak88) March 9, 2017
Tamar lyin ??? she will cut both that man's heads off he fuck around and have a side baby ???

— a goodie? (@goldchampagne_) March 9, 2017
Tamar and Vince have too many infidelity rumors for none of them to be true

— Bittersweet Symphony (@DNTDGURL) March 9, 2017
Tamar and this "I'd accept Vince's love child but that's not his child" paragraph ?

— Christian (@_ChristianAM_) March 9, 2017
I wish Tamar was a little more Bey to the bullshit. Stop addressing everything ma

— Dev ? (@_Devooo) March 9, 2017
I would be inclined to believe that there's no truth to this rumor. However, Tamar's post is like a sparkling example of "thou doth protest too much." And she seems clearly OK with her husband having a child with somebody else.
This Instagram woman may not be telling the truth, but maybe Tamar has already walked down this road and we just don't know about it.
Be the first to receive breaking news alerts and more stories like this by subscribing to our mailing list.