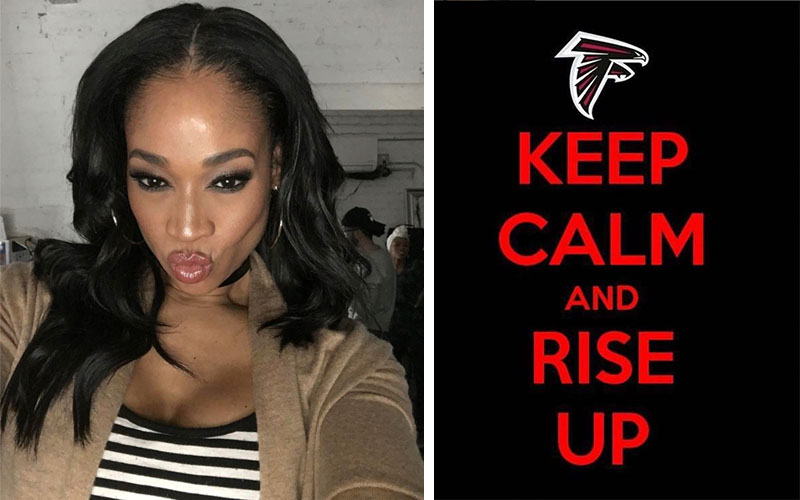 Stevie J's baby mama Mimi Faust has always done a pretty decent job of making herself look like an utter and complete joke on national television on Love & Hip Hop Atlanta, but who knew she could make herself look a complete fool without his assistance as well?
Mimi (who is not a native ATLien but has called the city home for years) was rooting for the Atlanta Falcons to win the 2017 Super Bowl against the New England Patriots. And by the time halftime rolled around, it looked like the Falcons might just make it since they were up 21-3.
At this time, Mimi must've had her social media assistants schedule the "Congrats, Falcons!" tweet because homegirl clearly did NOT watch the rest of the game when the Patriots came back in the second half to clobber the Falcons and secure victory at the Super Bowl with a final score of 34-28.
Either Mimi skipped out on the rest of the game and assumed the Falcons had it in the bag, or in her grief, she forgot to have her minions unschedule her victory tweet. Whatever the reason is, this tweet, bigging up the Falcons on their Super Bowl win went out. While Mimi did delete it shortly after posting it, The Shade Room screen-capped it so her mistake can live on forever.
And while Mimi's tweet was deleted, the reactions and responses to her post weren't. Enjoy the commentary from Twitter as they clown Mimi for celebrating a victory that never happened.
RT @MimiFaust: Atl!!!! Congrats #Falcons #Superbowl #Superbowl2017 pic.twitter.com/nrsrAGJWlv

— HB Whoadie (@PushupSensei) February 6, 2017
https://twitter.com/___pinkbarbie/status/828468875326992384
They lost! You must have been one of the people celebrating at the half! Lmao ?

— LOCAL ANESTHESIA (@jayceew62197) February 6, 2017
Mimi. Sis. ? pic.twitter.com/4mehUmhfjd

— TO F R E E D O M (@AriaNotAriel) February 6, 2017
— Gogeta 12/17?????? (@KiingJohnDoe) February 6, 2017
https://twitter.com/AyeQueLo/status/828454890921926661
https://twitter.com/StunnaTella/status/828450960410341376
honey what game did you watch? pic.twitter.com/5FJnDKEEWC

— ?? (@IGoByAlice) February 6, 2017
Mimi is already out here taking L's in 2017. Damn, girl. At least wait until the new season of LHHATL starts so you can get some coin from this embarrassment.
Be the first to receive breaking news alerts and more stories like this by subscribing to our mailing list.