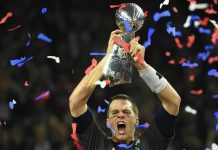 Just like the trend #NotMyPresident took over the internet after Trump's victory in November, #NotMySuperBowlChamps is one of the top trending hashtags on Twitter after the Patriots' Super Bowl win over the Falcons.
For the first time ever, the Super Bowl Champions are the Atlanta Falcons! Wait a minute. According to who, exactly? Mimi done messed up again, y'all. Michael Turner -- a running back for the Atlanta Falcons -- got a little carried away after celebrating his team's win against the Denver... Congratulations are definitely in order for New Orleans Saints football player Drew Brees, who last night broke the official NFL record for yards passed...