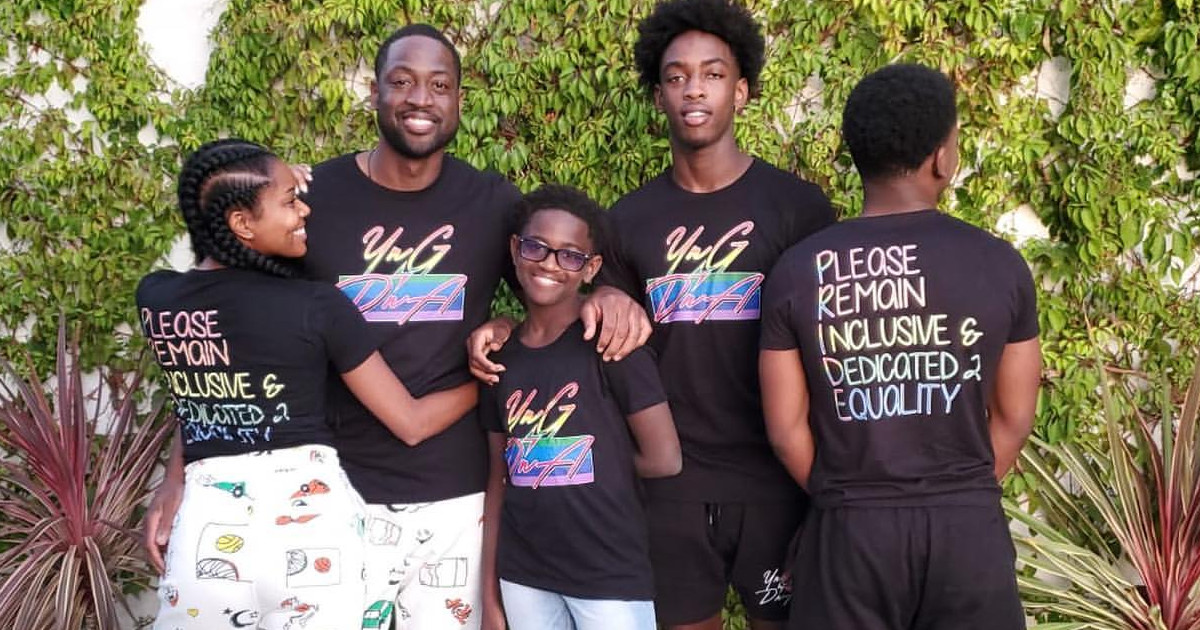 Dwyane Wade and Gabrielle Union continue to be shining examples of what unconditional love, supportive parenting, and allyship looks like.
During an appearance on Ellen today (Feb. 11) to promote his upcoming ESPN documentary, Wade proudly shared that his 12-year child (Union's stepchild) is transgender and is fully embracing her authentic self as Zaya.
"I don't know if everybody knows, originally named Zion. Zion, born as a boy, came home and said, 'Hey, so I want to talk to you guys. I think going forward I am ready to live my truth. I want to be referenced as 'she' and 'her.' I would love for you guys to call me Zaya.'"
Wade looked as his preteen daughter in awe of her bravery. "I looked at her and said, 'You are a leader. You are a leader and this is our opportunity to allow you to be a voice.'"
Protecting Zaya from unnecessary public scrutiny because she's 12, Wade and Union have not hesitated to use their platforms to support the LGBTQ community and advocate for equality.
"Me and my wife, my wife Gabrielle Union … we are proud parents of a child in the LGBTQ+ community and we're proud allies as well," he said.
They are also dedicated to providing Zaya the resources and information she needs.
"When our child comes home with a question, when our child comes home with an issue, when our child comes home with anything, it's our job as parents to listen to that, to give them the best information that we can, the best feedback that we can. And that doesn't change because sexuality [and gender] is now involved in it."
"Now it's our job to one, go out and get information, to reach out to every relationship that we have," Wade said, adding that Union had even reached out to the cast of Pose.
"We're just trying to figure out as much information as we can to make sure that we give our child the best opportunity to be her best self."
Wade and Union have publicly supported Zaya's LGBTQ journey since last year, both clapping back at social media trolls who criticized their parenting or attacked the 12-year-old.
Union, Zaya and several family and friends attended a pride festival in Miami last April. Though Wade couldn't attend due to an NBA game, he did share his support on social media.
"I'm doing what every parent should do," he told Variety when asked about the backlash he has received for unconditionally supporting his LGBTQ child.
The couple also works very closely with GLSEN, an organization that fights discrimination, harassment and bullying against LGBTQ+ individuals and aims to make schools a more accepting place for LGBTQ kids.
Seeing the unwavering love and support Wade and Union have shown Zaya is truly heartwarming and touching, but unfortunately, not every LGBTQ child receives this kind of love at home. And in some cases, the situation is even more dire for trans kids and black LGBTQ children.
Let's hope the example Wade and Union have set and Zaya's story will have a positive impact on other families throughout the country and beyond.
The ESPN documentary D Wade: Life Unexpected, which also shows Zaya sharing her story in her own words, airs on Sunday, February 23rd.
Be the first to receive breaking news alerts and more stories like this by subscribing to our mailing list.