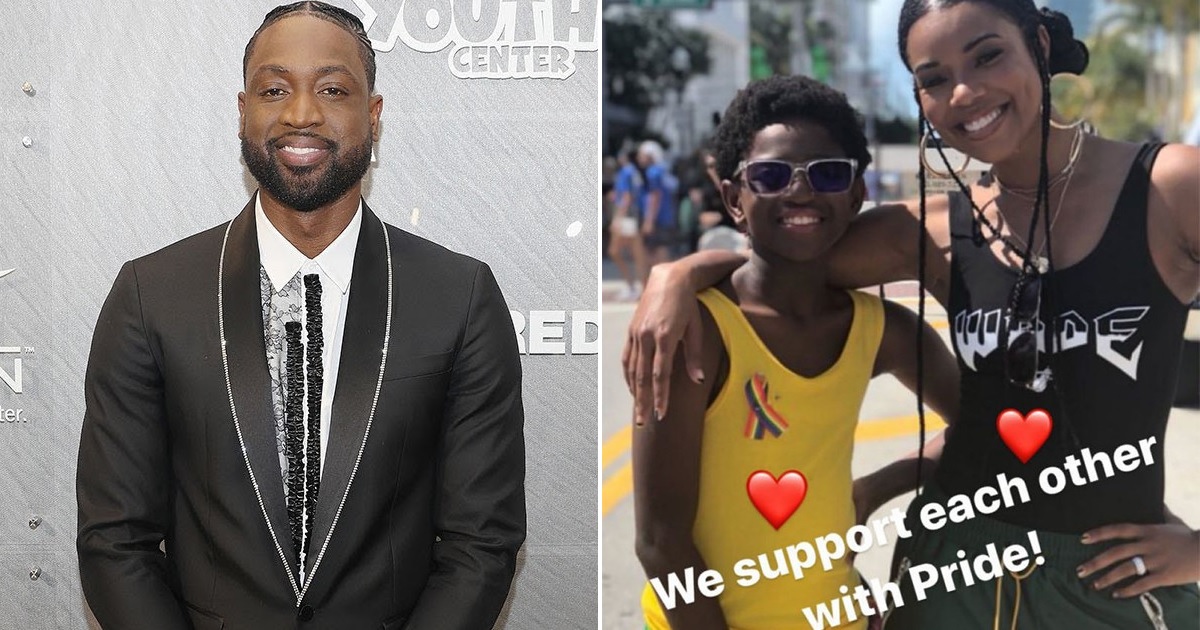 It's pride month and Dwyane Wade is defending publicly supporting his 12-year-old son attending an LGBTQ pride parade, despite some of the negative criticism he received.
Wade's son, Zion, attended a Miami pride parade in April and was accompanied by his brothers and stepmother Gabrielle Union. Though Wade couldn't join his family due to a basketball game, he did show support for his son on social media.
"We support each other with pride!" he wrote at the time. He also included the rainbow emoji in a separate message to show support to Zion.
Unfortunately, Wade's show of pride and support of his son was not well-received by all.
He clapped back in a recent Variety interview and reminded the haters that it's his job as a father to support his son.
"I don't really talk about it much because it's Zion's story to tell. I think as a family, we should support each other. That's our job. And my job as a father is to facilitate their lives and to support them and be behind them in whatever they want to do. My role is to support my kids and love my kids."
Dwyane Wade was surprised that his love for his son resulted in some backlash on social media https://t.co/yk4kuCE3nA pic.twitter.com/KAWEmQjEGZ

— Variety (@Variety) June 18, 2019
Wade said that he was surprised by the backlash given that he was doing what every parent should do.
"I'm very uneasy about accolades that come from supporting my kids or the negativity that comes with it. I'm doing what every parent should do. Once you bring kids into this world, you have to become unselfish. You're not important anymore. Your kids become the most important thing. Your family becomes the most important thing."
He also added that he didn't grow up in an environment where he was often praised for his talents and achievements or encouraged to excel.
"I'm from the inner-city of Chicago and I wasn't told that," he said. "I wasn't told I could be anybody and do anything, and I wasn't always shown that."
He continued: "It's my job to be their role model, to be the voice in my kids' lives to let them know that you can conquer the world and you have the support of your father and the support of your family every step of the way, so go and be your amazing self and we're going to sit back and support you all the way."
Zion turned 12 last month and Wade shared a special message for his son on Instagram.
"I love the kid that you are and I love the young man that you're becoming," he wrote. "I am so thankful that I was chosen to be your father and guide you thru this world. Continue to be brave."
Be the first to receive breaking news alerts and more stories like this by subscribing to our mailing list.