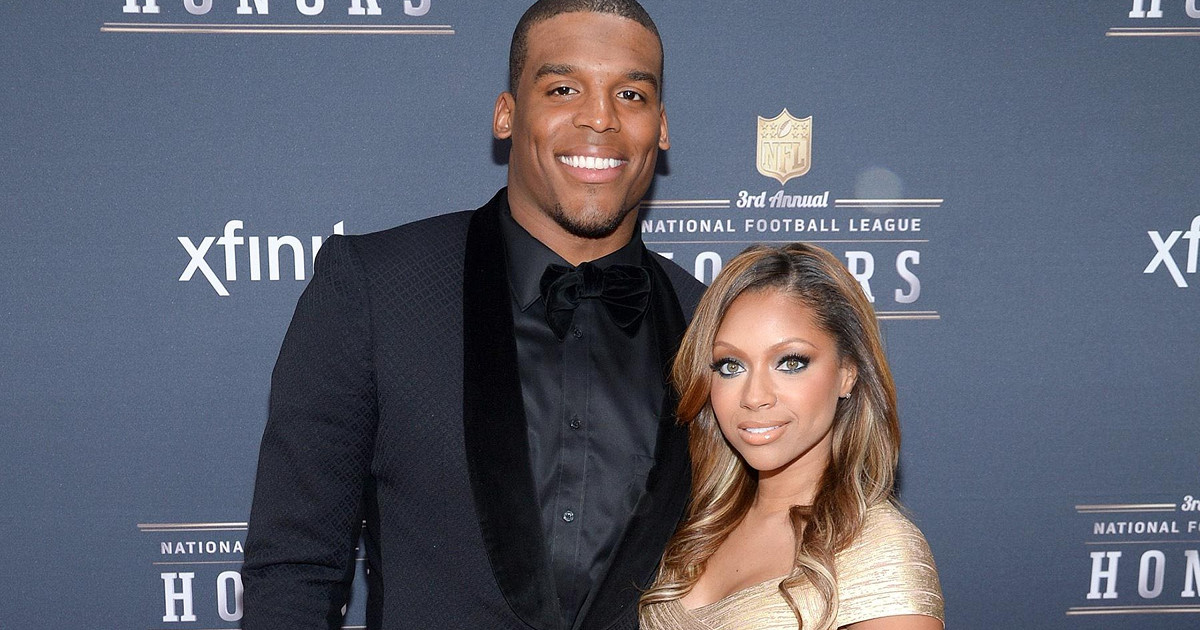 The public may just be learning about Cam Newton's secret baby and split from longtime girlfriend Kia Proctor, but the two have reportedly been fighting in court over custody and money for months!
According to Bossip, court documents show Newton and Proctor split months ago and are in the process of hammering out details regarding custody of their four children and child support.
Newton even wants DNA tests of all four of their kids!
The Carolina Panthers quarterback has sued Proctor for joint custody and visitation. He is also asking the court to determine child support. And though he signed the birth certificates, he wants paternity tests performed on the children.
Proctor says Newton is the father to all four of their children—she has a fifth child from a previous relationship—but does not have an issue with the DNA tests as long as Newton pays for them.
She has also countersued, seeking full custody, child support, and attorney fees.
Citing Newton's $60 million guaranteed salary of a $104 million contract and his endorsement deals, she has requested the court set child support above the regular guidelines.
She also wants Newton to pay for her to hire a financial analyst to look into his total income.
Proctor says she has never worked during their 6-year relationship and that she and their kids have always been financially dependent on Newton.
She wants the court to enforce a confidential settlement agreement the two made shortly before their youngest child was born in October.
"She has absolutely no source of income," the court papers state.
Proctor says that she moved out of Newton's home months ago. She plans to move back to her home state Maryland, while Newton wants to remain in Atlanta. This has made custody a much harder issue to solve.
"We and Mr. Newton prefer not to comment on the case and continue to hope the parties will be able to resolve matters privately," Newton's lawyer told Bossip.
This contentious court battle news obviously comes after it has been alleged that Newton had a secret fifth baby before his youngest child, Cashmere Saint, with Proctor was born.
We reported earlier this week model La Reina Shaw gave birth to Newton's alleged baby over the summer, meaning she and Proctor were pregnant at the same time.
Shaw currently lives in an apartment above Newton's Atlanta restaurant, Fellaship. The two were spotted in the restaurant together on New Year's Eve.
There are mixed reports on whether the two are currently in a relationship. And although they don't follow each other on social media, Newton has liked several of Shaw's photos and Shaw has commented on Newton's posts.
Be the first to receive breaking news alerts and more stories like this by subscribing to our mailing list.