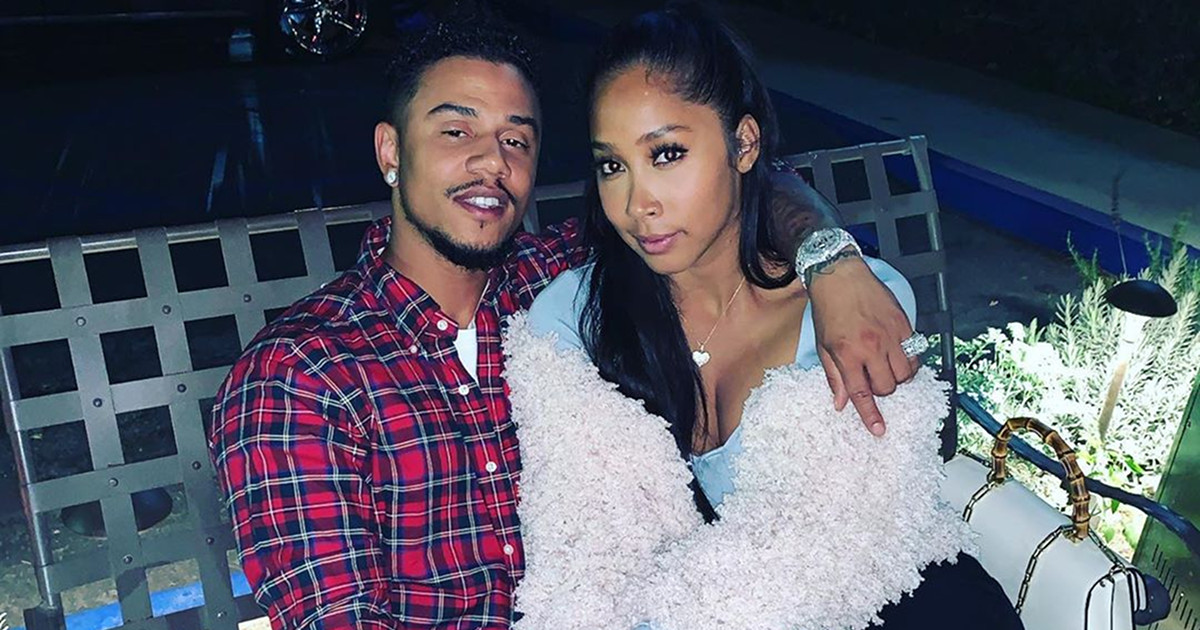 True love didn't last long for Fizz and Apryl Jones. After fiercely defending their relationship to their close friends and the entire internet, it seems the two have quietly called it quits.
Many have begun to speculate the two Love & Hip-Hop Hollywood lovebirds are now broken up after it was discovered that they had both unfollowed each other on social media. They also haven't posted a picture together since November.
The apparent split caused the exact reaction from Twitter as you would expect.
So Apryl and Fizz put Omarion through all of that just to break up ??

— * CAPRICORN KWEEN (JAN. 13) * (@Britt__Da__Shit) January 5, 2020
Fizz and apryl should just be roommates. I know they tired of home hopping

— Tameka Alice (@tamekasaysitall) January 6, 2020
So Fizz and Apryl broke up smh he fumbled the bag for her and she left him

— King Goldie ???? (@yunggoldie__) January 5, 2020
Apryl and fizz broke up huh pic.twitter.com/tBB2D7UCS5

— Blue Abstract???? (@Fatal116) January 5, 2020
Fizz and apryl are done? ???? pic.twitter.com/ibfJMJVHrK

— ???Lady Hokage of the Slayvengers??? (@MelaninG__) January 5, 2020
This Apryl + Fizz tea. I knew it wouldn't work. All he is, is a baby sitter

— The Amanda Show (@manda_panduhhhh) January 5, 2020
lil fizz fucked up his own bag over some toxic coochie and Apryl Jones fucked up a legacy with some toxic coochie

— JacQuan Pittman (@BlackK_GMS) January 6, 2020
Where is J Boog? Apryl and Fizz broke up and I know Boog is STEAMING right now

— C.B.K ?? (@SkipFromBk) January 5, 2020
Fizz and Apryl's close friendship-turned-romantic-relationship has been met with much resistance since the beginning because the father of Apryl's two children is Omarion, Fizz's B2K bandmate.
Not to mention, the couple reportedly denied their relationship to their friends and family for several months, basically causing Moniece—the mother of Fizz's child—to have an emotional breakdown as they made her out to be unstable after she publicly outed them on social media on several occasions.
Fizz and Apryl ultimately confirmed the relationship during the most recent season of LHHH and couldn't care less about what their castmates had to say about it.
But that didn't stop Moniece, fellow B2K member J-Boog, and others from voicing their issues with the couple's ways during the reunion.
Some even believe the friction was the reason B2K was unable to go another Millennium tour, while Omarion chose to create a separate tour featuring artists like Bow Wow, Soulja Boy, and Pretty Ricky.
Though he shadily announced the tour on Fizz's birthday, Omarion stated in a VladTV interview that he had no ill-will toward Apryl and Fizz and wished them well.
"I don't feel no ways, I don't feel any way about it," Omarion said at the time. "I think that if they're happy, then they should be happy … She's still the mother of my children."
So far, there hasn't been any confirmation (or denial) that Apryl and Fizz are, in fact, over. But for now, social media seems to think the relationship is done.
Be the first to receive breaking news alerts and more stories like this by subscribing to our mailing list.