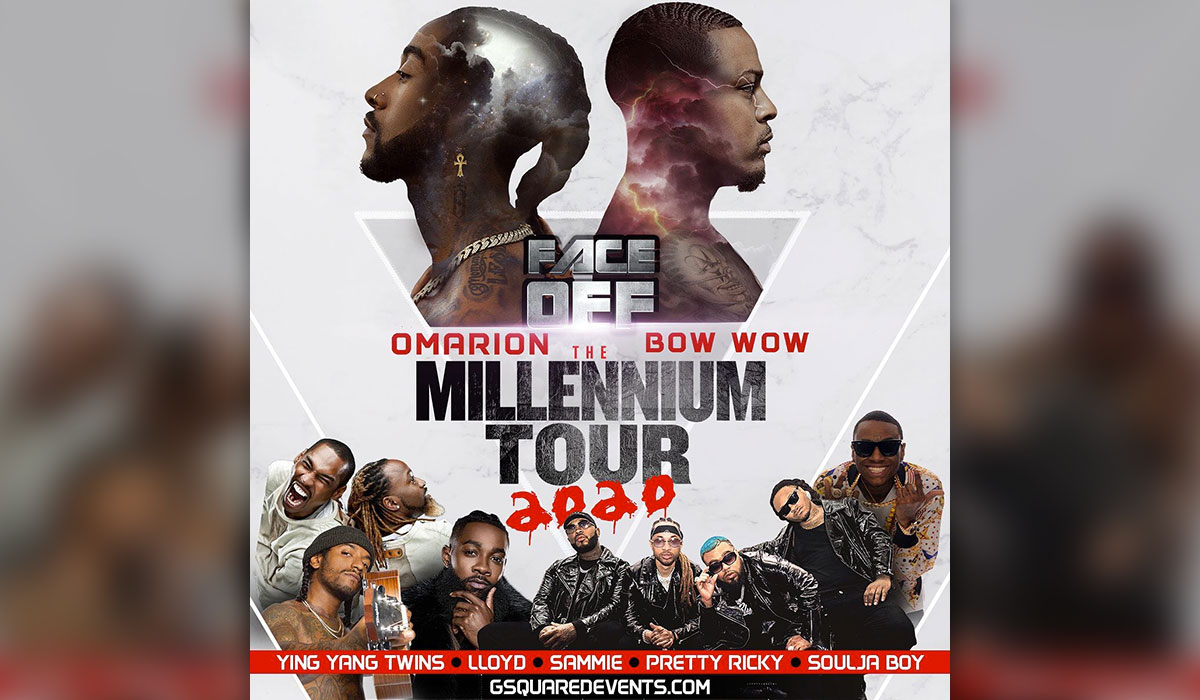 Omarion is out here playing chess, not checkers when it comes to his very passive-aggressive "beef" with his (now former) B2K bandmate Lil Fizz.
For the past few months, Omarion has been praised for keeping his composure in regards to Fizz and his baby mama Apryl Jones flaunting their relationship, and now we see why.
Earlier today, which just so happens to be Fizz's birthday, Omarion announced that he's going on tour in 2020 … but WITHOUT B2K.
The singer took to social media to announce that he's co-headling the "Millennium Tour 2020" with Bow Wow, and they're also bringing along the Ying Yang Twins, Lloyd, Sammie, Pretty Ricky and Soulja Boy.
Noticeably missing from the list of acts is B2K, but honestly, with all of the drama Raz-B already brings, plus this new Fizz and Apryl thing … can you blame O for dropping his bandmates?
2020 is my 20th year entertaining. Blood, Sweat & Tears. Always giving you the best that I got. Thank you for growing with me. ??.

— OMARION (@Omarion) November 26, 2019
It goes without saying that Twitter has been having a field day with this hilariously petty move from Omarion.
LMAO this why he been so calm. My son had a wild draw 4 up his sleeve. Good for you Omarion. ?? https://t.co/VmNz7I2XvU

— What's The Move? ? (@TaqeeBond) November 26, 2019
Omarion told Fizz he was dismissed on his birthday. He wasn't quiet, he was plotting his petty. I STAN pic.twitter.com/QkpEH1Ido2

— Karen Civil ?? (@KarenCivil) November 26, 2019
Omarion to Fizz: pic.twitter.com/QMZ8A6WFbO

— Glen CoCo (@chrissy_kreme10) November 26, 2019
Fizz gonna be stuck at home watching Omarion kids while he's on tour….. a beautiful move, tbh.

— ak. (@_ohalicia) November 26, 2019
Omarion just taught some of y'all a lesson, sometimes you just let people do the extras and play themselves out.

— Demetrius Shipp Jr? (@Dshippjr) November 26, 2019
Omarion shared this video today. ? pic.twitter.com/iYXmJw5H8C

— Erin Danielle J. (@ErinDanielleJ) November 26, 2019
J. Boog watching Omarion and 'nem go on tour after Lil Fizz ruined his bag. pic.twitter.com/qKUZIqGtrE

— Real Estate Bae ? (@PleaseImpressMe) November 26, 2019
OMARION IS A PETTY ASS SCORPIO ? https://t.co/YZ6tVUpwJF

— ??WOO ???? (@TheJessieWoo) November 26, 2019
Omarion getting ready to announce that Fizz is getting TF ASAP off the tour pic.twitter.com/NN8s0uWHeY

— Real Estate Bae ? (@PleaseImpressMe) November 26, 2019
Omarion: Look at me it's my birthday now pic.twitter.com/uchNZzlMLl

— Maybe: T-Hyde (@KingHyde12) November 26, 2019
Fizz took his girl ! Omarion stopped his bag ?

— ? TMC (@Eunique_ny) November 26, 2019
Be the first to receive breaking news alerts and more stories like this by subscribing to our mailing list.