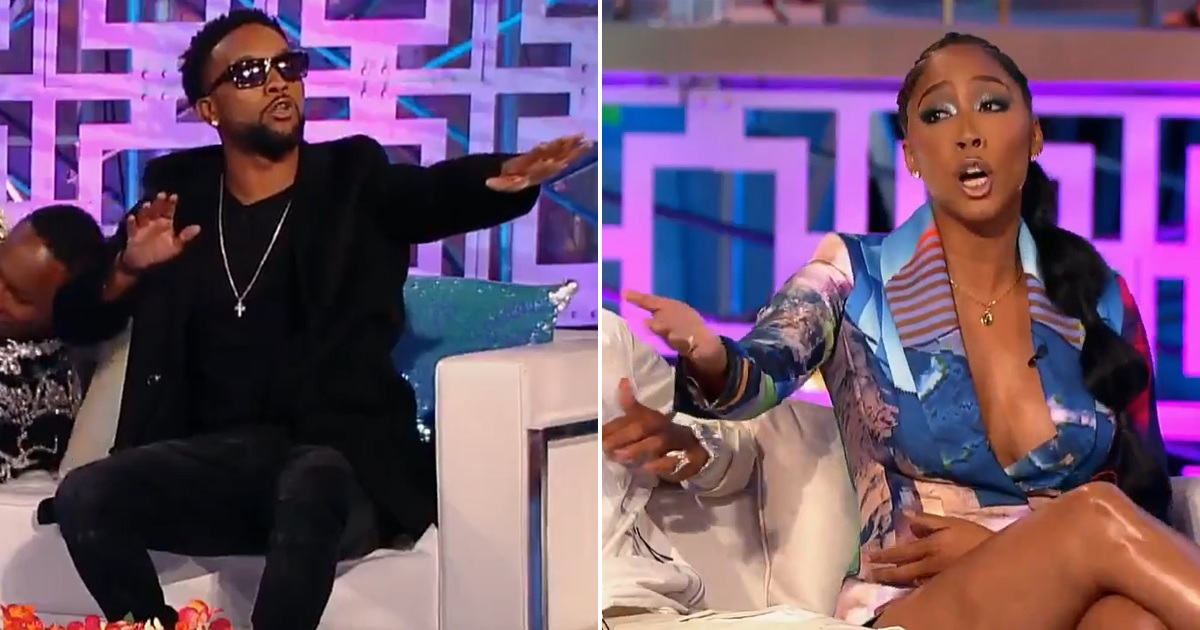 J-Boog just made his Love & Hip-Hop reunion debut and let's just say he fit right in.
Though he mostly stayed out of the chaos while A1 Bentley, Lyrica, their mamas, and other cast members went at it, he didn't hold back when it was time to discuss the hot-topic relationship between fellow B2K bandmate Fizz and Apryl Jones/other B2K bandmate's baby mama.
Boog repeatedly stated that he didn't like getting in the middle of other people's relationships, but he did admit that he would not like it if Fizz suddenly started dating his baby mama.
"I'ma f**k him up," was his exact response.
Things then went a little left when Boog flat out told Apryl that is was messed up for her to begin a relationship with Fizz after having two children and being engaged to his "brother" Omarion.
"What's f**ked up is it's unfortunate that you f**ked with his brother before you f**ked with him," Boog said.
Apryl and Fizz both took issue with comment and Apryl threatened to spill some of Boog's secrets. He didn't flinch though.
"Open up the box then, baby," he shot back. "Do you want me to say it for you so your clip is empty?"
"There was other relationships that were happening with members with other family members." ?

What'd y'all think of the SCALDING hot tea dropped on tonight's #LHHReunion? #LHHH pic.twitter.com/yKOdjWYqgm

— Love & Hip Hop (@loveandhiphop) December 10, 2019
The tense exchange is left on a cliffhanger as Apryl reveals that she and Fizz aren't the first or only time that a B2K member had a relationship with another bandmate's family member.
Back in November, leaks from the reunion taping suggested that someone accused Boog of hooking up with Omarion's mom, Leslie.
It was unknown who dropped the bombshell accusations, but many suspected Fizz's ex Moniece Slaughter. But now it's looking like it was Apryl who spilled the tea!
Fans will have to tune in next week for part 2 of the Love & Hip-Hop Hollywood reunion to see what Apryl actually reveals and how Boog handles his dirt being exposed.
Be the first to receive breaking news alerts and more stories like this by subscribing to our mailing list.