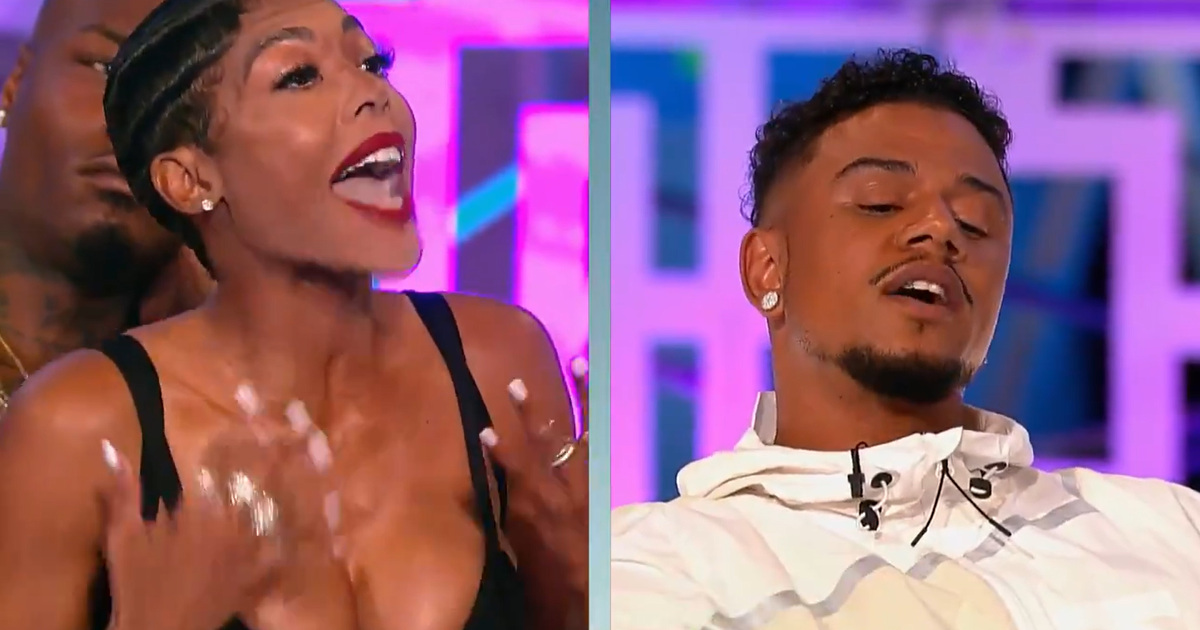 For several seasons, Love & Hip-Hop Hollywood fans have seen Fizz shame Moniece Slaughter for her mental health issues and repeatedly portray her as a bad mother.
But during this season's reunion special, he stooped to a new low, outright asking her to give up joint custody of their son because of her mental health while also refusing to step in and co-parent during her low periods.
"If it's not your week, it doesn't mean that you gotta give up full custody because you're goin' through somethin'."

Leave it to Booby to step in when it counts most! Who do you agree with– Moniece + Booby, or Fizz + Apryl? #LHHH #LHHReunion pic.twitter.com/3w8PYJT5bx

— Love & Hip Hop (@loveandhiphop) December 17, 2019
Moniece recounted that in the midst of one of her recent depressive bouts, she asked Fizz to come pick up their son while she got better.
Unfortunately, the B2K member refused because it was Moniece's week and insinuated that she only wanted an out of her parental responsibilities.
"Don't sit here and constantly down me when I'm saying I'm in a bad space emotionally, the medication isn't working. I gotta figure it out. I'm thinking of checking into a treatment center," Moniece pleaded.
That's when Fizz hit back by challenging Moniece to give up joint custody and grant him full custody of their son.
"You don't want to be responsible," he said. "Until you go get the help you need and feel like you can be the mother that you want to be to our child, then cool, we can have joint custody again."
"DO WHAT B***H?!" ??

Should Fizz be more understanding of Mo's situation or do you think he has Kam's best interests in mind? #LHHH #LHHReunion pic.twitter.com/IVIISonM0s

— Love & Hip Hop (@loveandhiphop) December 17, 2019
Throughout the tense exchange, Fizz repeatedly asked Moniece to take full accountability of her mental instability while also seemingly accusing her of using her mental health as an excuse.
But the thing is, Moniece has always been honest about her struggles with mental health and has sought to get better, including during this season. But when she asked Fizz to step in with their son because she's not at her best, he refused to do so and blamed her.
LHHH fans did not like the way Fizz treated the mother of his child, especially since he allegedly helped current girlfriend Apryl Jones during her mental health and custody issues.
Fizzle pop: "if you having a mental problem & can't keep Cam just say it"

Moniece: "I'm having a breakdown & need you to get Cam"

Fizzle Pop: "No, it's not my week"

Wait…what?!?!

Fizz really ain't shit!! #LHHH #lhhreunion pic.twitter.com/x6fEpIkeSC

— Yovanna from Clark, CAU (@Marnithia) December 17, 2019
I feel like Fizz is usin' the fact that Moniece has mental health issues to try to paint her as a bad mom & that's fucked up. #LHHH pic.twitter.com/ewH0zhJ2Il

— ? Holly Jolly Fupas ? (@ThoughtsByJae) December 17, 2019
So, Fizz cares more about his weekend plans being ruined than picking up his son when Moniece is in mental, emotional turmoil? #LHHReunion pic.twitter.com/FqTxAbosye

— jelevision (@jelevision) December 17, 2019
I hate that Moniece allows Fizz and Apryl/their bullshit get to her the way they do. He is absolute trash and I hate him now. To use the mental health issues of the mother of his child against her the way he does? #lhhhollywood #LHHH #LHHReunion pic.twitter.com/TFI7jDrlAK

— Always Right (@UppityInsomniac) December 17, 2019
I feel for Moniece man. Fizz don't understand her mental stability directly correlates how she parents their kid and how they co-parent. But he hate that lady so much that he would rather watch her unravel than help her be better. Fuck Fizz.#LHHReunion

— *Bald Head Scallywag* (@DanieIsDope) December 17, 2019
Lil Fizz is not sympathetic to Moniece's mental illness but he was there for Apryl situation with O… wow #Lhhh pic.twitter.com/guTcGXEpFK

— *JamaicanPrincess* (@LeaseyPooh83) December 17, 2019
Mental health is a serious issue, especially in the black community where it's not openly addressed and properly treated. For years, Moniece has been brave by being honest about her struggles on the popular reality show.
Fizz doesn't seem to be too sympathetic to her plight. Let's hope Moniece gets the treatment she needs and that the two can get to a better place to co-parent their son.
Part 3 of the Love & Hip-Hop Hollywood reunion airs Sunday (Dec. 22) on VH1.
Be the first to receive breaking news alerts and more stories like this by subscribing to our mailing list.