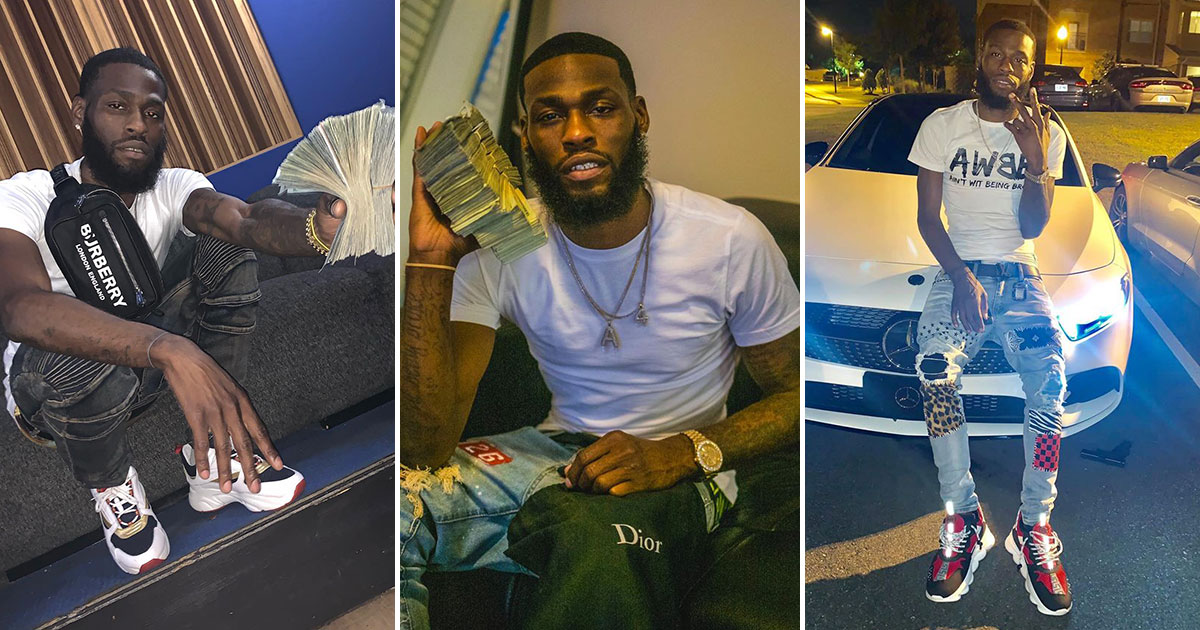 An aspiring rapper with an apparent taste for the finer things in life has been accused of stealing thousands of dollars from Wells Fargo while he was supposed to be guarding the cash vault at a branch in Charlotte, North Carolina.
According to a recently unsealed indictment, 29-year-old Arlando Henderson was arrested last week on 34 counts of financial institution fraud, theft, embezzlement and misapplication, making false entries and money laundering.
Court documents state that Henderson was hired by Wells Fargo in April 2019 to guard their cash vault, and on at least 18 occasions, he stole cash from deposits made by bank customers stored in the vault.
Henderson allegedly started pocketing relatively small amounts of money just two months into his employment without getting caught, according to the indictment obtained by the Charlotte Observer.
On June 12th, he allegedly took $446, and a week later, he allegedly pocketed another $200.
Two days after that, the indictment alleges he stole $411, and from there, the amount and frequency of the thefts quickly escalated as he gained more confidence.
By the end of June, he had already allegedly stolen close to $2,000. In July, his takings rose to $19,000 with $8,100 coming from just one day's haul.
He eclipsed that amount with an $8,700 theft on July 10th, the indictment said, and five days later, he set yet another one-day high by stealing $13,450.
During that time, prosecutors said Henderson would make regular deposits through an ATM near his job, with most of the transactions involving large amounts of $50 and $100 bills.
As a part of his criminal enterprise, Henderson also allegedly destroyed documents and rigged the bank's books to cover up his illegal income stream. In all, he stole $88,000 from the bank.
Prosecutors said Henderson used the money for personal expenses and to make a large cash down payment ($20K all in $100 bills) on a brand new 2019 Mercedes Benz. He obtained a loan for the remaining balance from another bank by providing falsified bank statements, the indictment said.
As his indictment points out, between the months of July and August 2019, Henderson—who purportedly served in the U.S. Army at some point and is also an aspiring recording artist who performs under the stage name "Aceey4oez"—used his Facebook and Instagram accounts to post photos showing large stacks and fans of $100 bills.
Other photos posted to Henderson's social media accounts showed him flaunting a gold, diamond-encrusted watch and designer clothes, including a Balmain sweatshirt and a Burberry button-down shirt with matching shorts.
Henderson also posted a photo of himself posing in front of his ill-gotten luxury car wearing a t-shirt with the acronym AWBB, which means "Ain't Wit Being Broke."
In the caption of a photo of him holding a stack of bills, Henderson wrote: "I make it look easy but this shyt really a PROCESS."
Following an FBI investigation, Henderson was indicted in November.
One of his last photos posted on his Facebook was taken in September San Diego, where he was arrested by FBI agents on December 4th.
Henderson made his initial court appearance two days later, and he's due back in court on Tuesday (Dec. 17) for another hearing. He faces decades in prison if convicted as charged.
Be the first to receive breaking news alerts and more stories like this by subscribing to our mailing list.