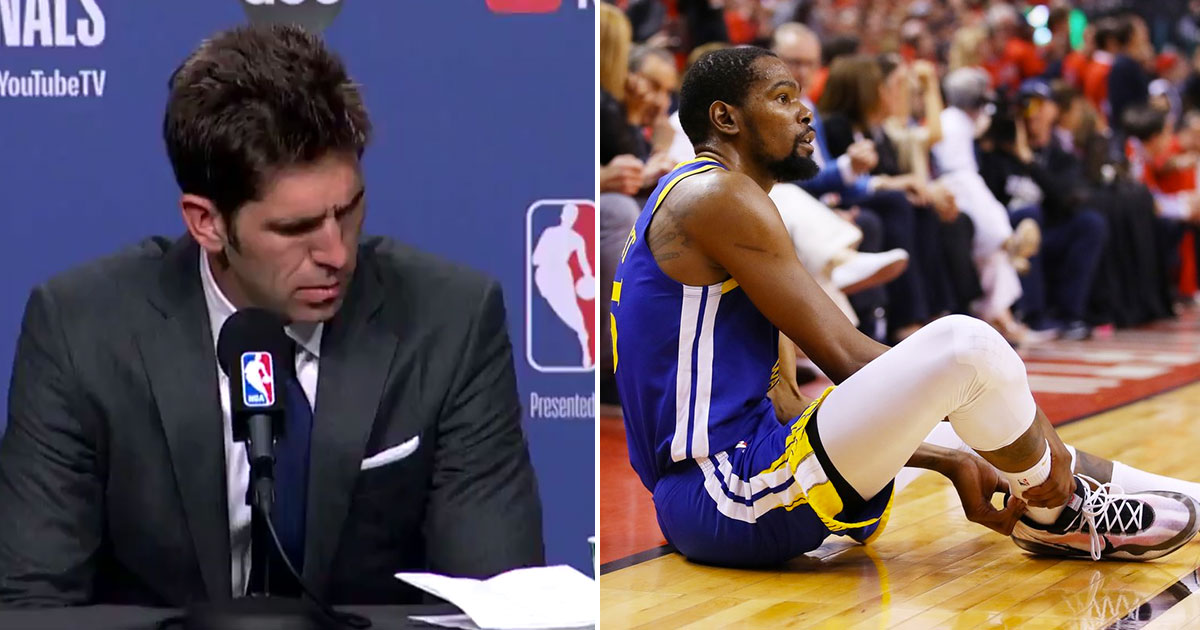 Kevin Durant's triumphant return to the court in Game 5 of the 2019 NBA Finals was cut short Monday night (Jun. 10) in Toronto when he suffered an injury in the second quarter that took him out of the remainder of the game.
Oh no… Kevin Durant grabbed his Achilles/calf…#Warriors #Raptors #NBAFinals pic.twitter.com/bOvYFx6gQB

— ClutchPoints (@ClutchPointsApp) June 11, 2019
While Golden State Warriors officials initially thought KD had injured his lower left leg, many feared the worse: that Durant had injured his Achilles, because he was seen nursing his left Achilles when he went down.
Kevin Durant appears to aggravate his calf injury and heads to the locker room early in the second quarter. pic.twitter.com/VXu3SmTS8Y

— SportsCenter (@SportsCenter) June 11, 2019
And as it turns out, those fears were right on the money, according to Warriors President Bob Myers, who confirmed with reporters that Durant definitely injured his Achilles.
A closer look at Kevin Durant's right leg injury: pic.twitter.com/XEHPIn9wnW

— SportsCenter (@SportsCenter) June 11, 2019
Myers, who was visibly emotional and choked back tears as he revealed the news, said he didn't know the extent of KD's injury, but said an MRI would be performed Tuesday (Jun. 11).
"It's an Achilles injury."

Bob Myers shares the news of KD's injury. pic.twitter.com/tdQmNYDVka

— NBA TV (@NBATV) June 11, 2019
In just 12 minutes of action, Durant finished the night with 11 points and shot 3 for 3 from the field … but his time on the court was short-lived due to the injury that sparked an emotional response from infamous Raptors fan Drake, who appeared to cry and consoled KD while he walked off the court.
Durant was seen limping to Golden State's locker room after the injury with the help of his teammate Andre Iguodala and a member of the medical staff.
Steph Curry and Andre Iguodala accompanied Kevin Durant to the locker room after he appeared to re-injure his calf. #NBAFinals pic.twitter.com/Psx6Gvul5l

— NBA TV (@NBATV) June 11, 2019
He was later spotted leaving Toronto's Scotiabank Arena in crutches and with a boot on his injured leg.
Kevin Durant is seen on crutches and in a walking boot at Scotiabank Arena. pic.twitter.com/4r7M0QrY7T

— SportsCenter (@SportsCenter) June 11, 2019
While the Warriors managed to survive Game 5 with a 106-105 victory over the Raptors, Durant's injury is no doubt a major blow to the team, who found themselves trailing 3-1 in the Finals while he was out before barely squeezing out their latest win.
Durant will likely be out for the remainder of the series, which is now 3-2, so it will be up to the Warriors to pull it together if they want to have their third straight Finals win, and they'll have to win the next two games in a row in order to make that happen.
Following the Warriors' big win Monday night, KD took to his Instagram Stories to send out a message to his fans. He said that despite him feeling down, his teammates' victory helped give him "new life."
"Dub nation gonna be loud as f**k for Game 6," Durant shared. "I'm hurting deep in the soul right now I can't lie but seeing my brothers get this win was like taking a shot of tequila, I got new life lol. #dubs.
KD speaks after Game 5: pic.twitter.com/YauMYbA7GW

— ESPN (@espn) June 11, 2019
Game 6 is in Toronto Thursday (Jun. 13), and if the Warriors win, Game 7 will be played Sunday (Jun. 16) in Oakland.
Be the first to receive breaking news alerts and more stories like this by subscribing to our mailing list.