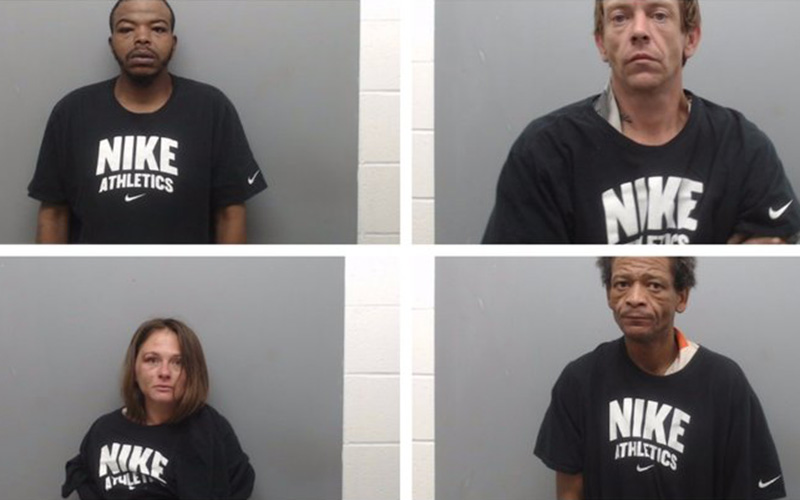 An Arkansas sheriff's office has been accused of forcing people to pose for their mugshots in Nike shirts to mock the company's recent deal with former NFL quarterback Colin Kaepernick.
Social media activist Shaun King posted a photo of 12 inmates wearing Nike shirts on Twitter and Facebook Wednesday night, saying that Union County Sheriff Ricky Roberts was "putting Nike t-shirts on people they arrest and making them wear them during mug shots."
King added that his source said they Roberts was forcing inmates to wear the Nike shirts "to mock Nike and Colin Kaepernick," which he said was "disgusting."
The Sheriff in Union County, Arkansas is putting Nike t-shirts on people they arrest and making them wear them during mugshots.

Source says it is to mock Nike and Colin Kaepernick. Disgusting. pic.twitter.com/9z9Nw9hxuF

— Shaun King (@shaunking) October 11, 2018
Colin Kaepernick gained national attention in 2016 when he began kneeling during the national anthem in protest of the country's mistreatment of people of color.
Last month, Nike made a deal to feature Kaepernick on billboards, TV and online ads for their "Just Do It" campaign, a move that, ironically, sparked a number of protests from conservatives, including people burning Nike gear and posting videos online.
The photos Shaun King posted showed at least 12 inmates wearing large, black T-shirts with NIKE ATHLETICS in boldface font. Other inmates were wearing shirts with just the Nike check mark logo or NIKE AIR.
"Though King's post features two Nike shirts — the aforementioned T-shirt and a black polo shirt with a small white Nike swoosh in the upper right-hand corner — the second shirt could be seen in mug shots as far back as July, before the Sept. 3 announcement of the Nike-Kaepernick deal," the Arkansas-Democrat Gazette reported. "The NIKE ATHLETICS shirt began to show up in mug shots around Sept. 15, according to the jail's roster."
Less than an hour after King's post, the Union County sheriff's office removed all photos of inmates from the jail's online roster.
Be the first to receive breaking news alerts and more stories like this by subscribing to our mailing list.