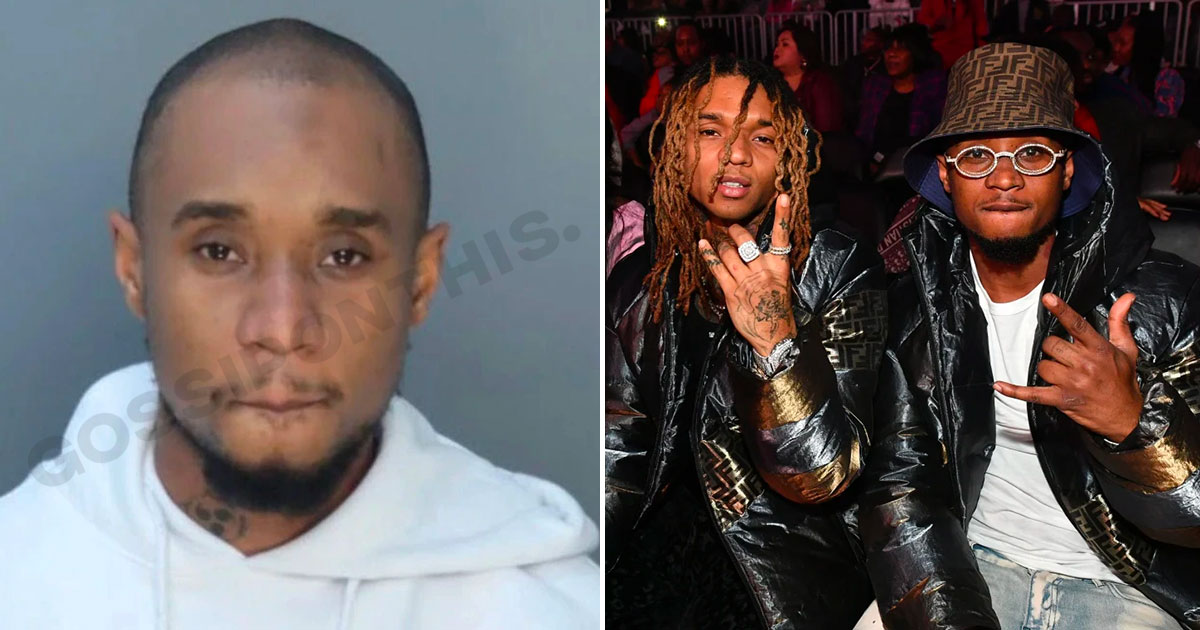 UPDATE: Slim Jxmmi's girlfriend/baby mama Kee is calling "cap" on the reports that Slim Jxmmi assaulted her. She says there was no physical altercation, just a "loud argument" that resulted in the police being called.
---
Slim Jxmmi, one half of popular rap duo Rae Sremmurd, was arrested early Tuesday morning (Jan. 25) in Miami for battery after allegedly attacking his girlfriend and the mother of his child.
According to TMZ, during the attack, the rapper kicked a door in and pulled his GF's hair out before tossing her phone off a balcony to prevent her from recording.
Slim's girlfriend — with whom he also shares a son — told cops the rapper first got pissed after she had questioned him about a woman he was following on Twitter.

Cops say the GF told them Slim left their home with a friend shortly after the argument and returned a short time later smelling like alcohol. The alleged victim told cops when she attempted to move their sleeping child from his playpen to a bed, Slim pulled her hair so hard her extension was ripped from her scalp.

We're told Slim's GF told cops she tried to record his outrage with her phone — which made him more pissed — and he chased her around their home.

At one point, the alleged victim told cops she ran to a room and closed the door, but Slim kicked the door down, ripped the phone away, and threw it over a balcony to prevent her from posting the video on social media.

Cops say they recovered the phone, undamaged, on a nearby street when they were called to the scene.
This isn't the first time Slim Jxmmi has been involved in an alleged domestic violence incident with his girlfriend. To refresh your memory … he was accused of punching his then-pregnant girlfriend Kee in the mouth, knocking her tooth out.
According to The Shade Room, Kee was around six months pregnant at the time, and Slim Jxmmy eventually paid for Kee to get veneers to replace her tooth.
TSR's source said Kee and Jxmmi's relationship was very toxic, with Jxmmi treating Kee like a "punching bag," and his actions were a direct result of the death of his father at the hands of his half-brother. Kee didn't press charges at the time because she feared retaliation.
A few months later, Kee took to social media accusing the rapper of being a deadbeat after he went viral from a live video in which he was seen taking their son away from her.
"Since my baby's father wants to go viral, I will clear some things up," Kee wrote on her IG story. "He came to my hotel room last night with intentions on making a live of me to try and clear his name. And make me look like I'm the bad person. He's sending out the live trying to get people to watch it because no blogs have posted it. So he wants it to be seen."
"My son is a month old, and Jim has seen him 3 times. I left where I live (Los Angeles) and went to where I had support because I had a Csection and he was refusing to help me in LA," she continued, claiming that Slim Jxmmi argued with her via text before showing up at her hotel. "As soon as we met there, he went on live, so yes I tried taking my son and leaving my hotel room."
She added that she had proof that after their son's birth, she begged him to help her because she was "exhausted" and still recovering from her surgery.
"He would respond with 'He's not even two weeks old, he doesn't need my attention right now,'" Kee recalled. "'All he does is eat, sh*t, and sleep' so yes, I stopped contacting him and left LA. I wasn't going to keep asking for him to see him."
Kee said after she left L.A., Slim Jxmmi threatened her, but she later decided to travel to Atlanta so their son could spend time with him.
"I want my son to know his dad, I got a ticket and came," she said, adding that she'd been in ATL three days and Jxmmi spent a total of 12 hours with their baby. She claimed that the rapper put on a show for Live viewers to make it seem as if she was trying to keep his child from him.
"He was telling my ONE MONTH old son his mommy is a hoe and a thot. I'm neither. He is telling my son this on his live. So yes you damn right I'm trying to leave with my baby."
Kee added that the footage would be used in court to explain "why he cannot see my son legally anymore until he  gets help."
Be the first to receive breaking news alerts and more stories like this by subscribing to our mailing list.