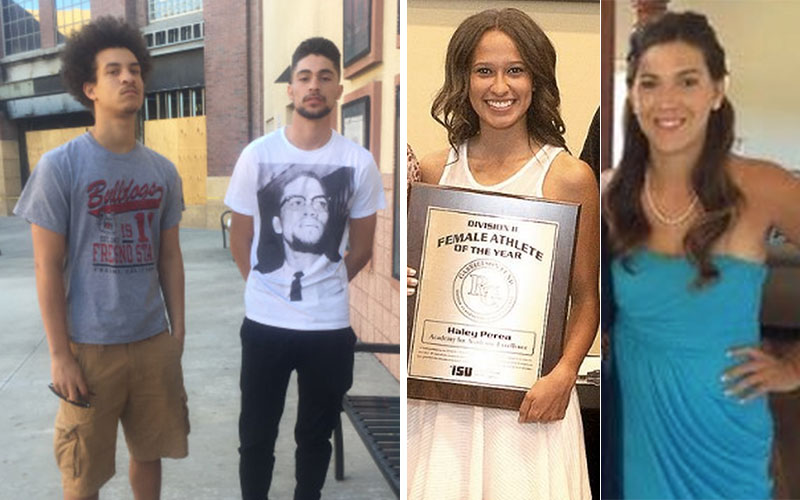 Shocking video footage showing a woman assaulting a man for the so-called "crime" of kneeling during the national anthem at a Lakers game has gone viral on social media.
Last Wednesday (Oct. 4), during a preseason game for the Los Angeles Lakers at the Staples Center, Haley Perea, a woman who has publicly used the n-word multiple times on social media, honed in on two men who chose to kneel instead of standing for the national anthem, and attacked one of them by throwing a drink on him.
Making matters even worse, her friend, Savannah Sugg, recorded the incident and shared the video on Twitter.
"This is for the national anthem you pieces of shit," Becky #1 (Perea) can be heard saying before tossing a dark-colored beverage on the man. "Yeah! F**kers!" Becky #2 (Sugg) screams in the background.
Sugg captioned her tweet:
"Take a kneel for the land of the slaves." Disrespect our flag and our country and that's how we'll react.
Becky #2's tweet has since been deleted, as well as both of the women's social media accounts, but that didn't stop the footage and their names and photos from being shared all over the Internet.
These two lovely ladies by the names Haley Sugg and Savannah Perea thought it would be cute to assault these boys on camera. pic.twitter.com/wfWuoXeCdh

— maya (@mayamvdrid) October 5, 2017
Their names are Savannah Sugg and Haley Perea. Haley goes to Christian Baptist University in Riverside Cali & works at a "Juice It Up!"

— Odyssey (@OdysseyGarza) October 5, 2017
2 @calbaptist students pour drinks and racial slurs over 2 siting during anthem

Some things haven't changed

video: https://t.co/mfzF91KeNb pic.twitter.com/SDoaClGQQi

— alex medina (@mrmedina) October 7, 2017
"Savannah Sugg and Haley Perea are the faces of racist America". https://t.co/B2L3aquPmN

— Reginia Cordell (@reginiacordell) October 7, 2017
These are the women who threw that drink on those guys at the Lakers game. Haley Perea & Savannah Sugg. pic.twitter.com/rvgUYMEszq

— Donnelle (@iAmNELLEZ_) October 7, 2017
Savannah Sugg & Haley Perea. Cal Baptist. If you see this 2 girls, make sure to throw them a drink or whatever you have in your hand. pic.twitter.com/5uo38ymuth

— Toñito (@JoseBurgos117) October 7, 2017
Haley Perea and Savannah Sugg—who, according to reports, are both Trump supporters (surprise, surprise!)—attend California Baptist University, a private Christian college in Riverside, California. Perea apparently works (or at least worked) at a raw juice bar called "Juice It Up," and Sugg reportedly works at a restaurant/brewery in Riverside called "Heroes."
After Perea and Sugg went viral over their videos, The Tab uncovered a number of tweets showing Perea using the n-word.
"Hook a nigga up," Perea said in one tweet. "We cute mah nigga," she wrote in another tweet. "Too many niggas here," she said in another. And in another post on Twitter, Perea talked about how she loves calling her roommate 'nigga.' "She freaks out every time [monkeyface] [crying laughing emoji]," she shared.
Some Twitter users have called for the two Beckys to be arrested for assault, as well as fired from their jobs and expelled from school, which one Twitterer noted was "notorious for turning a blind eye to racist behavior."
Their names are Savannah Sugg and Haley Perea and they attend Cal Baptist—a college notorious for turning a blind eye to racist behavior.

— Dylan (@dyllyp) October 7, 2017
Since when is assaulting strangers patriotic? Those women are thugs and need to be arrested.

— Iffy (@AmandaM91733141) October 7, 2017
Savannah Sugg & Haley Perea need to be arrested. What they did is criminal. @kcpolice

— KD (@Fly_Sistah) October 7, 2017
Savannah Sugg @Suggie95 and Haley Perea @ooohhayyhayy both should be expelled and arrested for their racist assault.

— Don Z (@Don_GZapata) October 11, 2017
@calbaptist Savannah Sugg and Haley Perea deserve to be expelled for violating the civil rights of others. What they did was unconscionable

— Erica (@IsokoG) October 10, 2017
.@calbaptist White supremacists Haley Perea and Savannah Sugg need to be expelled.

— Eduardo García (@itseddie) October 9, 2017
@calbaptist I'll be emailing your board of directors about expelling #Savannahsugg and #haleyperea for their disgusting behavior.

— Lady Jones (@tljones1908) October 7, 2017
@JuiceItUpHQ your employee Haley Perea is responsible for assaulting 2 men engaging in their right to protest. Do you condone this behavior?

— Ebonita Scrooge (@BeBraesFull) October 5, 2017
@HeroesRiverside I refuse to dine at your restaurant as long as Haley Perea is still a worker there

— Venezia Wilkes (@venezia_wilkes) October 5, 2017
Meanwhile, Juice It Up was quick to dispel rumors that Perea was an employee of their establishment. Apparently, she hasn't worked there since July.
UPDATE/FYI (again): The person in question was NOT an employee of Juice It Up! at the time of the incident, has not been since July.

— Juice It Up! (@JuiceItUpHQ) October 7, 2017
On Sunday (Oct. 8), California Baptist's Dean of Students Anthony Lammons promised to "investigate" and take "appropriate action" against Perea and Sugg.
"California Baptist University does not support or condone such behavior," he said in a statement to The Tab. "Based on the video, the incident did not take place on our campus. Nonetheless, CBU takes such behavior very seriously; we will investigate, and take appropriate action."
The school itself also released an official statement basically saying the same thing. See below:
"On Wednesday, October 4, 2017, an incident occurred at a pre-season NBA basketball game at the Ontario Citizens Business Bank Arena. While this was not an event affiliated with California Baptist University, two current CBU students were involved.

"On Thursday morning, October 5, 2017, CBU learned of this incident and initiated an investigation and plans to take appropriate action. CBU does not condone or support the behavior depicted in the recording of the incident.

"CBU takes this matter very seriously and is cooperating with law enforcement and arena management."
According to their website, California Baptist University "believes each person has been created for a purpose" and they strive to "help students understand and engage this purpose by providing a Christ-centered educational experience that integrates academics with spiritual and social development opportunities."
So this should be an open-and-shut case right? Especially since Cal. Baptist's mission is to help students "glorify God" and distinguish them[selves] in the workplace and in the world," which probably doesn't include throwing drinks on people for exercising their civil right to a peaceful protest.
A Patheos.com writer pointed out that the womens' actions seems to violate an older version of CBU's Student Handbook, which states that students are to obey all local and state laws and should "respect members of the campus community from diverse ethnic, cultural, or religious traditions and refrain from any act of discrimination or racism."
Harassment and abuse and physical violence are also prohibited, per the handbook, which also has this nice little passage:
The University reserves the right to deal with behavior, regardless of the location, that is detrimental to the Student, community, University, and others.
The school also prohibits organizing or participating in dances on campus, and having premarital sex is grounds for expulsion, so surely assaulting someone should get you expelled too, right?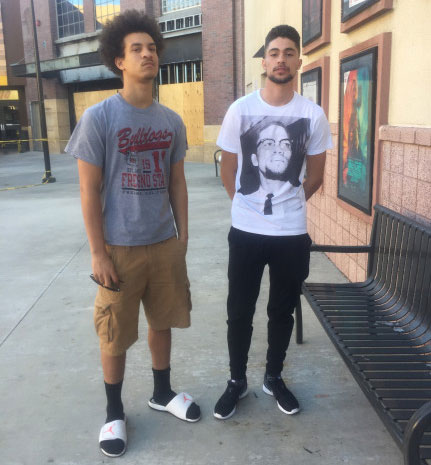 The two men in the video, 21-year-old Matthew Brady (pictured above left) and 20-year-old Jiahn Talebi (above right), have since spoken out about the incident and told their sides of the story. They said that Perea and Sugg's attack wasn't the only instance of assault they experienced that night and police refused to do anything about it.
From The Press-Enterprise:
Matthew Brady, 20, and Jiahn Talebi, 21, said they attended the Lakers game Wednesday, Oct. 4, in Ontario and did not stand during the national anthem prior to the game.

"We're joking around and talking. We don't want to show respect for the national anthem. I sing out, 'Home of the slave,' because that's what it should say," Talebi said in a telephone interview Monday. He said a group of men sitting in front of them, in seats that actually belonged to Talebi and Brady, began quarreling with them.

Security intervened and made the group of men leave that section, Talebi said. The basketball game began, and things remained calm, until the end of the fourth quarter, said Talebi.

"We thought it was the end of everything, and then this girl comes down and throws her drink on us. It was a soda or something," said Talebi. Brady received the brunt of it.

"I was on my phone texting someone. I'm just looking at my phone, I look up and my whole body's wet," Brady said in a telephone interview Monday. "My pants are drenched. My shirt's drenched. I never even seen their face. I just seen them running upstairs."

Talebi and Brady said they chased the two women after one threw her drink on them. Arena security, they said, did not intervene, but merely pointed toward the direction in which the two women fled — outside the arena. Once outside, the two men said they were accosted again, only this time by a middle-aged man who apparently was aware of what they had done.

The man approached Talebi, and when Brady came to his aid, the man reportedly grabbed Brady by the neck. "This guy just grabbed me by the neck and said, 'You better have some respect for the (national) anthem, boy. You better have some respect, boy,'" Brady said. A red-jacketed security guard was standing within feet of Brady and his and Talebi's alleged assailant, but did nothing, Brady said.

Several police officers responded and made Brady and Talebi sit on the curb while they talked to the man, before letting him go. They both said passersby approached officers and tried to tell them what had happened, but they were instructed to "mind their own business" and "keep moving along."

Then, police instructed Brady and Talebi to leave or face arrest, they said. When Brady and Talebi tried getting the officers' badge numbers, they were denied and threatened with arrest again.

"An officer said there was nothing he could do about it, and there was nothing we could do about it, and if we got attorneys or went to court, it wouldn't work out for us," Brady said.
Despite the officer's suggestion, Brady and Talebi have lawyered up and are apparently preparing to file a civil lawsuit.
Brady and Talebi on Sunday retained the services of Victorville attorneys Sharon Brunner and Jim Terrell.

"They threatened our clients with 'you leave or you will be arrested,'" Brunner said.

Terrell said the video posted on social media was an attempt to make the perpetrators of a criminal act out to be heroes.

"They videoed (sic) themselves throwing the beverage on an African American," Terrell said. "We believe it's a civil rights issue. It's a First Amendment right for them (Brady and Talebi) to stand or sing as they like. It's the obligation of the Citizens Business Bank Arena to provide security to everyone."

Brunner said the potential defendants in the case are the two women, Citizens Business Bank Arena and the Ontario Police Department.
The controversy is part of an ongoing debate about whether NFL players should be fired, as Donald Trump has suggested, for refusing to stand during the playing of "The Star-Spangled Banner."
Following the lead of former San Francisco 49ers QB Colin Kaepernick, NFL and NBA players (and now citizens too) are trying to draw attention to widespread shootings of unarmed black people by police in the United States.
Despite how the Haley Pereas and Savannah Suggs of the world feel, the protest has NOTHING to do with "disrespecting" the flag, the military or the country.
Be the first to receive breaking news alerts and more stories like this by subscribing to our mailing list.