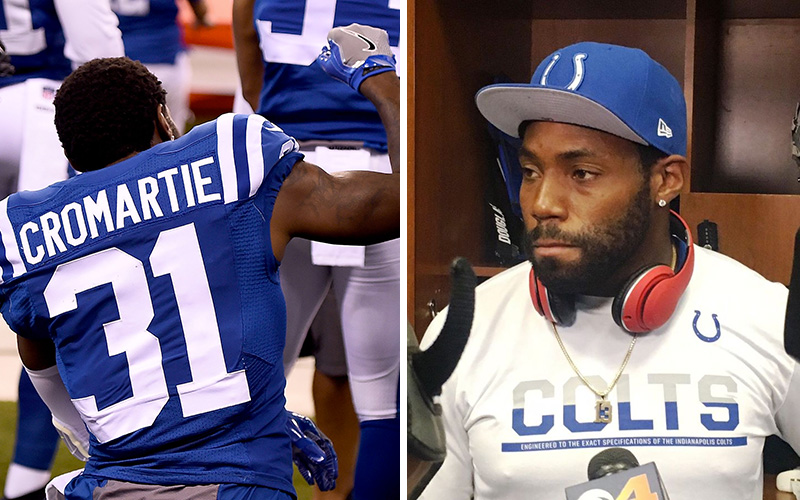 We're into week six of the NFL season, and the National Anthem protest started by Colin Kaepernick continues around the league. Every Sunday (and Thursday and Monday) players are kneeling on the sidelines and raising their fist in protest of the racial issues facing our country. But not everyone is on board with protest.
One such person might be the Indianapolis Colts owner Jim Irsay. Irsay decided to let former Pro-Bowl cornerback Antonio Cromartie, and according to Cromartie's wife, Terricka, it was because he decided to kneel during the anthem.
"One things for sure I know my husband was told not to take a knee and he went with his heart and he took one. And that cost him his job, and clearly this statement backs that up. Just a paid to put on a show."
The statement Terricka is referring to comes from an NFL owners meeting where Irsay said, "I think it's the wrong venue. It hasn't been a positive thing. What we all have to be aware of…is when the lights go on we are entertainment. We are being paid to put on a show."
So clearly Irsay is not a proponent of the protest players are putting on around the league, claiming that it is having a negative effect on ratings and thoughts towards the NFL. So when Cromartie was let go after kneeling two weeks in a row, it's not crazy that Terricka thought the two were connected.
Others, however, believe it was purely a football decision. Cromartie is an aging cornerback in an increasingly young league, and he was only brought onto the Colts to fill a gap in their injury-riddled secondary.
Others point to the fact that Cromartie was unsigned prior to the Colts picking him up, and no team has grabbed him off the waivers yet, so perhaps his skill set isn't what it used to be.
The most likely reason? It was a mix of both. If Cromartie was killing it as a cornerback and helping the Colts win out, perhaps the protest would've gone unnoticed and not been an issue. And maybe if Cromartie didn't take a knee and continued to play alright, he'd still be on the team.
But to not be contributing in a major way and then go against the owner's advice of not protesting, well, at that point, whether right or wrong, it was probably an easy decision for ownership.
Be the first to receive breaking news alerts and more stories like this by subscribing to our mailing list.