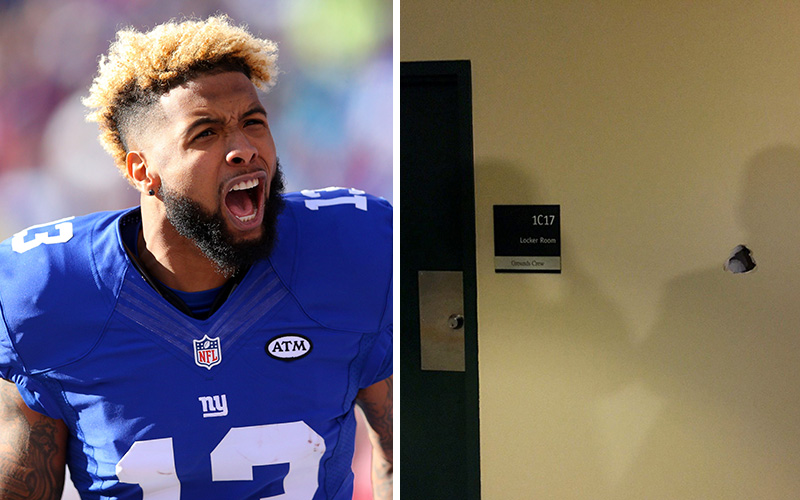 Odell Beckham Jr. (reportedly) showed his whole ass Sunday night (Jan. 8) after the New York Giants' devastating 13-38 loss to the Green Bay Packers.
Beckham and his team's dreams of going to the Super Bowl in February were deaded after the Packers ate them for Sunday dinner. The Wide Receiver had trouble holding onto the ball in the first quarter. One of those dropped passes happened in the endzone, which cost the Giants a touchdown, the first time he's ever done so in his career.
According to reports, OBJ, who is popular on social media right now for surprising Lyft riders did not take the loss well and, once again, let his anger get the best of him.
The 24-year-old football star reportedly threw a temper tantrum, and was seen banging his head against a locker room door at Lambeau Field in Wisconsin. He's believed to have punched a pretty large hole in the wall near the door, and had tad to be calmed down by stadium security.
There's no video footage yet, but it probably looked like this (but apparently way worse):
A distraught @OBJ_3 after the Giants loss in Philly pic.twitter.com/r0P8CMGky5

— SNY (@SNYtv) December 23, 2016
Despite the lack of video footage for Odell's latest meltdown, we do have a couple of photos of the aftermath from sports reporters for ESPN and the New York Daily News:
Odell Beckham was banging head against locker room door, per Sal Pal. Also believed to have punched this hole in pic.twitter.com/dOpRJyremD

— Jordan Raanan (@JordanRaanan) January 9, 2017
Prior to the alleged head banging and wall punching, Beckham didn't show any signs of anger during the postgame press conference and seemed to take the loss in stride.
"These are the learning experiences, as tough as they are," Beckham said (via ESPN). "This is what you stand on and grow from. It sucks. There is no way to put it. It sucks. It is a horrible feeling."
He added, "I'm sure it's going to be a long offseason. At the end of the day, you just have to take it and you have to grow. You have to learn from it and find ways not to have this feeling again."
Giants QB Eli Manning took up for his teammate, telling reporters that Odell is just "disappointed" because he's "an emotional guy."
"I saw him with his head down and disappointed," Manning said. "There are a lot of guys that will shed a tear or two. When you lose a playoff game — and for a lot of guys it's their first time in the playoffs — to kind of have the season abruptly end like that is a shock. Everyone handles it differently."
Some people are blaming Beckham's poor performance tonight on the cold weather and winter storm Helena bringing temperatures to near-single digits, but Twitter has its own theory:
Odell wouldn't have dropped it if he didn't party with Justin Bieber

— Geetchi Liberachi (@bigpimpinET) January 8, 2017
Odell should've been hanging with the jug machine instead of hanging with Justin Bieber in LIV on Sunday

— Young Scholar (@Gatorboi06) January 8, 2017
https://twitter.com/oreo_jenkins/status/818215087366410241
the only thing Odell Beckham @OBJ_3 caught this week was Bieber fever?

— 3D (@3D101list) January 9, 2017
https://twitter.com/jumpdashark/status/818275607121448960
Giants should have known they were screwed when Odell was hanging out with Bieber this week.

— Jordan Sanders (@_JordanSanders) January 9, 2017
Odell beckham jr. is a virus to the Giants. Spend less time hanging with Bieber and more time practicing catching balls from Eli

— Karno Sarkar (@Undrcrwn_19) January 9, 2017
Odell Beckham dropped that pass in end zone because of Trey Songz, Justin Bieber and Lil Wayne. #GiantsPride

— Ben Maller (@benmaller) January 8, 2017
PREVIOUSLY: Odell Beckham Jr. Gets Real Close With Justin Bieber at New Year's Party
Be the first to receive breaking news alerts and more stories like this by subscribing to our mailing list.