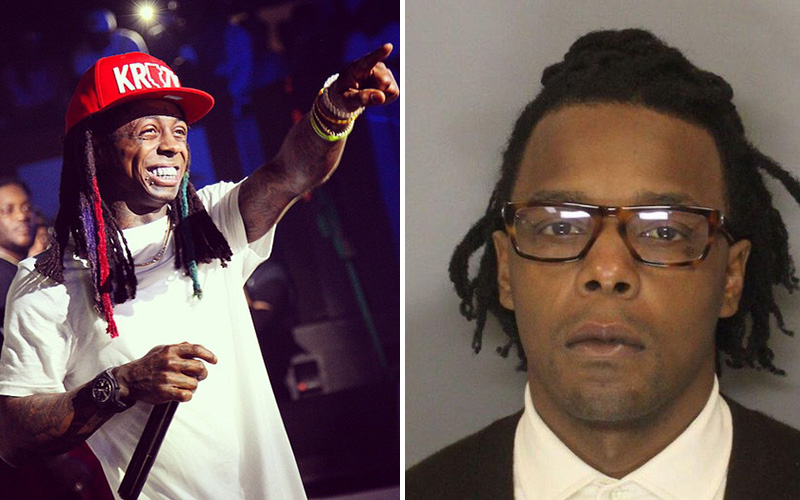 Jimmy Winfrey, the man who allegedly shot up Lil Wayne's tour bus in a botched assassination attempt, has been hit with a charge of domestic terrorism in his indictment for reportedly telling Lil Wayne he would "spray his bus."
Atlanta's WSBTV reports:
Channel 2 Action News uncovered an indictment filed in Cobb County in June that alleges Williams and another rapper named Bryan Williams, aka Birdman, were involved in the RICO conspiracy to kill Lil Wayne when his tour bus was shot up in April. The indictment also says all of the men are members of the Bloods gang.
No information has been given as to when or where Winfrey threatened Lil Wayne, but the updated indictment does provide new details into the shooting.
The indictment says Winfrey (aka PeeWee Roscoe) was driving a white Chevy Camaro when he opened fire on Weezy's tour bus the night of April 26th while 12 people were on board, conveniently right after the New Orleans rapper's police escort had left the crew's caravan.
"After Atlanta police discontinued their escort, (Winfrey) and fellow Blood Gang members entered Interstate 285 from Atlanta Road in Cobb County in pursuit of the buses occupied by (Lil Wayne's) group," the indictment claims.
"(That's when) the white sports car pulled beside the buses, shots were then fired into the buses from the sports car with a .40 caliber handgun and a 9mm handgun."
The indictment also mentioned that the same Camaro Winfrey was driving during the shooting was pictured on his Instagram account, and he quickly deleted the photo right after so as not to incriminate himself.
But that didn't stop investigators from later finding Winfrey's Camaro at the home of one his relatives.
Winfrey, a Rich Gang affiliate and Young Thug's former road manager, has suggested that Birdman set the shooting up over his current feud/legal battle with Lil Wayne and should be in jail just like him.
Winfrey claimed in court docs that he shouldn't be the only person held responsible for the crime since "[Birdman's] financial dispute with [Lil Wayne] is what ultimately led to the shooting."
Without specifically saying Birdman actually ordered the hit, he said, "[Birdman] should be held liable as a party to the crime."
Birdman fired back (through TMZ, no less) saying that he had absolutely nothing to do with the shooting and Lil Wayne himself knows that. "No legal battle would ever make me try and kill or hurt my son," he said.
Meanwhile, Young Thug's home was raided by the feds last month (after he was arrested for threatening to shoot a mall cop in the face) in connection with the indictment, which alleges that Thug made a threat against Tunechi and Winfrey carried out on that threat.
Unlike Jimmy Winfrey, neither Young Thug nor Birdman have been charged in the incident.
Be the first to receive breaking news alerts and more stories like this by subscribing to our mailing list.