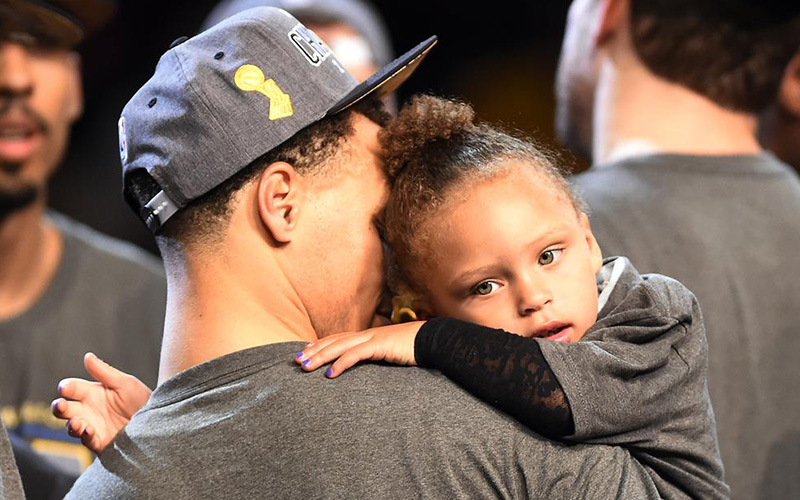 Riley Curry was so not in the mood to celebrate following the Golden State Warriors' title-clinching win over the Cleveland Cavaliers.
Ever since Riley made her presence known, every single time the Warriors has won a Playoffs or Finals game, fans have looked to Stephen Curry's adorable 2-year-old daughter to see how she'll react, and Game 6 of the Finals was no different.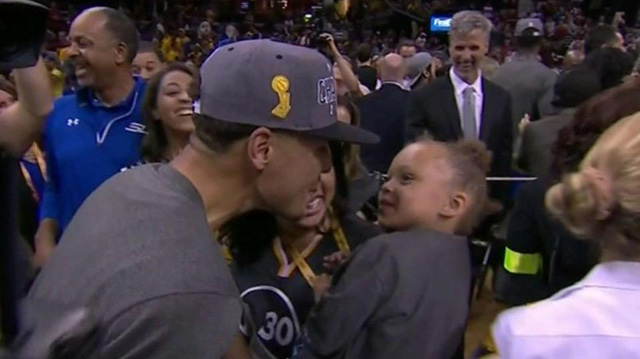 After Golden State defeated Cleveland 105 to 97, bringing the series' final tally to 4-2, Steph Curry immediately rushed over to his family and tried to give Riley a kiss, but she was having none of it.
Riley — who will be a big sister in a few weeks — didn't look too enthused to be on the stage either:
Maybe she was annoyed because it was way past her bedtime, even in a different timezone. Maybe she already knows how much of a media sensation she is and she was just playing cute for the crowd. Maybe she felt some type of way about the fact that her dad wasn't crowned the Finals MVP.
Who knows? Who cares? RILEY IS THE CUTEST THING EVER.
For what it's worth, little Riley looked sleepy near the end of the game, but her mom — Steph's wife Ayesha — told her to stay up because "Daddy's gonna win the whole thing." And he did!
As usual, Twitter ate up all of Riley's little antics:
"STOP DAD YOU'RE EMBARASSING ME": http://t.co/FuERavAjNO https://t.co/zbgZXzCTkq

— SB Nation (@SBNation) June 17, 2015
https://twitter.com/samir/status/611024396170436609
"Get me the hell out of Cleveland, Ohio." – NBA champion Riley Curry

— Mike Hayes (@michaelhayes) June 17, 2015
https://twitter.com/RiIeyCurry/status/611024106432143361
Please let there be a tiny mic for Riley Curry at the post-game conference.

— Funny Or Die (@funnyordie) June 17, 2015
Elect Riley Curry for princess of everything.

— Carina Adly MacKenzie (@cadlymack) June 17, 2015
All I care about right now is #RileyCurry. Where she at? #NBAFinals

— Liz (@calinative) June 17, 2015
Give the people what they want to see!!! More of Riley Curry!!!

— Cody Zeller (@CodyZeller) June 17, 2015
Really hoping Riley Curry gets interviewed and screams ANYTHING IS POSSIBLE like KG

— Bill Barnwell (@billbarnwell) June 17, 2015
Retweet if you can't wait for Stephen Curry to bring Riley Curry to the podium after the game! pic.twitter.com/8gxx845hxZ

— NBA SKITS (@NBA_Skits) June 17, 2015
#RileyCurry prepares backstage for the #NBAFinals press conference. pic.twitter.com/IHhATkOxG2

— Bipartisan Sports (@BipartisanSport) June 17, 2015
Riley Curry gonna be at the podium tonight like pic.twitter.com/MLI9DTJR4P

— KB (@MindOfKB) June 17, 2015
I just want Riley Curry to adopt me.

— Josh Peck (@ItsJoshPeck) June 16, 2015
Be the first to receive breaking news alerts and more stories like this by subscribing to our mailing list.