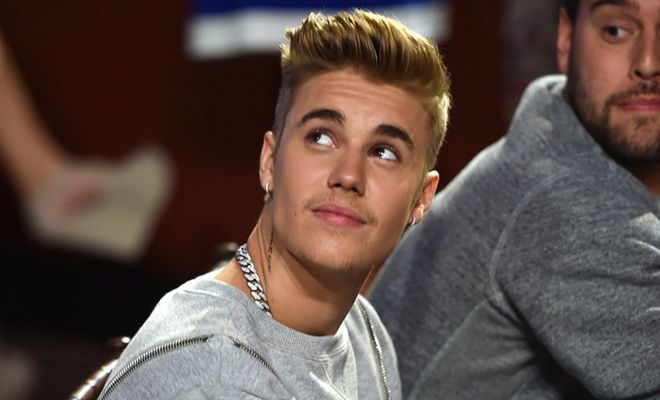 Justin Bieber already has enough legal trouble to deal with right now, and earlier this week he added yet another notch to his growing belt of issues with the law after he got into an altercation with a fan at an L.A. Dave & Buster's over cell phone pictures.
According to TMZ, Bieber is being investigated for attempted robbery after he "lunged" at a fan who reportedly tried to take photos and videos of him and his on-and-off girlfriend Selena Gomez during a date at Dave & Buster's Monday night (Aug 25).
Justin and Selena Gomez were at Dave & Buster's Monday night when a fan started taking cell phone pics and video of the two. Law enforcement sources say … Justin lunged at the guy … in an attempt to take his cell phone and presumably erase the pics and video.

Justin's security held him back and he never made contact with the fan. Police were called but before they arrived Justin booked it out of there.

Our law enforcement sources say the fan wants to press charges and Justin is being investigated … and the possible crimes are attempted battery, attempted theft (stealing the pics) and attempted robbery (grabbing the camera in an attempt to permanently deprive the fan of the pics and video).
Police sources told the Daily Mail that the incident was a "big lot of nothing" and no one had been charged for the alleged theft. "There's been no fight, no scuffle and no crime occurred," an LAPD spokesperson said.
Gossip Cop says it has obtained a video in which a patron claims Justin "backhand slapped" a twenty-something-year-old female fan with a child, however, Bieber's people say there is "no truth" to the allegation, and the police didn't mention any violence or any incident involving a woman.
If charges are filed against the singer though, he could be in some pretty serious trouble, considering he's on probation for that egging incident, and he's required to stay out of trouble for two years. Breaking the law could trigger a probation violation that could land him in jail.
Bieber was arrested in Miami earlier this year for allegedly drag racing and driving under the influence, and earlier this month, he settled the with a plea bargain to avoid being charged with a DUI.
The Biebs pled guilty to a charge of careless driving and resisting an officer without violence, and in addition to being required to make a $50,000 charitable donation, he will also be required to attend 12 hours of private anger-management courses and "view online videos that depict the stories of real-life, tragic DUI cases."
Previously: Justin Bieber Investigated by LAPD for Alleged Attempted Robbery
Be the first to receive breaking news alerts and more stories like this by subscribing to our mailing list.