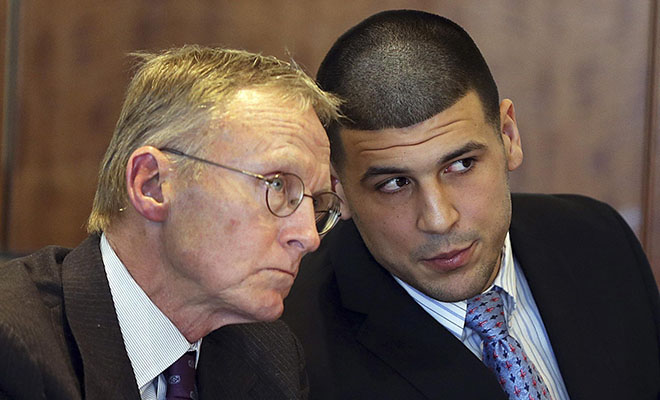 Things have gotten a bit more complicated for accused murder Aaron Hernandez, who is currently sitting behind bars at Massachusetts's Bristol County Jail for allegedly orchestrating the killing of his friend Odin Lloyd.
Hernandez was indicted by a grand jury Thursday (May 15) on two counts of first-degree murder in connection with a drive-by shooting in Boston that happened in 2012.
According to officials, 28-year-old Daniel Abreu and 29-year-old Safiro Furtado, along with three other friends, had a "chance encounter" with Hernandez in the club.
Abreu, Furtado and their friends left in a BMW, ahen they stopped at a red light around 2 a.m. another car pulled up beside them and fired into the vehicle, killing Abreu and Furtado.
For a while, the deaths went unsolved, but Hernandez came out as a possible suspect last summer after a security guard told police he had overheard the killings were related Odin Lloyd's 2013 murder.
Investigators knew that Hernandez, 24, had been at Cure on July 16, 2012, but initially did not pursue him as a suspect because he had left about an hour before the victims.

But when news broke about the Lloyd slaying, Boston detectives took a closer look at Hernandez's moves that night. They studied earlier surveillance camera footage at the club and on the streets.

According to documents filed in a Connecticut court, video from inside and outside the nightclub shows Hernandez and an acquaintance entering directly behind Abreu and Furtado.

Shortly afterward, Hernandez and the other man, identified in court documents as Alexander Bradley, are seen leaving and getting into a silver sport utility vehicle.

Abreu and Furtado and three of their friends left the club around 2:10 a.m., and video shows Hernandez's silver SUV circling the block as the victims go to their BMW.

Conley said Hernandez pulled up to the car and began firing a .38-caliber Smith and Wesson at the car, striking Abreu, who was driving, in the chest and hitting Furtado in the head.

A third man, who was in the back seat, was shot in the arm but survived. The other two friends jumped out of the car. Bradley has not faced charges for having a role in the slayings.
For what it's worth, the man who was in the backseat told police he actually saw Hernandez pull the trigger, so … at this point, it looks like the ex-NFL player will be possibly beating up more inmates and definitely having a few more Thanksgiving meals, courtesy of the Bristol County House Of Correction and Jail's kitchen.
Hernandez' lawyers believe prosecutors are trying to nail their client simply because of his celebrity.
"It is one thing to make allegations at a press conference, and another thing to prove them in a courtroom. Unlike the District Attorney, we are not going to try this case in the media. Under our system of justice, Aaron Hernandez is innocent of these charges and he looks forward to his day in court."
Suffolk County District Attorney Daniel Conley said the fact that Hernandez is a celebrity has nothing to do with the charges he's facing: two counts of first-degree murder, three counts of attempted murder and weapons possession.
"This was about two victims who were stalked, ambushed and senselessly murdered," Conly said, adding, "Neither of them were involved in gangs, guns or violent crimes at any time."
Be the first to receive breaking news alerts and more stories like this by subscribing to our mailing list.