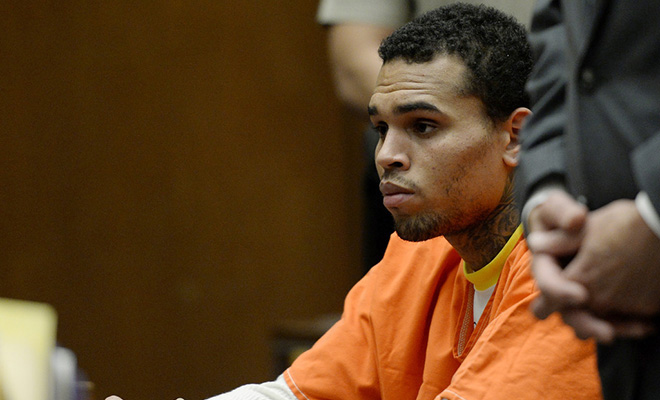 With his birthday just days away, we can just go on ahead and say with confidence that Chris Brown will be spending it in prison.
The singer, wearing an orange jumpsuit, looked pretty rough Thursday (May 1) when he appeared before a judge in a Los Angeles courtroom, with TMZ describing his appearance/demeanor as "haggard," "tired" and "defeated."
He was there so the judge could finally set a date for a formal probation violation hearing, but the judge reportedly ruled that he will stay in jail for at least another week, until his next hearing on May 9th.
TMZ reports Brown had to endure a lengthy cross-country flight from Los Angeles to Washington, D.C. and then back to Los Angeles via the federal government's "Con Air" inmate transport system just so he could attend Thursday's court hearing.
Chris Brown, who turns 25 years old on Monday (May 5), was jailed March 14th after he was kicked out of a Malibu rehab center for violating their rules.
He faces up to four years in prison if the judge determines that he violated his probation at his hearing next week, which means he could possibly have more prison birthdays to come.
Be the first to receive breaking news alerts and more stories like this by subscribing to our mailing list.