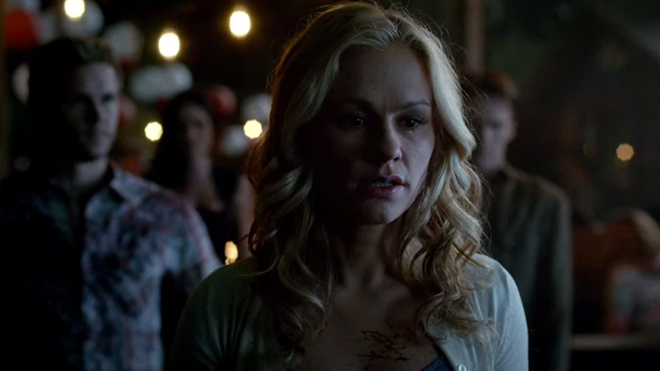 "True Blood" returns to the small screen for its seventh and final season this summer, and HBO has released the first teaser trailer to let fans know what to expect.
It's the beginning of the end for the people of Bon Temps and NO ONE IS SAFE! In the 30-second teaser, Sookie (Anna Paquin) is narrating and she reveals that the supernatural town is being run down by those "infected" zombie vampires.
At the end of the Season 6 finale, while a human-vampire party was taking place at Bellefleuer's (formerly Merlotte's), a group of Hepatitis V-infected vampires made their way into Bon Temps, and this promo clips shows what happened afterwards. (Spoiler alert: it's not pretty!)
"There was an attack at the church tonight," Sookie says in the trailer. "They're saying it was the sick vampires, that they came out of the dark. And now they're ambushing."
Since this is the show's last season, expect a lot of gruesome, bloody deaths, as we all should be familiar with by now, especially after seven seasons.
At the end of the teaser clip, Sookie stands with Sam (Sam Trammell), Alcide (Joe Manganiello), Jason (Ryan Kwanten) and Andy (Chris Bauer), as she declares "There's no one left." What that means for everyone else — Are they all dead? Or did everyone just move away and abandon the "infected" town? — remains to be seen.
After it was announced that this coming season of "True Blood" would be its last, HBO president Michael Lombardo promised fans "a fantastic final chapter of this incredible show."
"True Blood has been nothing short of a defining show for HBO," Lombardo said in a statement. Series creator Alan Ball added, "I'm deeply grateful to HBO for being true partners and collaborators, and, of course, to the viewers who chose to spend Sunday nights in Bon Temps with us."
"True Blood" Season 7 premieres on Sunday, June 22nd on HBO!
Be the first to receive breaking news alerts and more stories like this by subscribing to our mailing list.