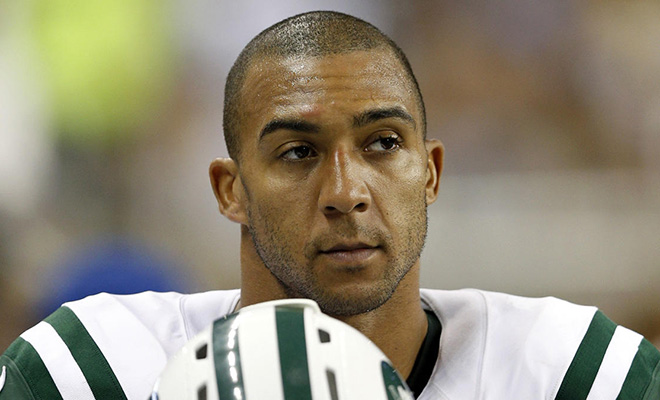 Professional football player Kellen Winslow Jr. was arrested for drug possession in a Target parking lot last November, but according to a recently released police report from the incident, Winslow may have been doing something ELSE in his parked vehicle.
According to NJ.com, the 30-year-old New York Jets tight end was arrested in New Jersey on the afternoon of November 19th after cops received a tip about a man in the parking lot of a Target store "pleasuring himself" inside his vehicle.
The police affidavit states that cops responded to a call from a 58-year-old woman who said she pulled up next to Kellen's Cadillac Escalade at around 5:30 p.m. and noticed the NFL player sitting in the driver's seat with the window open.
Per the police report:
As she exited her vehicle, she commented to the male regarding how cold it was. As she stood near the open driver side window of the Escalade, she observed the males [sic] erect penis. She stated that she believed he was masturbating. [The woman] provided a written statement regarding her account.
When police showed up, they found Winslow Jr. allegedly "slouched in his seat and moving around," but he immediately sprang to an upright position when he noticed an officer.
The cop says he noticed Winslow Jr. was wearing "dark colored" sweatpants and noted that "his genitals were not exposed," however he did see "two open containers of Vaseline" visible on the car's center console. (Uhm… gross?)
Asked what he was doing, Winslow Jr. told police that he was looking for Boston Market (LOL), but had gotten lost.
The officer also observed plastic bags marked "Mr. Happy" and empty plastic containers of "Funky Monkey" scattered about in the vehicle, which are forms of (highly dangerous) synthetic marijuana and can be purchased at gas stations, "head shops" and on the Internet.
Kellen allegedly told police that he smoked the fake weed, also known as "K2," at his home in order to relax because smoking actual pot would show up in an NFL drug test and synthetic marijuana does not.
Police say the pro footballer consented to a vehicle search, and after they seized a few items into evidence, he was let go.
Winslow Jr. was never charged with anything related to the alleged public masturbation, however he was hit with a third-degree charge of possession of a controlled dangerous substance on Dec. 30th (related to the synthetic marijuana), which he pleaded not guilty to last week.
While a spokesman for the Jets has declined to comment on the situation, Kellen's publicist Denise White has since issued a statement responding to the public masturbation claims, writing:
"Kellen pulled over to a parking lot to smoke what he thought at the time was a legal substance. He changed his clothes in his vehicle as not to smell like smoke when he returned home. There was absolutely nothing inappropriate that took place and if there was police would have investigated further and charged Kellen which they did not. This will be the only time we will comment on this unfounded and ridiculous claim."
Ha. He was "changing his clothes." RIIIIIGHT…..
Meanwhile, Boston Market has been basking in the free advertising they've been receiving in the wake of the alleged public masturbation and the irony behind it all.
The restaurant chain took it upon themselves to join on the fun on Twitter and tweeted the following last Friday afternoon (Jan 17), the day the unfortunate news story broke:
.@kellenwinslowjr Next time, you can use our convenient store locator to find the #BostonMarket near you http://t.co/Kgog8nxZ5V

— Boston Market (@bostonmarket) January 17, 2014
Be the first to receive breaking news alerts and more stories like this by subscribing to our mailing list.