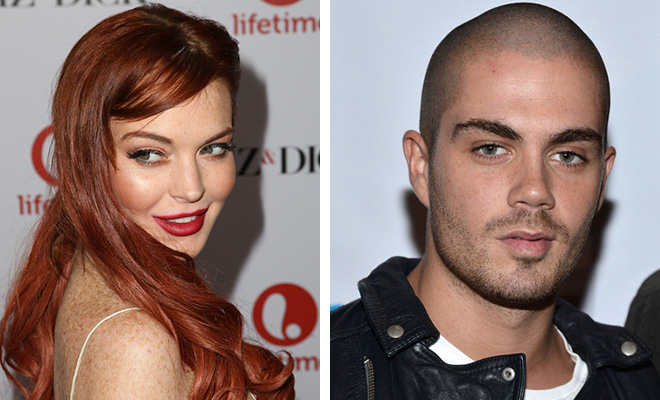 OWN President Sheri Salata said of the recently announced Lindsay Lohan reality series, "I'm really hopeful, but like everything we're taking it one day at a time. I'm hopeful that it's going to be a great experience for everybody."
She's going to need all the hope in the world that Lindsay Lohan's post-rehab stint number too much will go well and fit with the Oprah brand. Unfortunately, there are already signs that it won't.
Lindsay's already allegedly back at the club and partying until the wee hours of the morning.
Sources exclusively tell Page Six that Lohan, who left rehab after 90 days on July 31, joined the British pop bad boy and his band at the all-night rager which started late Wednesday at the Mondrian West Hollywood.

One source said: "The party went on all night long and was so loud that guests were complaining. Lindsay was there with Max George. The Wanted have been staying at the Mondrian for days, and Lindsay, who briefly dated Max a while back, was partying with the band. She and her sister Ali were spotted waiting in the hotel lobby for the band.

"There were so many complaints about the noise that hotel staff had to shut the party down and Lindsay had to be taken out of there by security at 7 a.m. She was with her sister, and people who saw Lindsay when she left the hotel said she looked a total mess. She looked so beat up."

A rep for Lohan told us last night of that account, "I highly doubt this is true."

The troubled actress, who's reportedly gone into rehab at least six times in as many years, has insisted that she's remained sober since her latest stint in treatment.

A source close to the star said, "She is friends with Max and did visit him, but everything else is untrue. She did not drink, she was in bed by midnight, and she showed up on time for therapy this (Thursday) morning. She has a sober coach."

A Lohan representative said, "Although Lindsay did visit her good friend Max, this is otherwise a completely false story."
I know, I know: "Aww man, homie."
Like, you don't want to believe this, but it's way too plausible. Why isn't Drew Barrymore her life coach? Actually, she has Oprah now. Why didn't she negotiate in her contract that she lives in Oprah's guest home where she can be monitored at all times by Gayle King and Iyanla Vanzant?
I suppose it doesn't matter since we all know Oprah's going to use whatever footage they have, for better or for worse, and we'll all watch.
Be the first to receive breaking news alerts and more stories like this by subscribing to our mailing list.