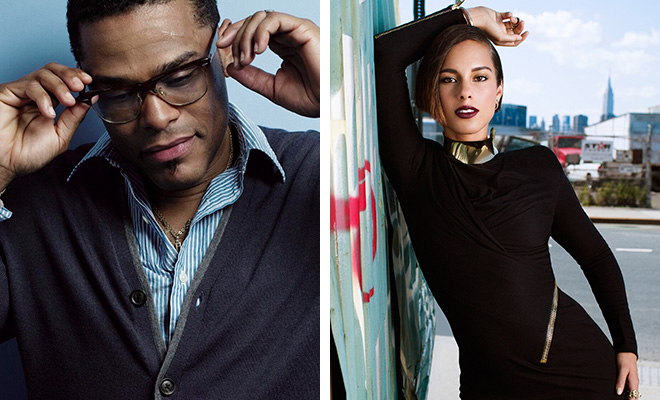 Maxwell says that his recent duet with Alicia Keys has inspired the duo to make a duet EP in the style of the classic (and not so classic) ones from Motown's past.
Oh, I am completely here for that. Alicia Keys hasn't done anything worthwhile in forever besides "Fire We Make" so if Maxwell can bring out more of that in her, gon' 'head with it.
That said, I also want Ciara and Future to do a similar duets album crafted by Mike Will Made It. Amen.
More from Maxwell including word on his new album below (via Billboard):
And you've recently indicated that "Fire We Make" might not be the last duet between you two. What else might we expect?
We're definitely working on an EP that's sort of Marvin Gaye/Tammi Terrrell. We got a thing musically. That's like my little sister. What's funny is Swizz [Beatz, Keys' husband] is the champion of all of it. He's like, "You guys have a thing when you make music together. We had s really successful tour together when she first came on the scene and she's like family. She's someone that I trust. I'm like that, by the way. Most of the people you see me working for me are actually with me. And I'm proud to say that I've known them for 20 years almost. I've written songs with, produced songs with them a lot of times. I don't deviate form my comfort zone. I feel like when God brings people to you it's good to keep 'em around. Not to say I haven't cut a few fools off [laughs], but for the essential I keep it close.

"SUMMERS'" was initially planned for release late last year, after you took some time off when you cut your discography tour short. Why has it taken so long for you between albums?
I don't know, I just have so much fun living. It's like, I just turned 40 and I look at so many performers and so many people who are actually always on time and always have an album out. They don't have actual lives, in my opinion. I feel like I'm so much more than being famous and meeting a musical quota. And I don't know, just the weight of the scrutiny and attention is too weird for me. So many times people want you to stay the way you were, be as you were before because they want to encapsulate you in a time so they can remember their youth. But you're here to continually push forward and move forward. That's where I'm at — I just want to always surprise people.

So that does that mean this next album is going in a different music direction?
There are definitely some differences, but within the whole context of what I do, which is soul music really at its pure core. But you know, it's gonna be more hi-fi. Do you know Sam Smith? That "Latch" song, man. Not that we're doing full Disclosure, but for me one of the ways God has been so good is I work with the people who are the best on some level. I know a lot of people weren't expecting "BLACKSummers'Night" to be what it was, just like a lot of people weren't expecting "Embrya" to be what it was. People will listen to what I've been a part of and see what I've done. And even though some people go, "oh yeah I wish you'd done another 'Urban Hang Suite,' I'd rather that than, "oh you did another 'Urban Hang Suite.' It sounds like it, feels just like it." To me that's boring and that's career suicide. So if you lose a few and you gain some new, it's better than just doing what other people wanted you to do… Wow, "lose a few and gain some new." I actually rhymed that. I should write songs, right? [laughs]
Be the first to receive breaking news alerts and more stories like this by subscribing to our mailing list.