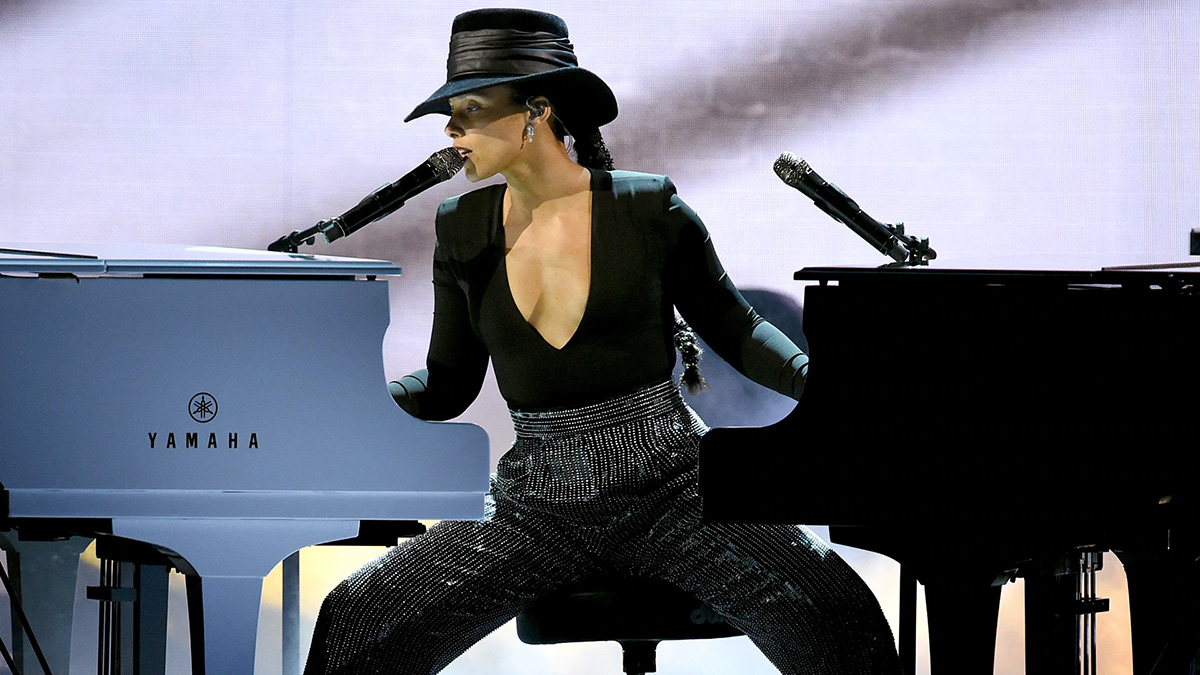 As host of the 2019 Grammy Awards, it was expected that Alicia Keys would take the stage at some point during the 3.5-hour show. But we had no idea she would flex on all of us by playing two pianos at the same damn time!
Is anyone else feeling like @aliciakeys is who they wanna be when they grow up? https://t.co/y0yxj6eH6A #GRAMMYs pic.twitter.com/D6ps9VpkXu

— Good Morning America (@GMA) February 11, 2019
After showing off a bit with her dual piano playing skills (shout to Hazel Scott!), Keys then performed a wide-ranging medley of cover songs, including Roberta Flack's "Killing Me Softly," Juice WRLD's "Lucid Dreams," Drake's "In My Feelings," Ella Mai's "Boo'd Up" and so much more.
Watch here:
Alicia Keys' full #GRAMMYs performance! Y'all are welcome. pic.twitter.com/DvJrLHq4cJ

— #TheGramKEYS (@DiaryOfKeysus) February 12, 2019
Unlike J.Lo's Jentrified Motown tribute, Twitter was all the way here for Alicia showing us why she changed her last name to "Keys":
My mom's already disappointed enough that after 12 years of piano lessons, the only song I can play is "Forget You" by Cee-Lo, so I really hope she didn't see @aliciakeys playing TWO pianos at the same time. #GRAMMYs https://t.co/AwAEN5VFyd

— Dennis J. Ting (@DennisJTing) February 11, 2019
Mind blown by Queen @aliciakeys one piano wasn't enough… bravo #GRAMMYs

— Rob Harrington ?? (@TweetCaliRob) February 11, 2019
Here's the deal, that performance by Alicia Keys was insane. For anyone who has ever tried played the piano, for anyone who has ever tried to sing. She is an AMAZING musician. I love her. More musicians hosting this show. #GRAMMYs

— Joe Campbell (@JoeCampbellMN) February 11, 2019
So… Alicia Keys is coming back every year to host the Grammys, right? Trust me, I did 15 years of piano growing up — playing two at once without looking at one of them is no joke. That's quadruple lutz toe-loop level good.

— Ed O'Keefe (@edokeefe) February 11, 2019
Alicia Keys AINT PLAYINGGGGGGGG with this dual piano performance #GRAMMYs pic.twitter.com/bguN1HnHxc

— The Weave Whisperer (@TheWeaveWhisper) February 11, 2019
Alicia Keys just walked us through the history of American popular music with a virtuoso performance that was truly was one of the greatest of all-time on the Grammy stage. Hosting? She's EDUCATING, UPLIFTING and TESTIFYIN' ? #AliciaKeys #GRAMMYs #Grammy2019 pic.twitter.com/fSzXsrCuXv

— Curtis Stephen (@curtisstephen23) February 11, 2019
This Grammy performance of Alicia Keys was amazing. Singing on two pianos, her voice is timeless. Only Alicia Keys does it like Alicia Keys. ? @aliciakeys

— Pascale (@PascaleBlaise) February 11, 2019
when Alicia Keys started playing two pianos at once pic.twitter.com/I95PzDoFEl

— Grace Harkey (@grace_harkey14) February 11, 2019
Alicia Keys playing two pianos at once? She IS that bitch.

— Stephen Shane (@stepheenshanee) February 11, 2019
Be the first to receive breaking news alerts and more stories like this by subscribing to our mailing list.