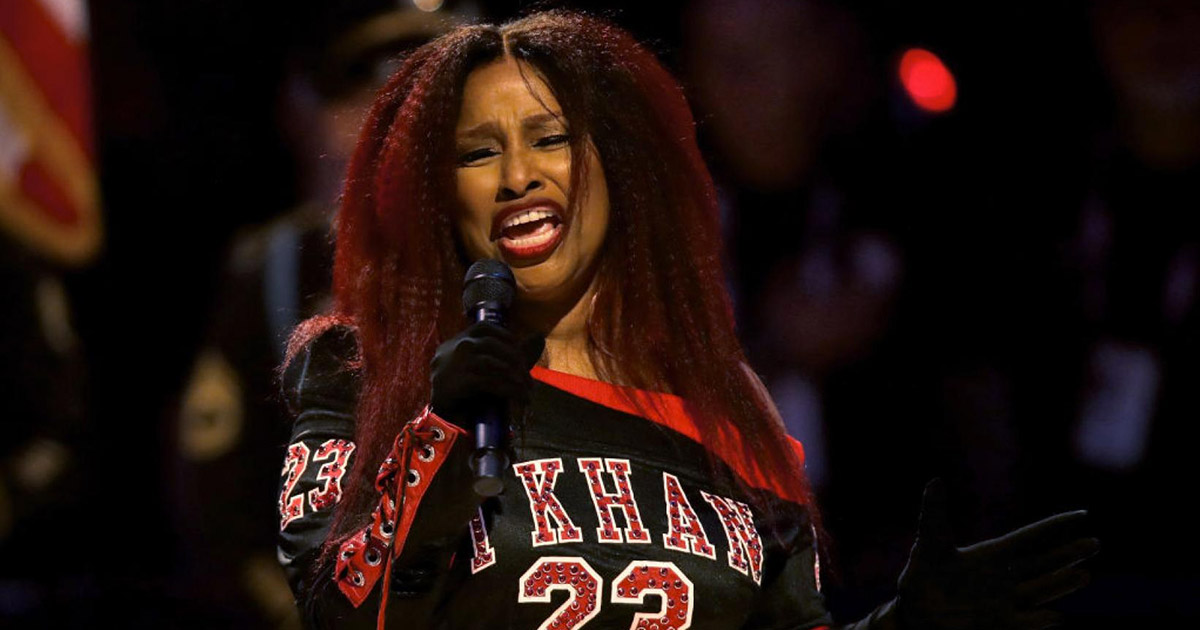 Let's just go on ahead and get this out of the way. Chaka Khan is a legend. That fact cannot be disputed. However, in the age of social media, even legends are impervious to the scrutiny that comes from Twitter.
And let's just say … Chaka Khan's rendition of the national anthem, which she performed at the 2020 NBA All-Star Game in Chicago Sunday night (Feb. 16), sparked hella Twitter reactions, but not in a good way.
Anyone who takes on the task of singing the national anthem of the United States at a live, internationally televised event already has a huge weight on their shoulders, and while most American singers make the song "their own," many felt as though Chaka Khan was doing way too much.
In fact, most would say that Chaka Khan's version of the "Star-Spangled Banner" rivaled Fergie's back in 2018 … and that's far from a compliment.
Watch her performance here:
And see the hilarious Twitter reactions below:
Why Chaka Khan just reminded me of this ?? #AllStarWeekend #AllStarNBA pic.twitter.com/AlNgd33f4n

— breezy96 (@269_Breezy) February 17, 2020
Man who the hell let Chaka Khan sing this National Anthem lmao #NBAAllStar2020 ??? pic.twitter.com/FfN2gz1GwE

— kingtisemedia (@kingtisemedia) February 17, 2020
Me looking at, "Chaka Khan killed that anthem" tweets on the timeline. #NBAAllStar2020

— Emmanuel Acho (@thEMANacho) February 17, 2020
This Chaka Khan national anthem….pic.twitter.com/SVsEfdJEOd

— Cryptic (@CrypticNoOne) February 17, 2020
Chaka Khan vs. Fergie who you got?#NBAAllStar2020 pic.twitter.com/5P2IosZEvy

— Fan Account ? (@SportsFanimal1) February 17, 2020
Fergie and Chaka Khan's national anthems: pic.twitter.com/zs7YqMrUmV

— ?????¹? (@NinjaScottSZN) February 17, 2020
Chaka Khan doing her best Fergie impression… #NBAAllStar pic.twitter.com/EjzXXaB2b6

— 929ESPN (@929espn) February 17, 2020
Me listening to Chaka Khan sing that anthem ?#NBAAllStar2020 pic.twitter.com/T6of41iPTj

— Devin Booker Stan Account ? (@IconicGoleiro) February 17, 2020
Chaka Khan singing like ya drunk aunty at Christmas. ? #NBAAllStar

— Myles (@myles_morris) February 17, 2020
Chaka Khan said the land of the pic.twitter.com/rkOFhLKATL

— ahhhhhh (dats me yellin) (@NekiasNBA) February 17, 2020
Me right now after Chaka Khan absolutely butchered that national anthem, holy shit that Fergie 2.0 level bad pic.twitter.com/fEn5seUxG9

— Dennis Celery (@YapiYapo99) February 17, 2020
Welcome to the worst thing you'll hear in your entire life…

Fergie vs. Chaka Khan: A National Anthem Mashup #NBAAllStar #NBAAllStar2020 pic.twitter.com/Er1N0mNR4m

— Josh Beard (@JoshBeardRadio) February 17, 2020
Jimmy Butler and Kyle Lowry listening to Chaka Khan sing the National Anthem got me hollering ??#NBAAllStarGame #NBAAllStar pic.twitter.com/vGu9bPBVQh

— Siobhain (@summer0001) February 17, 2020
Chaka Khan is an icon. No slander will be tolerated. Not this Black History Month ?

— Astasia Williams (@AstasiaWill) February 17, 2020
I refuse to tolerate any Chaka Khan slander

— michaelharriot (@michaelharriot) February 17, 2020
I ain't gon say nah bad word about Chaka Khan, but they definitely in the control room like, "who's idea was this.." #NBAAllStarGame pic.twitter.com/zDXdIMEee3

— Marcus Cromartie (@Cromartie_M) February 17, 2020
"Give a round of applause for Chaka Khan" pic.twitter.com/OkH0hVDqaJ

— Zak (@NoseFaceKiller) February 17, 2020
Fergie and Chaka Khan fighting over who had the worst National Anthem performance of all time. pic.twitter.com/wQv2oDjLtQ

— BROM (@JustBrom) February 17, 2020
Fergie *butchers national anthem* creating endless memes for the internet.

Chaka Khan: hOooooLlLLLlldddDDDD…..mmYYYYYY BeeeeeeRrrrr #NBAAllStar2020 pic.twitter.com/80PSy8mxfK

— Nishant Varughese (@NishKokoFish) February 17, 2020
I adore Chaka Khan. She is a living legend, but I DID NOT like that rendition of the Star Spangled Banner AT ALL. Lord help her. #NBAAllStar pic.twitter.com/UVwfMDA1d7

— TripleR ???? (@TerpGrad01) February 17, 2020
Chaka Khan a legend and all but…. that rendition of the anthem was something #NBAAllStar2020 pic.twitter.com/zMIZYmPeQt

— SHYHEIM (@imnotshy_) February 17, 2020
Chaka Khan know she wrong for that ?

— Trevor Norris (@trevor_norris0) February 17, 2020