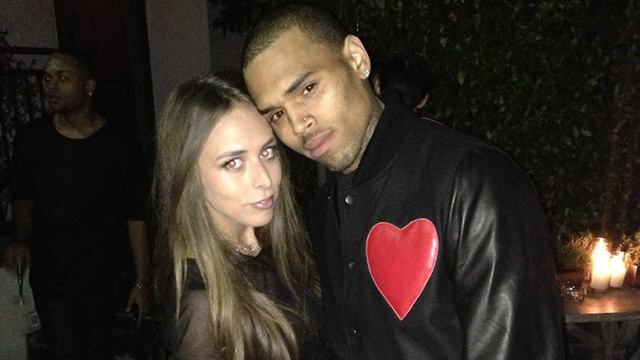 Chris Brown is a rich and famous millionaire who continues to get away with foolishness. Needless to say, there's plenty of people more than willing to ride that pencil penis of his. You can add Topshop heiress Chloe Green to the list. Per the British tabloids, the two have been dating. It seems like a nice match considering she's a "big fan and thinks he's really hot."
Chloe – who recently split from Marc Anthony – has been spotted with Chris, 24, more frequently since his relationship with [Rihanna] came to an end – something an insider claims Rihanna will "definitely" know about. A source told the Daily Mirror newspaper: "Chloe met Chris last year when he serenaded her at her dad's 60th birthday party. She was always a big fan and thinks he's really hot.

"After he split with Rihanna and she split from Marc, they've been spending more time together and having a lot of fun.

"It's early days, but they've not been shy about being seen out at the same places … It's the sort of thing Rihanna keeps an eye on, and she's definitely aware of Chloe being on the scene."
Yeah … we're going to have to call bullshit on this one. Chris Brown and Chloe Green literally have one photo together — the one at the top of this post, which was probably taken last year when "he serenaded her at her dad's 60th birthday party." Granted, she was at his birthday party earlier this month, but they're probably just friends, or bang buddies, or whatever.
Besides, we all know Chris is back with his other boo thang, Karrueche.
Be the first to receive breaking news alerts and more stories like this by subscribing to our mailing list.