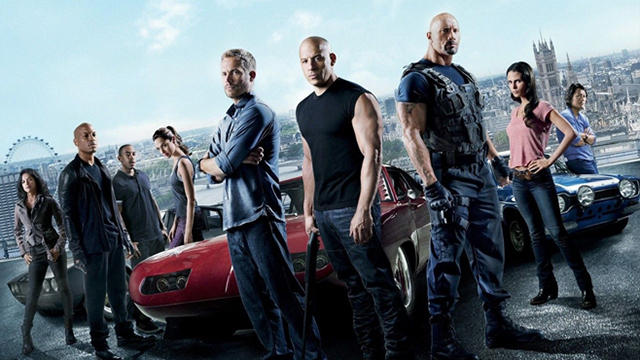 Fans eagerly awaiting Fast & Furious 6 to hit theaters this weekend are in for two hours of non-stop action and ridiculous, but awesome, over the top stunts.
The movie starts with a montage of all five previous movies to bring the fans "back in time." When we last saw the Fast & Furious crew, Brian, Dom, Mia and the others pulled off a $100 million heist from a drug dealer in Brazil and all parted ways to countries without extradition with their share of money. However, the end of Fast & Furious 5 also opens up a big story line with the return of Letty.
Fans of the Fast & Furious franchise will remember that Dom's beloved girlfriend and fan favorite, Letty, played by Michelle Rodriguez, is believed to have been killed in the fourth installment, but fans see in the fifth movie that she is in fact, alive.
Fast & Furious 6 picks up with all the main members of the crew in different countries seemingly enjoying life. Even though the crew is "free," Dom seems to not be settled, and the audience quickly learns why, when special agent Hobbs, played by Dwayne Johnson shows up and enlists the help of the crew to take down a criminal ring in London and uses Letty as bait.
With the possibility of Letty being alive, and she is, Dom and the crew agree to help Hobbs on one condition; that everyone in the crew, including Letty, is cleared of all criminal charges. Hobbs agrees as long as they bring down Owen Shaw, but it isn't going to be easy.
The Fast & Furious crew have been through a lot together and faced a lot of different enemies, but nothing like Shaw and his crew. In addition to Shaw being smart as a fox, he also has a ridiculous amount of resources and deadly toys (the famous tank scene), which the crew quickly realizes. While Shaw uses his smarts, the crew has to band together and use their "family" bond to take out Shaw and save Letty.
Running over two hours, in addition to the big action and even bigger stunts, unsurprisingly, Fast & Furious 6 features a ton of very fast cars. Despite the over the top antics, Fast & Furious 6 stays true to its core with the closeness of the "family," and the fast cars.
Fast & Furious 6 hits theaters Friday, May 24 and yes, I definitely give it five stars!
Be the first to receive breaking news alerts and more stories like this by subscribing to our mailing list.