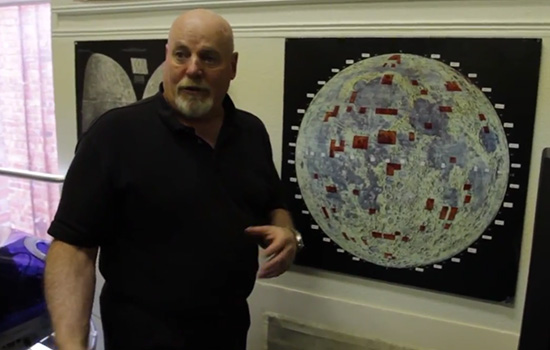 About three decades ago, using a ridiculous loophole he claims to have discovered, 65-year-old Dennis M. Hope of Gardnerville, Nevada reportedly filed a declaration of ownership with the United Nations so that he can own the moon and sell pieces of it to people who really believe that you can own a piece of the moon from some guy who says you can, just because.
The New York Times ran a story over the weekend about Dennis Hope and his lunar real estate business, which he has been running since the 1980's. According to Gizmodo, Mr. Hope is under the impression that he can legally own the moon — all of it — due to a legal loophole in the Outer Space Treaty of 1967, which reads:
"No nation by appropriation shall have sovereignty or control over any of the satellite bodies."
And since the treaty doesn't specifically state that people can't own the moon (just no nations; sorry guys!), he believes that is the loophole that gives him free reign to do whatever the hell he wants with the moon.
"Nowhere in the outer space treaty does it mention anything about individuals," Hope told NYT. "This is the loophole that gave me the impetus to file a claim of ownership over the moon."
Hope says he sent a note to the United Nations and clearly expressed to them that if they had any legal problems with him laying claim on the moon to reach out to him, but since they never did — and still haven't to this day — Mr. Hope has been successfully running his lunar real estate business without incident.
Hope has reportedly sold over 600 million acres of lunar real estate so far, with about 200 properties selling daily at $20 an acre, plus $10 shipping and handling, the $1.51 "lunar tax" and the $2.50 it costs to print your name on the official certificate of ownership.
He says, "The average sale we make are 2.2 properties per person—some are gifts. Seventeen percent of the people who buy land from us buy it for its novelty idea."
Hope says he's been called all kinds of names, from "crook" to "fraud" to "scam artist," but what he is doing isn't fraudulent, at all, he believes. "This is as real as any other properties you can buy on earth," he said.
And for the naysayers who ask 'why on earth would someone want to buy a piece of the moon?' Mr. Hope offers a pretty good point:
"If people own land, you have a good feeling about the fact that you're an accomplished person, you're successful. And even if you own land on the moon, there's the opportunity to think, 'Maybe someday. Maybe I won't make it, maybe my kids won't make it, but maybe my grandkids will be able to go up there and utilize the property.'"
You call him crazy. I call him a genius.
Anyone who can make millions of dollars from people who buy (currently) worthless pieces of paper gets points in my book. You know you wish you had come up with this enterprising idea first!
WATCH DENNIS HOPE'S FULL NY TIMES INTERVIEW HERE:
To see more of Hope and his fascinating business model for selling moon land, be sure to tune in to his full-length documentary "Lunarcy!" which premiered last week at the SXSW Festival, and premieres on television on EPIX on April 3rd.
Be the first to receive breaking news alerts and more stories like this by subscribing to our mailing list.