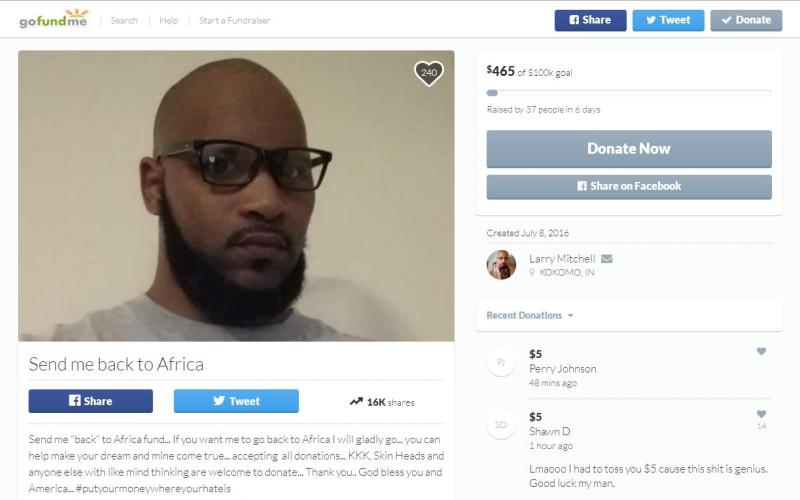 White racists love telling black people to "go back to Africa!" Well, they finally have a chance to send at least one back to the motherland.
Larry Mitchell has created a GoFundMe page accepting money from racists to help him move to Africa. Given the rhetoric often used, the Indiana man wants to see if racists would actually put their money where their mouth is. His goal is $100,000.
"Send me 'back' to Africa fund… If you want me to go back to Africa I will gladly go… you can help make your dream and mine come true… accepting all donations… KKK, Skin Heads and anyone else with like mind thinking are welcome to donate… Thank you.. God bless you and America… #putyourmoneywhereyourhateis," Mitchell writes.
Racists seem to be cheap so far. He has only raised just under $500 from 37 people in six days as of the writing of this post. Though they haven't donated, many were quick to leave the typical racist/condescending comment.
"But whatever will you do without the welfare system of this country?!?!?! And who will you blame for all the blacks getting shot by white cops!"

"You can get a one way ticket for $650. Why 100K? You want charity over there also?"

"Get a job and pay for it yourself. You lazy scumbag."

"It's not that we won't step up to the challenge. We know the money will get pocketed and wasted on new rims, gold teeth, jewelry…."
Surprisingly, many of the donors have actually been people who are also fed up with racists.
"Lmaooo I had to toss you $5 cause this sh*t is genius. Good luck my man."

"Bruh, I love this on every level….you went in on em', and they didn't even see you coming!!…lol,lol…deep brother, deep"

"I smile every time I see this in my Fb feed. Here's $5 for being a bad ass."
Other comments of support include:
"They are all talk and no action."

"Put your money where your mouths are. No wonder he wants to go you cannot even trust white people to commit to their hate"

"DAAAYUMMM ~ RIGHT ON BRO! ~ I feel ya' …Hope it all works out"

"I love your post. Folks have been trying to send us 'back to Africa' for so long, I'm glad you put them up to the challenge. Can you imagine how much money America would lose if ALL of us (including athletes and entertainers) left and went to Africa?"
Larry Mitchell's idea is pretty clever. Racists love to throw that phrase around and it's about time someone actually calls them out on the statement. This could go a multitude of ways. However, it already looks like racists would rather continue spouting hate than make an effort to rectify the issues, even when given an opportunity to do so.
Be the first to receive breaking news alerts and more stories like this by subscribing to our mailing list.