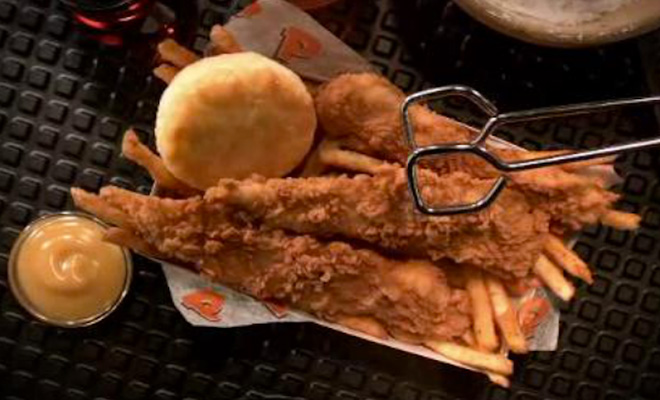 Those of us who have been fortunate enough to have enjoyed a meal at fine establishments like Roscoe's Chicken and Waffles in L.A., The Breakfast Klub in Houston, or The Waffle in Hollywood know about the joy that is chicken and waffles (or in one instance, fried chicken and red waffles). But there are some poor, unfortunate souls who have yet to receive such blessings.
Lays tried (it) when they debuted chicken and waffle flavored potato chips, but there's nothing like the real thing, baby. Or in this case, something close enough with actual chicken involved.
One of my favorite places in life, Popeyes, is set to premiere the chicken waffle tender — a joyous union of two different worlds meant to be together.
USA Today reports:
Executives at Popeyes insist that the Chicken Waffle Tenders, to roll out July 29, are not a stunt but part of a larger culinary trend mixing chicken and waffles. The combo is a "staple" in the South and particularly popular off of food trucks, says Dick Lynch, chief global brand officer.

Popeyes Chicken Waffle Tenders are made with white meat chicken that is marinated, then battered in a waffle-style coating and fried. For added decadence, the dish comes with a honey maple dipping sauce.
Listen, this sounds like pure bliss. The kind Mariah Carey used to sing about on the Rainbow album. There's no a doubt in my mind that somewhere Beyoncé is doing the Nolia clap with Blue Ivy in celebration.
The ad campaign is underway, too. Now, I don't see it for Annie and her fake ass accent, but I'm going to let her make it in the name of a waffle chicken tender remix.
WATCH HERE:
Be the first to receive breaking news alerts and more stories like this by subscribing to our mailing list.