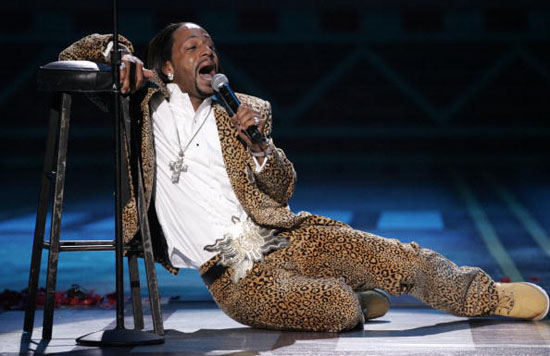 For some reason, actor/comedian Katt Williams used the last couple of months of 2012 to act the damn fool, and ended up getting arrested not just once, twice, three, or four times … but FIVE times over an extremely short period of just three months. And three out of the five arrests occurred in the month of December alone.
While we haven't been keeping you abreast of all of Katt Williams' shenanigans, we have been keeping a running log of his run-ins with the law. And it goes a little something like this:
Arrest #1: Katt was arrested on October 16th 2012 outside a Hollywood nightclub after he allegedly pulled a gun out on fellow actor/comedian Faizon Love, who explained to TMZ that he and Katt were arguing over a $50,000 debt Katt allegedly owes him.
Turns out, the gun wasn't even loaded, and Faizon insists that he wasn't the one who called the cops. Williams was quickly released and no charges were filed.
Arrest #2: Police arrested Katt on November 15th in Oakland, California on charges of suspicion of assault with a deadly weapon for allegedly hitting an 18-year-old man over the head with a bottle at a hotel.
Arrest #3: On December 2nd, Williams was arrested in Seattle, Washington after he allegedly got into a dispute at a bar — just a few days after he failed to show up at a two-night engagement at the Paramount Theater.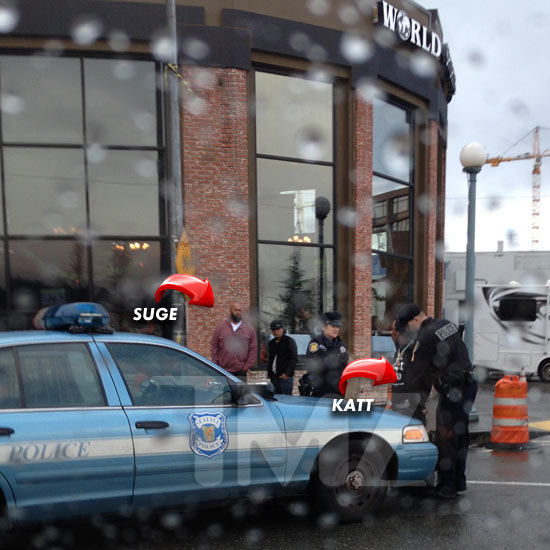 According to TMZ, Katt allegedly threatened a bar manager with a pool cue and threw a cigarette at a woman, which hit her in the eye. He also threw a rock at a car pulling out of the parking lot.
Arrest #4: December 7th saw Katt Williams arrested AGAIN — for the second time in less than a week — on a felony warrant stemming from a November 25th incident in Sacramento, California, where he allegedly drove a three-wheeled motorbike down a sidewalk and refused to stop for police. His exact words to police, according to sources, were "I'm not going to stop!"
During the ridiculous "police chase," Williams allegedly hit five people with his bike, which prompted authorities to put an end to the chase and issue the arrest warrant.
And Arrest #5 occurred within the last few days of 2012 — December 28th, when Williams was taken into police custody on suspicion of child endangerment and possession of a stolen gun.
According to police, following a welfare check at Katt's home, authorities found drugs and several firearms — one of which had previously been reported as stolen.
The L.A. County Department of Children and Family Services later revealed that Williams' four children were in the home, and they were placed in protective custody after Katt's arrest.
But that's not even the half of it! In between Katt's arrests were also a few notable incidents that did not end up with him behind bars.
On November 25th — the same day he led police on a high-speed chase down a sidewalk with his motorbike — Katt paid a visit a local Target, where he got into an argument with an employee, and actually SLAPPED the man in the face, which was captured on the store's security cameras, and of course, sent to TMZ.
Police were called, while Katt made a quick getaway in an electric cart, before ditching the cart and hopping back onto his three-wheeled motorcycle — the same one he had just led police on a high-speed chase on just moments before.
At a subsequent stand-up show in Hollywood, Katt told the audience that the reason he slapped the Target employee was because the guy said to him, "Your assistant is already suing you, you pussy ass nigger," in reference to a $5 million lawsuit in which Katt's former assistant is suing him on claims that he punched her, causing her "serious and permanent injuries."
And if you think that's all, then you must be crazier than Katt Williams!
Just days after he slapped that Target employee in the face, Williams was performing a show in Seattle when he became irate after noticing a fan was recording the show, and hit the audience member upside the head with his microphone.
He told the crowd, "It could happen to you. Record me and see what happens to you. Go home and get your raggedy pistol and bring it back. I already got mine."
The man has since filed a $250,000 lawsuit against Katt and the theater, claiming that the hit left with him with a concussion and contusions on his head.
And capping off his illustrious year of arrests, fights and random incidents … Katt and his good friend Suge Knight — who has been there to bail the troubled star out of jail on multiple occasions — got into a random fight outside Eden nightclub in Hollywood that ended with Suge nearly running some people over with his SUV … and all of this went down literally just hours after Katt was released from jail the last time.
Just the week prior, the pair were detained and cited by police for parking too close to a fire hydrant outside a Subway restaurant in West Hollywood. Suge — who was getting a manicure/pedicure at a nearby nail salon (**insert blank and confused stare here**) — also received a ticket related to multiple outstanding traffic warrants.
Further adding to Katt's legal issues is a $4 million tax lien filed against him on claims that he failed to pay over $3 million in taxes in 2008, and $800K in 2009.
According to someone who used to work with Katt Williams, the comedian was diagnosed with bipolar disorder years ago, and for some reason … ever year, he chooses to forgo his prescription meds between the months of October and January, which definitely explains the last few months.
The anonymous source told Necole Bitchie, "There is NO ONE around him who will get him any help. Everyone with him is either just as crazy as he is, or milking him for his money because he spends frivolously when he is like this then blames other people for stealing after he semi-snaps back to reality!"
Meanwhile, Katt's BFF Suge Knight tells TMZ that Katt is just a really sensitive man with a horrible temper who gets himself into bad situations.
"People test him because he's small and the best comedian of all time," Knight said. "When people see him, they don't separate the Katt Williams on stage from the Katt Williams just being a regular person."
Suge added, "Things happen to Katt all the time where people start with him. He just don't take no shit. That's what happens when you're the best in the business. Sometimes you just have rough times."
Well, let's just hope and pray that Katt is back on his meds and will not let all of that nonsense from 2012 roll over into 2013.
Be the first to receive breaking news alerts and more stories like this by subscribing to our mailing list.