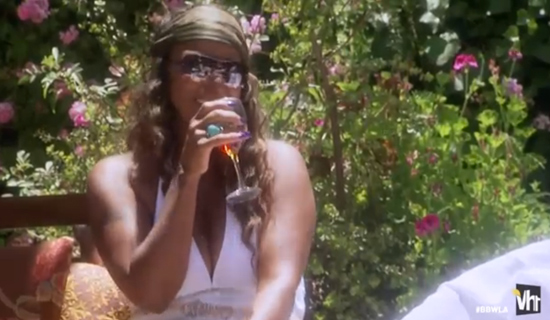 Oh hell yes. Now y'all done finally did it. The BITCH is back!
The ladies of "Basketball Wives L.A." gave Jackie Christie an inch and ol' girl wasted NO time taking a mile. After spending three episodes debating whether they'd let Jackie back in the circle, the girls decide to accept the Grinch back in their lives. So off they all go to Jackie's house for the strangest pool party you've ever seen.
WATCH: "Basketball Wives L.A." Season 2 Episode 4
For starters, Brooke looked like she forgot half of her swimsuit at home and just grabbed some nearby curtains and called it a day. Standing next to Gloria, she also looked like a beanstalk. Everything about this scene was very awkward.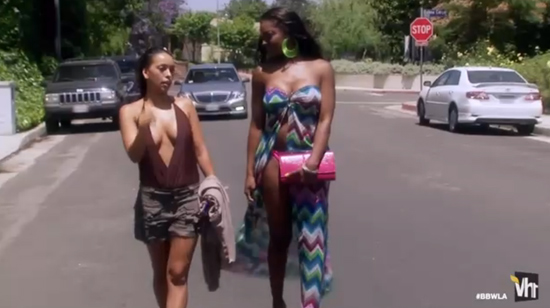 All the girls are wearing bathing suits but interestingly nobody dipped a toe in the water. Guess they weren't wearing their wet 'n' wavy hair systems that day.
To make matters even more strange, Jackie had all the girls pictures laid out next to the Costco croissants and angel food cake like it was somebody's damn funeral. WTF? Cue the Sarah McLachlan "I Will Remember You" why don't you?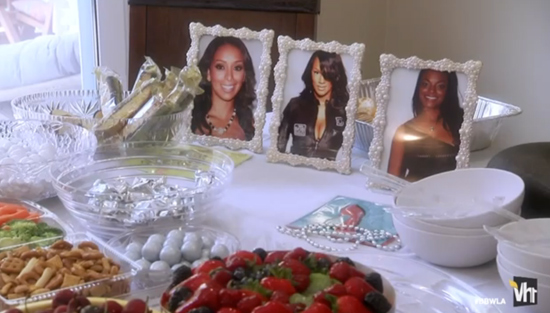 So Draya and Jackie end up going at it because Draya feels like Jackie "disrespected" her by going straight to Gloria instead of letting Draya speak to Gloria on her behalf. Uh, ok? Do you really wanna fight over not getting to advocate for a troll like Jackie? Draya, you're sounding mad pressed.
After the chicken squabble settles down, Jackie then sends Laura to get the ghetto Hallmark cards that she bought for each of the girls. Unfortunately, they all struggle to read her chicken scratch. Essentially, the cards read something like: Hey girl, sorry I lied on you so bad. But I LOVE YOU FOREVER BOO! XOXOXO!
As fake as it all is, the girls swallow the pill and Jackie walks away mostly pleased with everyone, except Draya. Who she feels unnecessarily cast a black cloud on the festivities.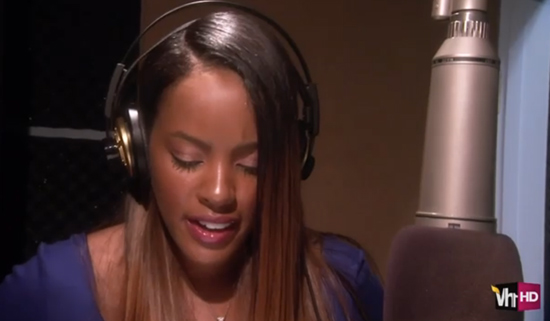 Malaysia Is So Boring
Holy crap. Malaysia Pargo's entire reality TV existence is like watching paint dry. These L.A. chicks have NO GOOD PLOT LINES. So instead of watching a stimulating personality on TV, we're forced to muddy through the waters with Malaysia's wet mop persona.
And clearly, Malaysia has no hobbies of her own, so the producers have to invent some for her. Like this lame attempt Malaysia pulls at voice acting.
WTF? Malaysia sounds drugged and medicated 90 percent of the time she speaks. Her speech is slurred and her voice is monotone as hell. On what planet would she make a good voiceover candidate?
Pity the voice acting coach, Denise Woods, who has to patiently pretend like she's doing anything other than wasting her time with this drone.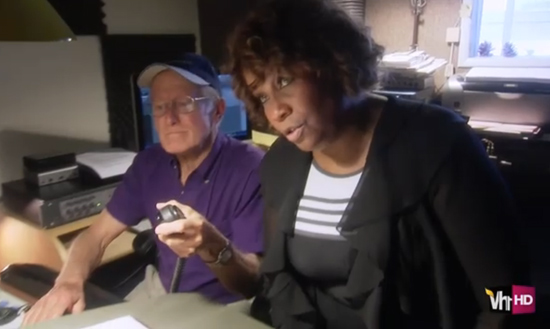 Later in the episode, Malaysia drags Gloria to her friend's jewelry shop so we can get a glimpse at her gaudy trinkets.
Is free promo of Malaysia's failing businesses a part of her contract? Cause we know the viewers didn't vote for this ghetto version of QVC as must-see TV.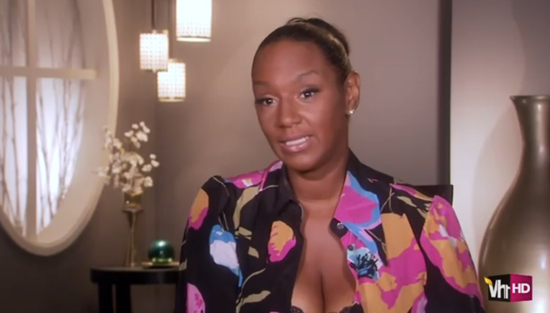 Jackie Keeps Her Enemies Close
Because Jackie never tires of talking about herself and telling everyone how much she really doesn't care about what the girls think of her (even though they're all she can talk about), Jackie sets up ANOTHER series of lunches, meetups and outings with these chicks to have one-on-ones with them for the millionth time.
She started with her fave, the newly skinny Laura Govan. Laura, who pretty much just plays along with Jackie's insanity at this point, had the misfortune of walking in on Jackie Christie's sour milk cougar photo shoot.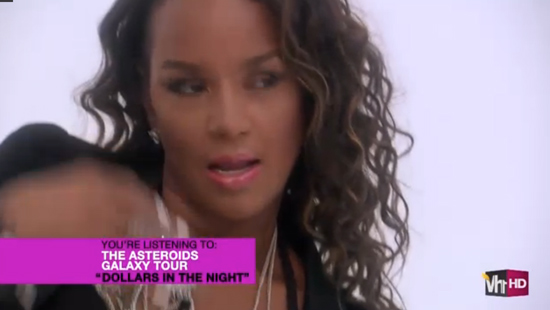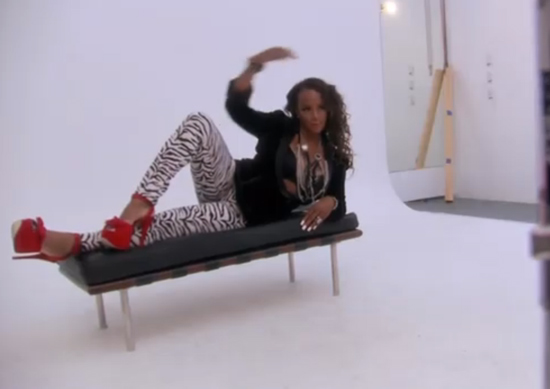 DO NOT WANT.
Does that photographer get hazard pay, cause we don't think it's safe to look at that wolf pussy without eye protection.
The conversation Laura and Jackie have isn't important. Laura mainly presses Jackie to be herself, because she feels like Jackie's niceness is an act (which it is). And we know this because in the confessional interviews, Jackie talks about how she runs this shit and how these bitches ain't shit.
Surely, no one is surprised.
The most productive one on one for Jackie comes with the new girl, Brooke. Like a sweet innocent lamb, Brooke innocently walks out to the big, bad wolf dressed in grandma's costume. Jackie showers her with flatteries and beams about how similar they are. WARNING! WARNING! Jackie thinks every girl is just like her.
Brooke, however, seems to buy it hook, line and sinker. Perhaps it's because she's more concerned with the slight that her friend Draya dished out when she ditched her at the King photo shoot. It's really hard to get why Brooke is dragging this out so much. She brought it up in front of the girls and then she calls Draya out AGAIN for a one-on-one lunch to talk about this damn photo shoot for the 50th time.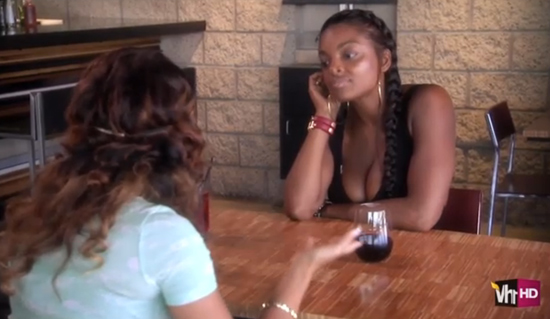 Bitch, did Draya steal your rent money? This is fucking ridiculous.
The two girls end up hashing things out and vow to resolve their differences in private in the future. Laughably, Draya claims that she's really a private person. Right, is that why she signed up to put her life on display on reality TV? Maybe she and Jackie really do have something in common: delusion.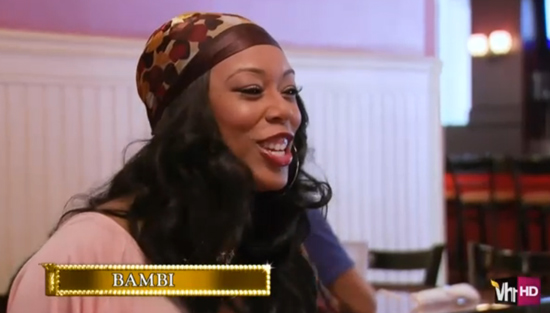 Bambi Bumps Her Gums About Brooke
Another dry beef waiting in the wings is this drawn out beef between Bambi, Malaysia's BFF, and Brooke. Supposedly some dude that they've both kicked it with is involved and now it's a case of "I heard you were talking shit about me" problems.
It's very foolish and immature, but if maturity, intelligence and education is what you're looking for, you'd be better off tuning in to an episode of "Here Comes Honey Boo Boo" than here.
So because all these bitches do is lunch, Malaysia introduces Bambi to Laura and the three gals get right to work hashing out the issue between Bambi and Brooke. Bambi bumps her horse gums for a good while, but really it's nothing but hot air. Nothing to see here folks, unless you're into chicks that look like Mr. Ed.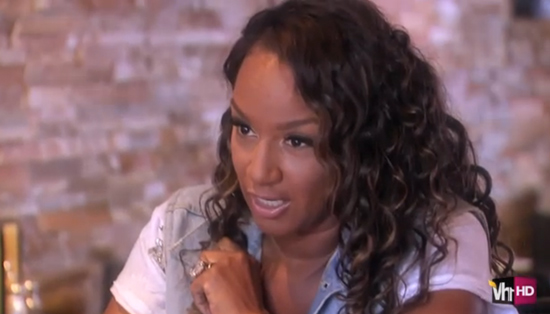 Draya vs. Jackie: The Final Showdown
The clash of titans comes to a head by the end of the episode. If Gloria and her conniving sister, Laura, were the driving forces behind BBWLA last season, this season it's definitely Draya and Jackie.
These two chicks can't stand each other, but they both use each other for different reasons over and over again. Unfortunately, their alliances are always short-lived, and welp, the most recent alliance has reached its expiration date.
Draya meets Jackie for lunch (notice this repeating trend?) and Jackie let's her know from the jump: Bitch, I ain't like what you said at my damn pool party. Draya curtly responds that she stands by what she said about Jackie being wrong for going straight to GLoria, because she felt like it was evidence that Jackie doesn't respect her.
Draya's probably right here. Jackie really doesn't respect Draya and that is why she picked up the phone and called Gloria herself. But the question is: Why does Draya want Jackie's respect in the first place? She already knows a real friendship with Jackie isn't viable so why go through all this effort of being mad at someone you'd rather not be friends with anyway?
Anyway, the exchange between Jackie and Draya gets hilarious, especially when Jackie pauses during their fight to pray over her meal. Draya rudely asks, "Who are you praying to?"
Jackie claps back, saying she heard that Draya was calling her SATANIC but she's not down with "Lazarus."
Draya, stunned by Jackie's stupidity, asks, "WHO?!"
To which Jackie replies, "Lazarus. Satan. He has many names."
Oh Jackie, don't ever take your crazy away from us. We don't know what we'd do without it.
Be the first to receive breaking news alerts and more stories like this by subscribing to our mailing list.