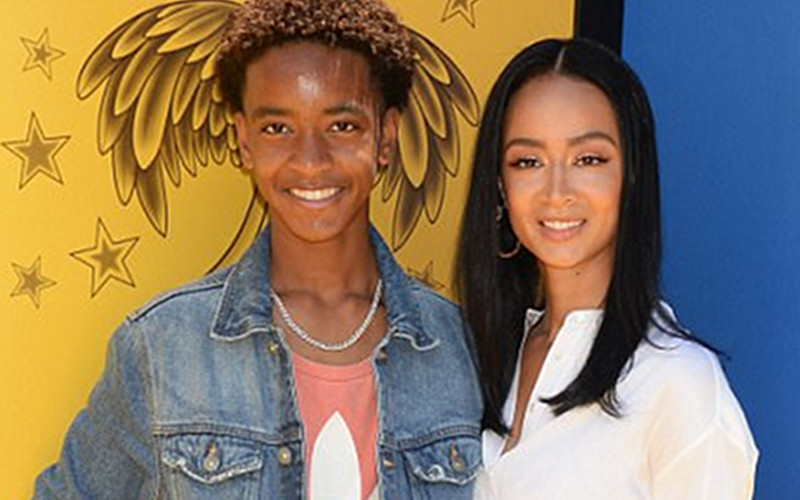 Parenting just doesn't seem to be Draya Michele's strong suit. The former Basketball Wives LA star is getting dragged on Twitter for being a bad mom after she refused to sign her son's homework, which has affected his grade.
On Thursday (Dec. 7), Draya posted a screenshot of a text conversation she had with her son, Kniko, who informed her he was losing points because she didn't sign his homework. Draya responded stating that she might write his teacher a "rude note."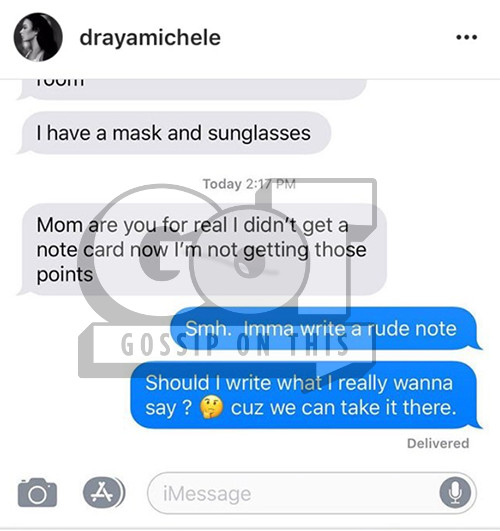 Draya further explained the situation in a long rant that accompanied the screenshot. Kniko currently has to memorize a four-minute speech that he has to practice multiple times a day out loud. Draya must sign off to prove to the teacher he has completed this task.
"I don't wanna hear it no more!" Draya writes in the rant. No longer wanting to fully invest in her son's education and feeling "harassed," she refused to sign his homework anymore. "Tell your teacher I'm done with this," she told Kniko. "It's not my damn homework."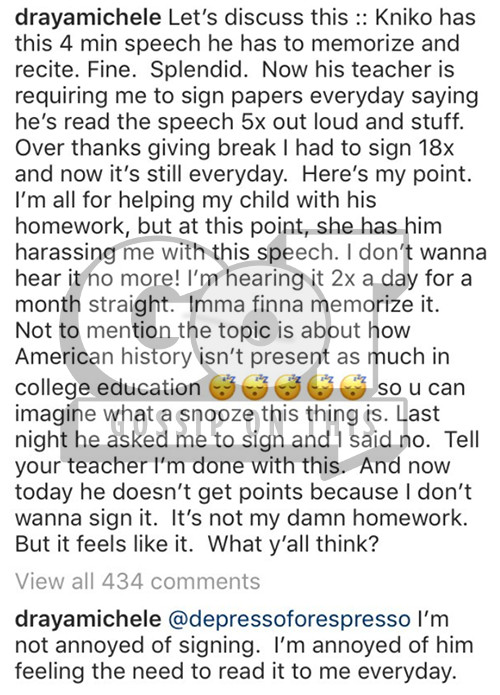 Draya initially made the post asking for advice from her followers. Unfortunately, she was mom-shammed and eventually deleted the whole thing. But that didn't stop Twitter from dragging her and making her a trending topic.
draya is bitching because her kid expects her to actually parent ?

— king crissle (@crissles) December 8, 2017
Draya being forced to sign her son's homework pic.twitter.com/xhyimcDLx1

— The Whore of Charm School (@urbestenemy) December 8, 2017
DRAYA'S SON: Hey, mom. First, let me say I love you and feel so blessed to be your son. So I've been working really hard on an assignment that's worth 50% of my grade. If you could just spare me 5 mins of your time, I'd really apprec—

DRAYA: pic.twitter.com/ORuKlHinNo

— brandon / jinx (@Jersey_Jinx) December 8, 2017
Draya's Son: "Mom can you please help me with this homework…imma fail…"

Draya: pic.twitter.com/XH1KDMiRxI

— Joshy B From The Pack (@joshysweatpants) December 8, 2017
https://twitter.com/Forevr_Blushing/status/938921886775472130
When Draya son ask for help with his homework https://t.co/3zz0cZYR1n

— Maal (@mexicanmaal) December 8, 2017
Draya son: "Mom I need you to watch me recite my speech."

Draya: pic.twitter.com/fiCDgwtk1K

— Mickey…….you're too late. (@rbelk_94) December 8, 2017
Draya treating her son like Jehovah Witness coming with "Can I have a minute of your time?"

— T ?? (@problempicknee) December 8, 2017
so draya's son is starving because she can't cook and he losing points on assignments because of her. i'd run away.

— — amira (@AMIRAWASHERE) December 8, 2017
When Draya's son attempts to hand her a pen to sign his homework pic.twitter.com/MGQW0pI56h

— Chazzy (@SaintLaSalle) December 8, 2017
Draya had time to give us a step by step video of how she made every nasty thing she cooked for Thanksgiving, but not enough time to sign her son's homework.

— Ernesto de la Booze. (@JediMassaYoda) December 8, 2017
https://twitter.com/HPJArt/status/938943841922699264
https://twitter.com/gang_greenE/status/938970492937089024
https://twitter.com/MacMaal_/status/938933650766299136
Kniko: Mom can you please sign this, its for a grade
Draya: pic.twitter.com/apO7kOmCJX

— The Outwest Jew (@__BIGTIM__) December 7, 2017
https://twitter.com/Traciaimdrunk/status/938966446444556288
Draya faced heavy criticism back in 2011 when it was reported that she was arrested for leaving her 7-year-old son alone for several days in a filthy apartment with only microwave dinners to eat while she partied with then-boyfriend, Chris Brown. Draya has denied leaving her son alone.
Be the first to receive breaking news alerts and more stories like this by subscribing to our mailing list.