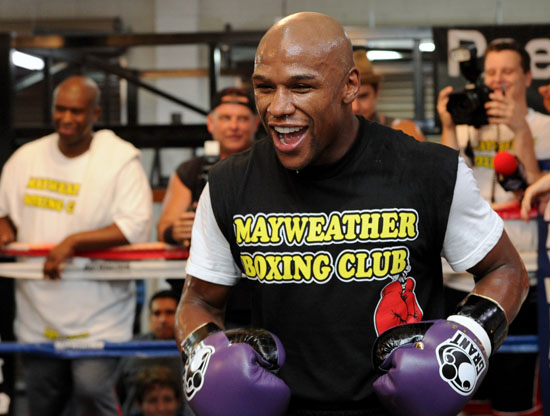 Floyd Mayweather Jr. was supposed to turn himself in Friday (Jan 6) to begin his 90-day jail sentence on charges stemming from an assault on his ex girlfriend/baby mama. However a judge has agreed to postpone to the pro boxer's jail sentence so that he can train for a May 5th fight against a currently unnamed opponent.
The Associated Press reported yesterday that several of Floyd's famous friends — including "#MoneyTeam" members Ray J and Lil Kim — were at the court house to support the boxer.
Sources close to Lil Kim told TMZ that she and Floyd "have become really close friends," and Kim has put her career on hold, canceling recent New Year's Eve appearances and pushing her holiday album's release back, just so that she could be there for Mayweather while he awaits his sentence.
"Money Mayweather" now has until June 1st to turn himself in, thanks to Justice of the Peace Melissa Saragosa ruling, which came after Mayweather's defense lawyer cited the economic boost that Las Vegas could get from the Cinco de Mayo fight, AP reported.
The lawyer estimated that Mayweather's last seven fights in Las Vegas brought in at least $1 billion in gross revenue to the community. He predicts that the May 5th fight will bring in over $100 million.
It was rumored that Floyd Mayweather would finally use May 5th as a chance to fight his archenemy Manny Pacquiao, the wildly popular 33-year-old boxer who is considered to best in the world, next to Mayweather of course.
However Pacquio's promoter Bob Arum has reportedly shot those rumors down, saying that there have been no recent discussions to stage a fight between Mayweather and Pacquio.
Meanwhile, Mayweather's manager Leonard Ellerbe told news reporters that his opponent's would be announced as early as next week.
"We'll make an announcement about who we're going to fight next week. We just came out of the … court hearing. Give us a chance to catch our breath," Ellerbe said.
Be the first to receive breaking news alerts and more stories like this by subscribing to our mailing list.