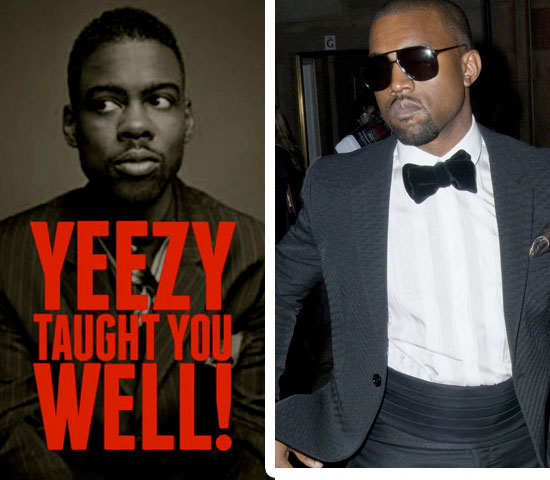 EBONY Magazine recently caught up with funny man Chris Rock and got him to open up about his appearance in the wildly popular "Yeezy Taught Me" skit on Kanye West's "Blame Game", a song that appears on the rapper's latest album My Beautiful Dark Twisted Fantasy.
Read below to see how the collaboration came about:
"We made it in New York. My family was in Africa for a week, and I had nothing to do. I bumped into [Kanye] at Mr. Chow, and he got me hanging out in the studio for a while. It sounded like it's all me, but it's him. He recorded me doing five times as much stuff, and he put it together. Then he texts me, 'Yo, we got a classic!'

"He kept telling me, 'It could be iller, it could be iller." He's an instigator; he just instigated that performance out of me. That was the highlight of my year. To be in something that cool? It's the best piece of art of the year. They could play the record in the Museum Of Modern Art." (Source)
Chris would later reveal to the NY Times :
"I did that quicker than I read scripts that they offer me money to do. I thank him so much it probably freaks him out. Especially at this late date, to get on something, the album of the moment, that stuff is priceless, you can't put a price tag on that. I felt invigorated by it," he said. "I've still got my fastball."
Chris … you Rock! Maybe not to Amber Rose (who the song mercilessly makes fun of), but groupies' opinions don't matter anyway. Everybody loves Chris! And that skit was off the chain.
In case you've been living under a rock and don't know what the hell is going on … take a listen below:
What do you think?
Be the first to receive breaking news alerts and more stories like this by subscribing to our mailing list.