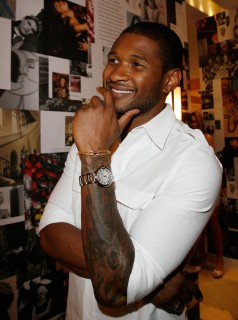 Usher's new forthcoming album Monster has been receiving a lot of attention lately and with a new song about divorce and filling out papers slated to be on it, the entire album itself is bound to turn heads. Producer Sean "The Pen" Garrett apparently wrote a track about filling out divorce papers before he knew of any drama between Usher and his ex-wife Tameka Foster and had the R&B singer lend his vocals for the song, which holds no official title as of yet.
"[Songwriter] Sean Garrett called me to the studio," producer Zaytoven, who's worked on songs for Gucci Mane and OJ Da Juiceman, told MTV News last week in Atlanta. "He called like, 'You've got to come hear this song. I've got a hit.' " Zay went to the studio and heard Garrett's reference vocals on the track, and soon after heard the finished version with Usher's vocals.
"This was awhile ago," Zay said. "This is before there were any reports about Usher's marriage in the news. So I was thinking to myself, 'Is he trying to say something?' I don't know what Usher is going through, but Sean Garrett made a song about filling out papers, divorce papers. The beat, it's got a bounce to it. It's outta here."

"It's not particularly called 'Filing Papers,' " Garrett clarified on Wednesday via phone from Atlanta. "Let's say I wrote a record for Usher three or four months ago where I really didn't have any idea of what he was going through personally. I work really hard at creating records I feel that's gonna fit like a glove to an artist. Me and Usher have a close relationship; I tend to sort of assist certain artists in giving them a direction, where I think they need to go in their next move. I felt that was the direction we needed to go. I felt that was the question everyone wanted to know: Was [his relationship] good or was it bad? Was it right? Are you happy or you're not?"

Garrett maintained that he and Usher didn't speak about trouble in the singer's marriage at the time. Of course, Usher filed for divorce from his spouse of nearly two years, Tameka Foster-Raymond, earlier this month.

Asked how he felt when he learned about Usher's divorce, Garrett said, "I'm a heavy believer in God. I'm a Pisces. My intuition is crazy. I think that's healthy in the process for me writing and producing for people. I can feel a person's vibe without them even saying it. I can read a person's body language. Maybe it was a sign. Maybe it was a sign of what my man was going through and he needed to get out. Maybe it was something she needed to hear as a wake-up call to her. I don't know — their relationship is not my business. But once people hear this record, it's gonna make their hair raise up.

"Whether you're a female in love, male in love, it's a real record," he continued. "Your mama has to feel this record, your daddy has to feel this record, everybody has to feel this record. That's what good writers do. That's what 'Yeah!' [Usher's 2004 hit, also co-written by Garrett] did. That's what this record is gonna do. This is such an explosive record. I definitely feel it's what Usher's been wanting to say. But at the same time, it's what a lot of people wanted to say, they just didn't know what to say."

Garrett divulged that he and Usher have worked on three songs so far and plan to knock out three more before the LP is wrapped up. The album currently has no release date.

At press time, a rep for Usher had not responded to MTV News' request for comment about the song.

SOURCE: MTV NEWS
Hmm… maybe they did or maybe they didn't know? But we know for a fact Usher knew EXACTLY what he was doing. Regardless, we're definitely excited for this new album. Homeboy needs to redeem himself after that last one he put out. We're willing to give the guy a second chance. Are you?
Be the first to receive breaking news alerts and more stories like this by subscribing to our mailing list.