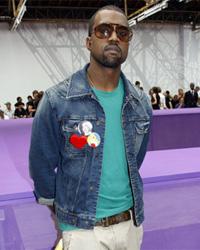 It was reported yesterday that Kanye West's management team had decided that it was high time for the young rapper to enroll in some anger management classes so that he could become more attractive to potential advertisers, and get to along with his friends and family a little better. Well, apparently, those reports turned out to be rumors as the Louis Vuitton Don himself has publicly stated on his blog, and I quote:
"I have never had any conversations about anger management. If anything, I need anger enhancement!!"
You tell 'em Yeezy! If your friends, family, and potential advertisers can't love you for who you are … then you don't need 'em! 😉 But you know your bipolar ass needs some anger management. Or medication. Hell, why not shoot two birds with one stone and go with both!
Be the first to receive breaking news alerts and more stories like this by subscribing to our mailing list.