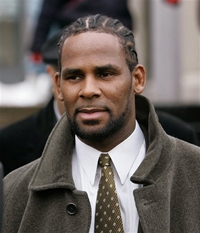 R. KELLY LEAVING COOK COUNTY CRIMINAL COURT LAST FRIDAY (PHOTO: AP)
According to YAHOO! News, a Chicago woman who snapped photos of R. Kelly in a courtroom with her cell phone has pleaded guilty to contempt of court after spending the weekend in jail. 49-year-old Jean Johnson was sentenced to five 5 days in jail after entering the plea Monday, but she was released after Judge Vincent Gaughan gave her credit for the days she had already spent in custody. Lucky for her, she had violated her probation and already had served a little time in the clinker. The judge also ordered her cell phone destroyed.
Describing herself as Kelly's "biggest fan," Johnson said she couldn't resist snapping four grainy pictures of the R&B superstar as he sat across from her last Thursday. She said she didn't realize cameras weren't allowed in courtrooms.
"I feel stupid," Johnson said. "I just got carried away. I'm a big fan of R. Kelly. I wanted it so that every time my phone rang, I could open it up and he'd be right there."
Those damn camera phones are the devil, lol.
Be the first to receive breaking news alerts and more stories like this by subscribing to our mailing list.