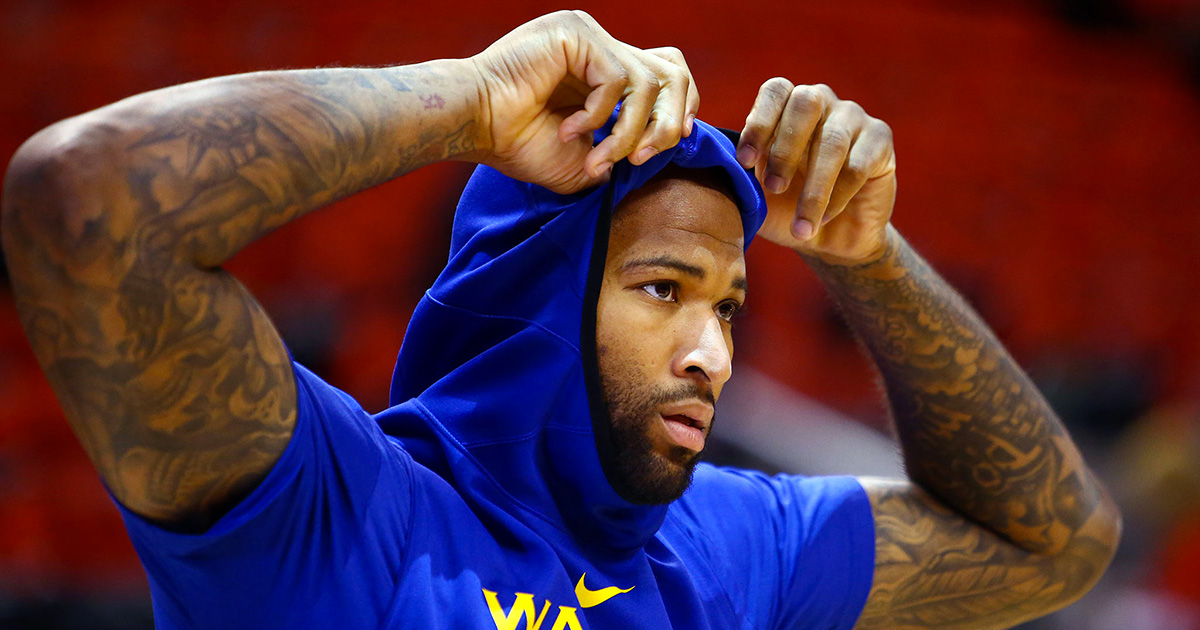 Police in Mobile, Alabama have issued an arrest warrant for NBA player DeMarcus Cousins on a misdemeanor domestic violence charge over a threatening phone call he allegedly made to his baby mama.
"Yes, a warrant has been signed," Cousins' ex-girlfriend and the mother of his child, Christy West, said in a text message to USA Today Sports reporter A.J. Perez.
A police spokesperson told TMZ Sports: "No arrest has been made yet. Hopefully, he will turn himself in on the active misdemeanor arrest warrant."
TMZ reported earlier this week that Cousins allegedly threatened West over the phone, telling her he would "put a bullet in [her] f**king head" if she didn't allow their 7-year-old child to attend his wedding.
During the call on August 23rd (the day before Cousins was set to marry his new girlfriend Morgan Lang), West told cousins she would not be letting their child attend the nuptials, though didn't explain why.
The gossip site also shared audio of the call (listen above), and the guy on the end sounds a lot like Cousins.
West lives in Alabama and the wedding took place in Atlanta Saturday (Aug. 24).
Cousins' former girlfriend is also reportedly seeking a restraining order against Cousins after she revealed in court documents that the Los Angeles Lakers star choked her during a previous incident.
The NBA and the Lakers said in separate statements on Tuesday that they were "investigating the allegations."
Lakers' statement on the @TMZ_Sports report on DeMarcus Cousins: "We are aware of the allegation involving DeMarcus Cousins and, of course, take this claim seriously. We are in the process of gathering information and will reserve further comment at this time."

— Ohm Youngmisuk (@NotoriousOHM) August 27, 2019
The NBA/NBPA has a strict Domestic Violence policy that was implemented with the 2017 CBA. Expect a thorough investigation into the allegations. https://t.co/UegYyF7OVq

— Bobby Marks (@BobbyMarks42) August 27, 2019
DeMarcus Cousins signed with the Lakers back in July after spending the previous season with the Golden State Warriors, who lost this year's NBA Championship to the Toronto Raptors.
Cousins tore his ACL two weeks ago and is expected to miss the entire 2019-2020 NBA season.
Be the first to receive breaking news alerts and more stories like this by subscribing to our mailing list.