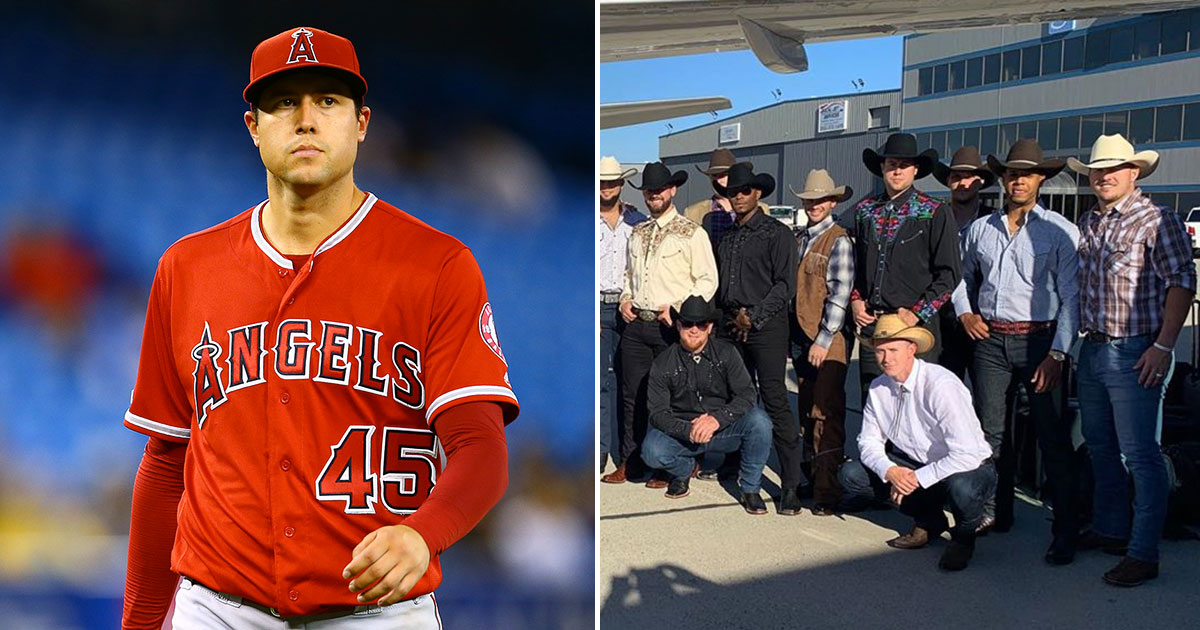 Tyler Skaggs, the starting pitcher for the Los Angeles Angels, was found dead in his hotel room on Monday (Jul. 1). He was 27 years old.
A cause of death has yet to be revealed, the Southlake Police Department said in a statement, and no foul play is suspected.
The sad news came just two days after Skaggs pitched for the Angels against the Oakland Athletics and the day the Angels were scheduled to begin a four-game series against the Texas Rangers.
After the tragic news of Skaggs' death was released, the Angels announced that Monday's night game against the Rangers would be canceled.
"It is with great sorrow that we report Tyler Skaggs passed away earlier today in Texas," the L.A. Angels said in a statement Monday.
"Tyler has, and always will be, an important part of the Angels Family. Our thoughts and prayer are with his wife Carli and his entire family."
The news of Tyler Skaggs' death was a shocker because he appeared to be healthy and in happy spirits in the days leading up to it.
Skaggs had unquestionable pride in being an L.A. Angel, and you can see that on his Instagram feed, which is filled with photos of his teammates, behind-the-scenes footage and action photos from games.
https://www.instagram.com/p/Bvjv8u4A0Ck/
https://www.instagram.com/p/BvpLJY-ASgH/
https://www.instagram.com/p/Bx8pKS3hseo/
The last IG post Tyler shared Sunday night (Jun. 30) before he died was a photo of him with his Angels teammates, who were all dressed in cowboy clothes in honor of their trip to Texas.
"Howdy y'all," Skaggs wrote in the caption of the picture along with the hashtag #TexasRoadstrip.
https://www.instagram.com/p/BzWu_niB_yg/
When he wasn't posting pictures of his teammates or himself playing baseball, Tyler would often share photos of him and his wife Carli, whom he married during the offseason in December 2018.
"2018 was the best year yet … Thank you to everyone who helped make it special," he captioned a photo gallery showing him and his new wife.
https://www.instagram.com/p/BsEJ5O1hxdl/
According to his IG feed, Skaggs proposed to Carli Miles in Bora Bora in November 2017.
https://www.instagram.com/p/BbTQB_hnQO5/
A few months later, in January, Skaggs wished his then-fiancé a happy birthday.
"Happy Birthday to my Best Friend my Future Wife and my Forever Travel Partner," Tyler wrote in the January 25th, 2018 post. "I love you babe … Thank you for always believing in me and pushing me to be great."
https://www.instagram.com/p/BeY4eAiAh7Y/
He continued the tradition this year, writing on January 25th, 2019: "Happy Birthday to my beautiful wife and love of my life! Cheers to many more years of happiness ."
https://www.instagram.com/p/BtE1QFpByVc/
On Valentine's Day, he posted a photo from their wedding, writing: "Happy Valentine's Day to the love of my life."
https://www.instagram.com/p/Bt4aiePg611/
Tyler Skaggs was first drafted by the Los Angeles Angels in the first round of the 2009 MLB draft right after he graduated Santa Monia High School in California.
After playing Minor League Baseball for a couple of seasons, Skaggs made his Major League debut in August 2012 with the Arizona Diamondbacks, where he played until 2013.
He returned to the Angels in 2014, but missed the 2015 season after having Tommy John Surgery to heal an elbow injury.
MLB commissioner Rob Manfred released the following statement on Skaggs passing Monday:
"I am deeply saddened by today's tragedy in Texas. All of us at Major League Baseball extend our deepest condolences to Tyler's wife Carli, their family, their friends and all of his Angels' teammates and colleagues.

"We will support the Angels' organization through this most difficult period, and we will make a variety of resources available to Tyler's teammates and other members of the baseball family."
This year marked Skaggs' fourth year with the Angels, and, according to the Chicago Sun-Times, he made 15 appearances with the team this season, amassing a 7-7 record and 4.29 ERA in 79.2 innings.
He would have celebrated his 28th birthday next Saturday (Jul. 13).
Be the first to receive breaking news alerts and more stories like this by subscribing to our mailing list.