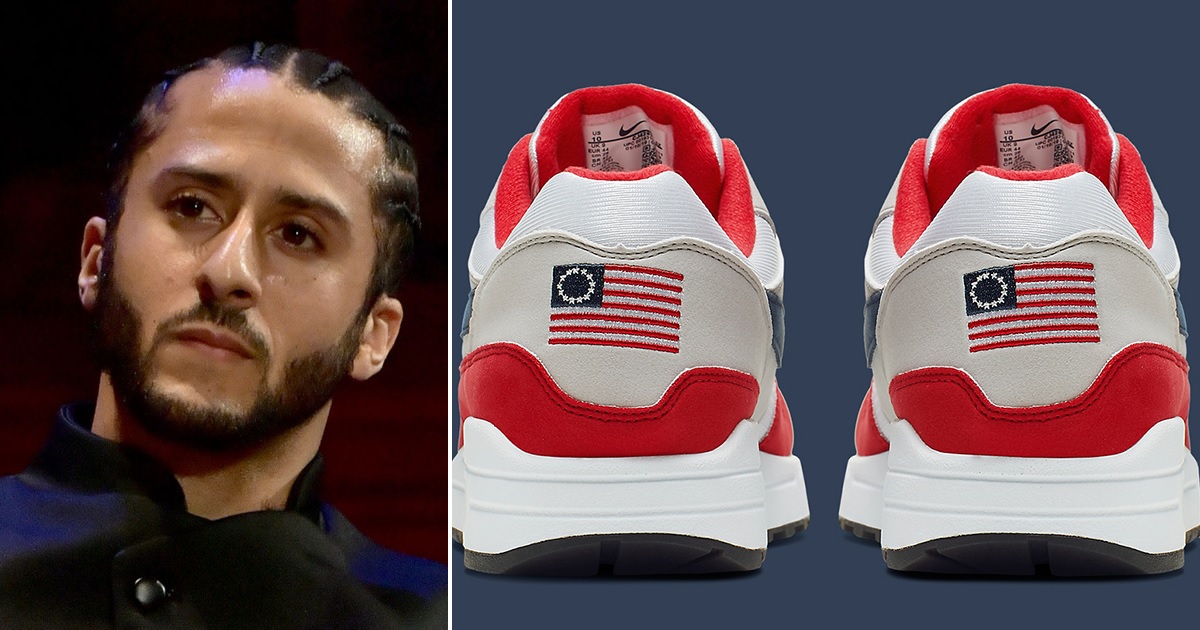 Nothing upsets white Americans more than trying to confront America's racist history, especially when it's proudly symbolically displayed in statues, flags, and even shoes.
And like clockwork, just days before Independence Day, "Patriotic Twitter" is outraged because Nike dropped a Betsy Ross flag-themed shoe design after NFL star-tuned activist Colin Kaepernick expressed concerns the design was offensive.
According to a Wall Street Journal report, this week, Nike was set to debut a shoe featuring the 1770s American flag designed by Betsy Ross, which had 13 stars representing the original 13 colonies.
Bad look @Nike for these Betsy Ross Air Max. Smdh…. pic.twitter.com/u8Q8IMAUbg

— Glass City Pete (@DadudeSHONUFF81) June 25, 2019
However, Kap was concerned the American Revolution era imagery had close connections to slavery. So, Nike pulled the shoe, even requesting retailers that had already received the product to send the merchandise back.
If you're going to tweet about the Betsy Ross Flag, make sure you include this part: "It has been appropriated by some extremist groups opposed to America's increasing diversity." https://t.co/k5N5bGhDut

— Shannon Watts (@shannonrwatts) July 2, 2019
In a statement, a Nike spokesperson simply said the company "has chosen not to release the Air Max 1 Quick Strike Fourth of July as it featured the old version of the American flag."
Though some on social media had already criticized leaked images of the design, "Patriotic Twitter"/ignorant white people were quick to deem Kaepernick un-American once his involvement in the matter was reported and caused "Betsy Ross" to become a trending topic.
Nike planned to release a 'Betsy Ross American Flag' shoe design for the 4th of July, but cancelled the project when Colin Kaepernick complained about it being "offensive."

Colin Karpernick is un-American!

Who else agrees?

— Ryan Fournier (@RyanAFournier) July 2, 2019
Anti-American Karpernick strikes again. I'll never buy anything from ?@Nike? or its affiliates again. #NHPolitics The apparel maker pulls Independence Day-themed shoe after the NFL star raised concerns about its symbolism https://t.co/i0gh8lh8eB

— Scott Courtemanche (@SBCourtemanche) July 2, 2019
"Colin Kaepernick told the company it shouldn't sell a shoe with a symbol that he and others consider offensive."

….same guy wears socks that depict cops as pigs. https://t.co/GGfwdW7Mzc

— Will Witt (@thewillwitt) July 2, 2019
Be a shame if someone started selling Betsy Ross flag shoes and shirts on an online store right now… pic.twitter.com/iMfOG0viUe

— Jack Posobiec ?? (@JackPosobiec) July 2, 2019
Nike thinks American flag is symbol of oppression? What planet are you on? Nike gladly allows Chinese Communist Party to tell it what products to sell while building its business around sweatshop labor. Nike is anti-American, pure & simple. https://t.co/AgHkCnVi33

— Josh Hawley (@HawleyMO) July 2, 2019
America and the promise made in the Declaration of Independence gave birth to the greatest nation on the planet. But Kaepernick and the corporate PC police are embarrassed by the flag and that promise. Pathetic. Stand for America and the flag! #MAGA #KAG https://t.co/9zlb7WzNWY

— Kimberly Guilfoyle (@kimguilfoyle) July 2, 2019
No more @nike sneakers for our family. "Nike Nixes 'Betsy Ross Flag' Sneaker After Colin Kaepernick Intervenes" https://t.co/4Dca4J5bmA

— Laura Ingraham (@IngrahamAngle) July 2, 2019
The Betsy Ross flag is now a symbol of White Nationalism and slavery? Not defiance against a distant monarchy?

Really, Nike?

PC madness is accelerating just in time for 2020.
Trump feeds on your reflexive Wokeness.
Great job, everybody. https://t.co/T1T05PSwSQ

— Joe Scarborough (@JoeNBC) July 2, 2019
Kaepernick sparked a national debate in 2016 when he chose to kneel during the Star-Spangled Banner before NFL games in protest of police brutality and racial inequality.
He was heavily criticized by racists and President Donald Trump for expressing his First Amendment Right to protest.
Kaepernick was ultimately released from the NFL over the controversy and he has continued to focus on activism.
Nike stands with Kap and so do I.
Kap's right.
Also, NIKE gotta get a Kap commercial where he reads some Frederick Douglass on the 4th of July.

— profloumoore (@loumoore12) July 2, 2019
Thank you @Kaepernick7 for shedding light on the fact that Betsy Ross' flag is racist. I'm sitting here shaking now that I know that my history teachers left this vital piece of information from me. Nike you are the strong hero we do not deserve. God bless you. pic.twitter.com/0AP54fhtKV

— Tyler Muneseses (@TyyChi) July 2, 2019
The Betsy Ross flag has been turned into a symbol of white nationalism and domestic extremism. Conservatives will whine, but Colin Kaepernick was right to speak out and Nike was right to pull the products. https://t.co/rq8HWeaqh6

— Adam Best (@adamcbest) July 2, 2019
Be the first to receive breaking news alerts and more stories like this by subscribing to our mailing list.